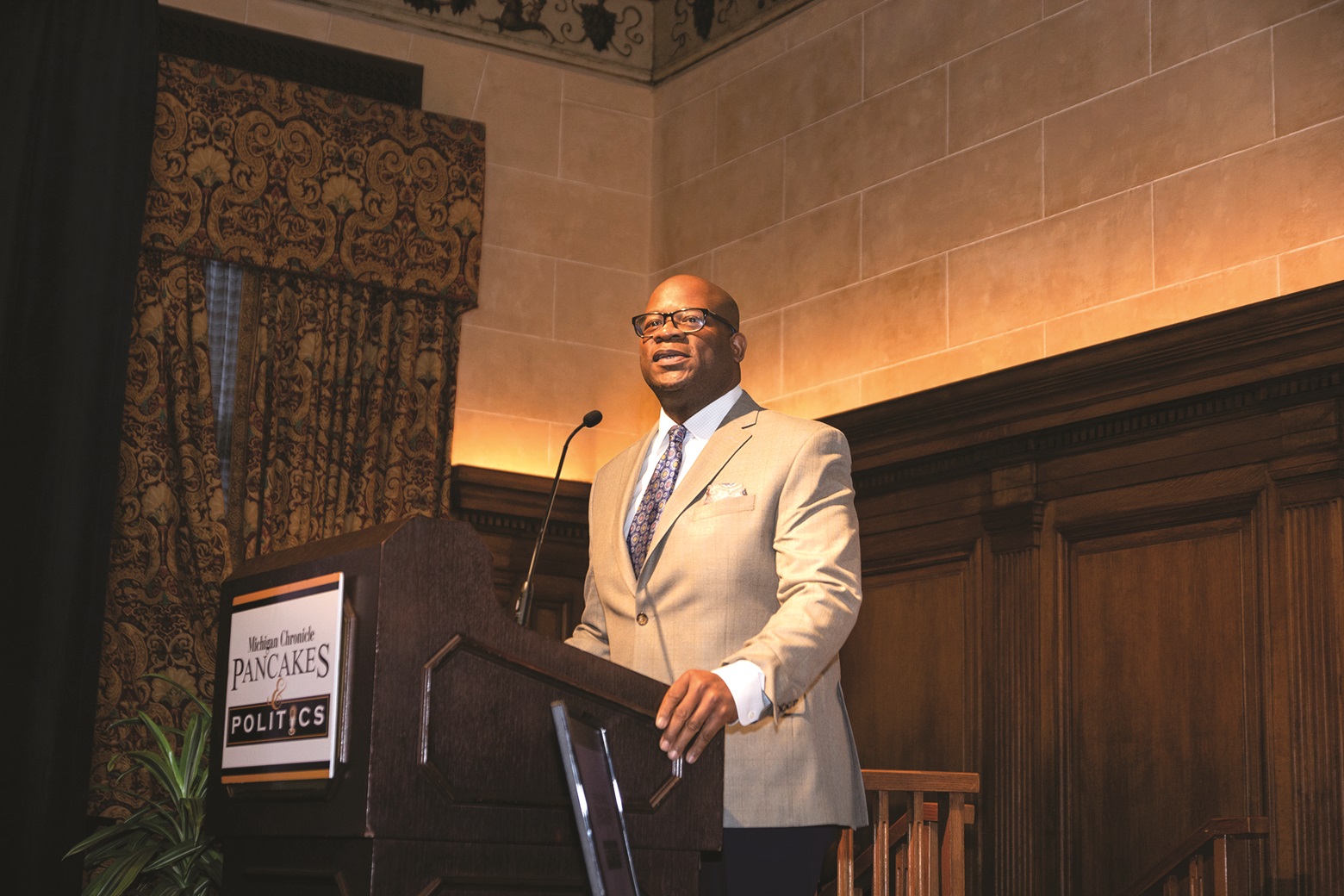 The Michigan Chronicle's Pancakes and Politics kicked off its 2019 forum season with Governor Whitmer discussing her new vision for Michigan. The 14th annual event was hosted by Hiram Jackson, CEO of Real Times Media and publisher of the Michigan Chronicle with longtime presenting sponsor, Ric DeVore, Regional President of PNC Bank. The event was moderated by Dennis Archer, Jr. CEO, Ignition Media Group and President, of ACS and Vickie Thomas, Morning Drive and City Beat reporter at WWJ Newsradio 950 kept a constant stream of questions on track from audience members.
Whitmer, serving as the 49th governor of Michigan since January 2019 briefed the sellout crowd of over 500 business and community leaders at the Detroit Athletic Club as a part of her statewide tour pitching her Fiscal Year 2020 Budget. Armed with a graphic PowerPoint presentation outlining her budget illuminated the state's crumbling roads infrastructure, education and skills gaps and water quality. Dubbed "The Road to Opportunity," the Governor launched in to her presentation stating she is "committed to solving problems for Michiganders across the state, expanding access to affordable healthcare, improving education and skills training, respecting working families, cleaning up Michigan's drinking water, and of course, fixing the damn roads."
Highlights of the budget focus on closing the skills gap. Whitmer explained to the group that a mere forty-four percent of Michigan residents have post-secondary degrees or certifications, putting Michigan's talent pool at the bottom among 19 other states leaving us uncompetitive in bringing high paying jobs to the state. She underscored how her budget "presents bold solutions to strengthen our communities, grow our economy, and prepare us for the road to opportunity."
Leading the discussion, Dennis Archer, Jr. opened with the elephant in the room: Michigan Executive Directive 2019 – 08. Archer asked what will she do for the ability of minority and Detroit based businesses to participate in the lucrative procurement process at the state level and what enforcement measures will she take to ensure compliance? On the first day of Gov. Whitmer's term, she signed the Directive titled 'Encouraging Expanded Business Opportunities for Geographically-Disadvantaged Business Enterprises in Michigan.'  Whitmer said: "As Chief Executive officer of the state, I can do some things unilaterally and the Executive Directives that I signed were focused on living up to a critical need in our state and a promise I made to level the playing field for small businesses and economically disadvantaged parts of our state to ensure that our taxpayer dollars, when we spend them, provide a fair shot for small businesses and disadvantaged parts of our state to compete. The Department of Technology, Management, and Budget have taken a number of actions to level that playing field and I think small businesses; African American businesses and the State of Michigan will be better off by solving a problem that has vexed us and advantaged larger businesses."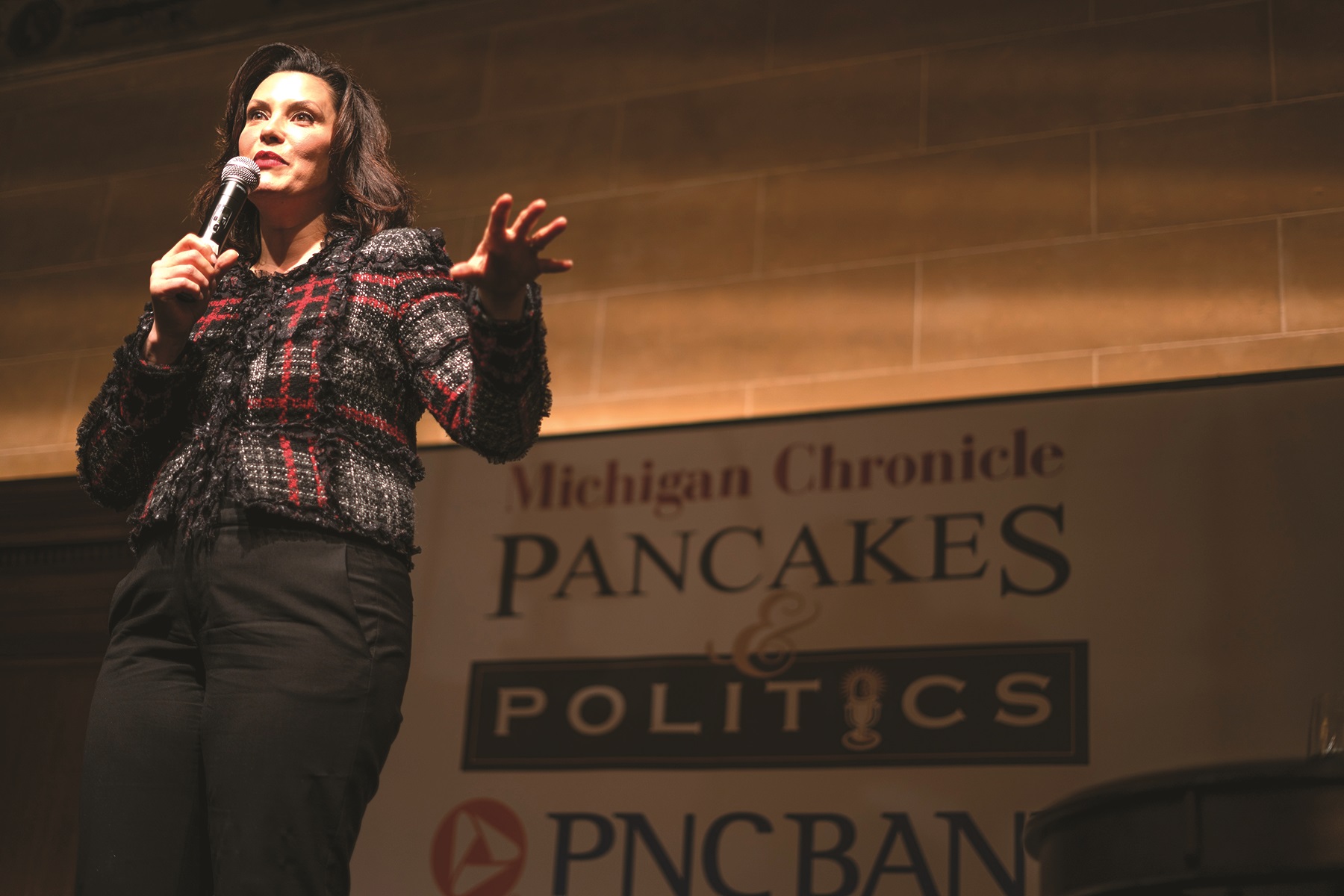 Gov. Whitmer emphasized that the state's majority Republican legislature represents a divided government in Michigan that she has to sell this budget to and needs Detroit's community and business leaders to her galvanize support to persuade Republicans and fellow Democrats to support her $60 billion budget proposal that adds a 45-cent per gallon increase to the gas tax. Reverend Dr. Wendell Anthony, pastor of Fellowship Chapel in Detroit and President of the Detroit Branch NAACP citing the roads stated: "At some point you'll get money to fix roads, it may not be all that you asked but I would hope that the roads fixed are also roads in the communities where people drive every day. As someone who has had five busted tires over the last year and a half, I'm not talking about just Woodward and Jefferson, but Linwood and Dexter, Fenkell and Joy Road."  Rev. Anthony went on to say: "…it is important that we see and have people that look like us working on the roads, not just holding the flag. We want to see local business people that can joint venture on these contracts, we want some of the jobs as well." Among Rev. Anthony's comments to the Governor included making reducing auto insurance a priority. He suggested that: "…the thing that will make this 45 cents gas tax more palatable is if we are able to reduce the cost of the high, outrageous, terroristic [auto] insurance rates that we are forced to pay in Michigan and Detroit because these insurance companies are killing us." He implored the Governor to use her executive powers to do all that she can stating: "You have the power of the executive pen, please do not be hesitant to exercise your governor authority to move on issues when the legislature doesn't move on them."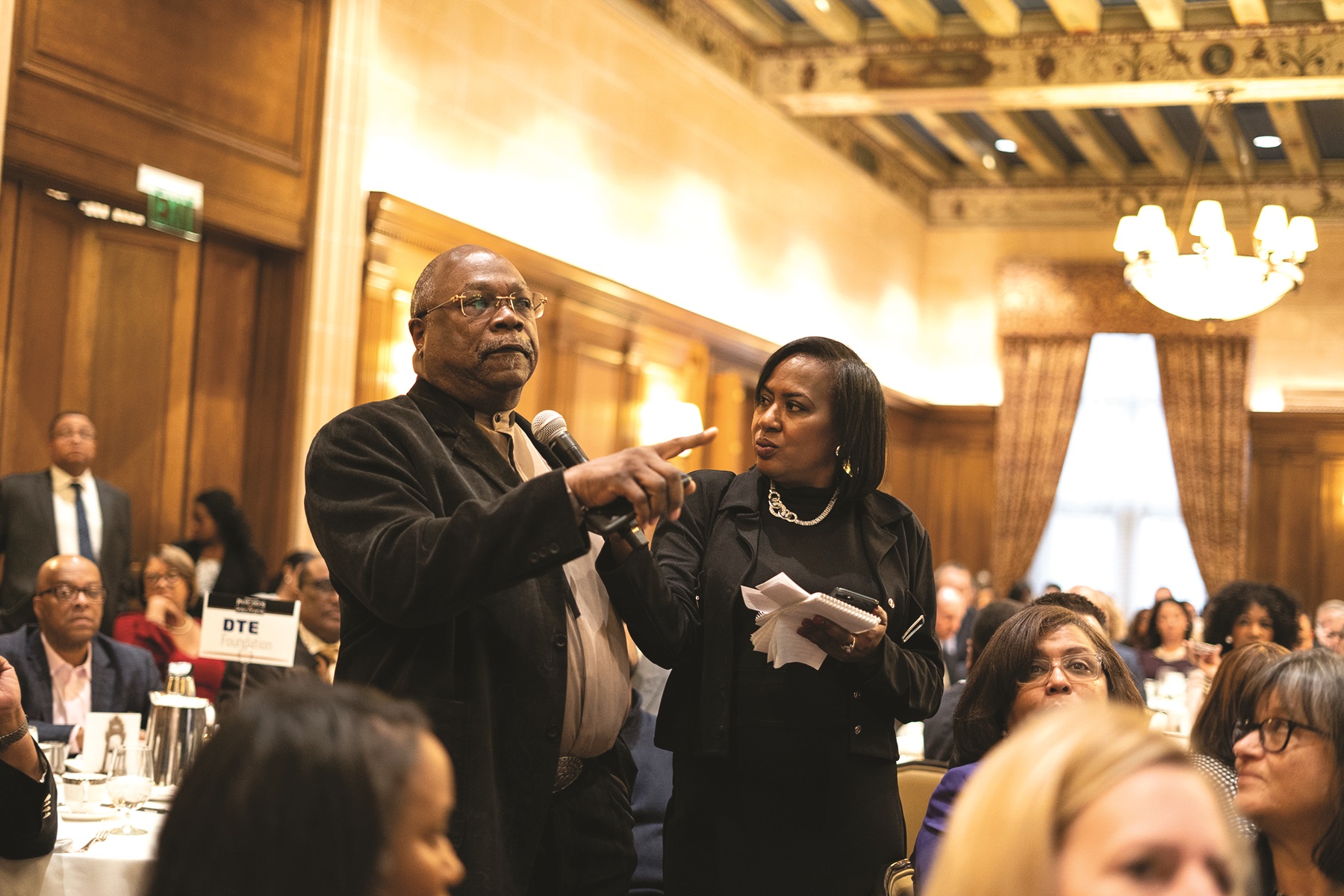 The governor responded by saying three things: First, "It was important in building my cabinet to make it representative of our community. The best candidate out of numerous excellent choices for the Michigan Department of Transportation happens to be an African American, Paul Ajegba." Second, she summarized the rationale for the gas tax by saying: "on average, the per motorist cost would be $23 a month and generate an additional $2.5 billion a year for the state." She further defended the gas tax by saying: "Every driver in Michigan is already paying a hidden tax on our roads having to buy new rims and tires frequently, with estimates of $600 annually in repairs and the cost just went up. If we don't raise the $2.5 billion we need to actually fix our roads the right way, with the right materials, the cost will continue to go up year after year." Third, she assured attendees that she will work with the legislature to fix the predatory auto insurance rates in Michigan.
After the presentation, Detroit City Council President Brenda Jones said: "The gas tax might be able to be sold since it is phased in. Adding nearly 50 cents to a gallon of gas is a lot of money to residents living at poverty levels, but you spend that amount or more buying new tires and auto repairs." Regarding funding for education, Council President Jones understands that Michigan is falling behind the rest of the country when it comes to literacy and we must invest in our schools and our children. Jones said: "When you look at Amazon not wanting to come to Detroit because of a lack of talent and skills deficits, we have to make investments in this area. We also have to invest in our adult education because if our children don't see their parents getting higher education, they will have no role models to aspire to those levels of educational attainment." Jones qualified her comments by saying: "What the residents will want to know is in the immediacy when will the roads be fixed and when will the talent gap be closed?. The biggest problem I see is how are we going to sell this to people in the community. She has broken this down for the business community, she now has to break this down for residents to understand this plan. I have some suggestions for her and look forward to meeting with her. My constituents' feedback I'm hearing is they can not afford it, but if they are educated on this plan they will understand why we need to make these investments."
Punctuating her presentation, the governor reiterated her theme: "We have a decision to make. We can either continue to stagnate and decline, ignoring festering problems in our state, or we can choose the Road to Opportunity, where we invest and solve the problems we face as a state." Further justifying her budget, she ended by saying: "to strengthen our state and improve our ability to compete in the 21st century, we need to rebuild our infrastructure and make foundational investments for the things that connect us all: roads, education, skills, and water."