Moneyball Sportswear owner and creator Desmond Ferguson was raised in Lansing, but was actually born in Detroit. He is returning to his Detroit roots by opening a third Moneyball Sportswear store in the metro area.
The new Moneyball Sportswear store will be located at 30215 Southfield Road, between 12 and 13 Mile Roads, and will have a soft opening Friday from 1-3 p.m., with a ribbon cutting ceremony hosted by Southfield Mayor Kenson Siver. The official grand opening will take place Saturday from 12-7 p.m., and will feature giveaways, prizes, and entertainment. Everyone who makes a purchase will go home with a free Moneyball shirt.
"We have been having to do well in Lansing, but it's a small city," Ferguson said. We want to be a global brand and moving to Detroit is a natural progression. The metro Detroit area has a larger population, which will allow us to do a lot more business and serve a lot more customers."
"At point of time, we did basketball uniforms for every school in the PSL (Detroit Public School League). We started in Detroit, so, it's sort of like coming full circle. I was born in Detroit, but we moved to Lansing at 2-3-years-old. I'm from Lansing, but all of my family is in Detroit. Lansing is where the business has grown, but we started with the Detroit PSL."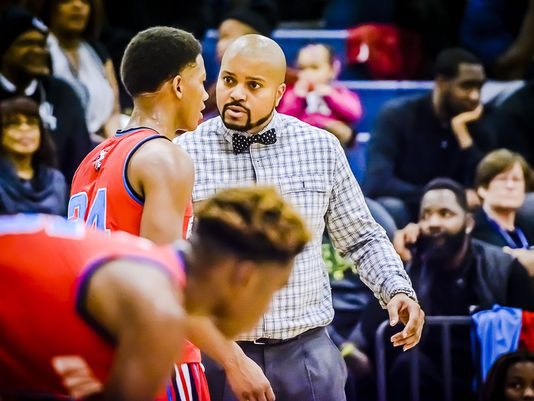 Ferguson played basketball at Magic Johnson's alma mater, Lansing Everett, in 1995 and at Detroit-Mercy in the late 1990s. The Titans made two NCAA tournament appearances while he was there. He also had a cup of coffee in the NBA and played 11 years professionally. Once he was done playing, Ferguson got into the uniform business in 2002. His logo can now be seen on thousands of uniforms across the country.
The name Moneyball is his nickname, having played AAU ball for Team Michigan in the 1990s with Kevin Garnett, Robert "Tractor" Traylor, Albert White, Terrance Roberson and others, and they noted how well he could shoot the ball.
He first made jerseys for Detroit Finney, when Wayne State University assistant coach and former college teammate E.J. Haralson was heading that program. Ferguson quickly became well-known within the basketball community around the state, as a former player and coach, and his logo can be seen on the uniforms of many teams around the state and country, in a number of sports.
"Us as black athletes, we dominate the games of sports, yet, we don't own anything within it," said Ferguson. "Back then, there wasn't any black ownership in athletic apparel and companies were charging premium for regular uniforms. I was willing to do customs uniforms at a lower price and it has worked out for me."
The 1,700-square-foot Southfield store will have branded items such as hoodies, T-shirts and shorts for men, women and children. In addition, Moneyball offers custom-made sports uniforms., creating two businesses in one.
Ferguson said he plans to expand his brand to Detroit city limits and Atlanta in the future.