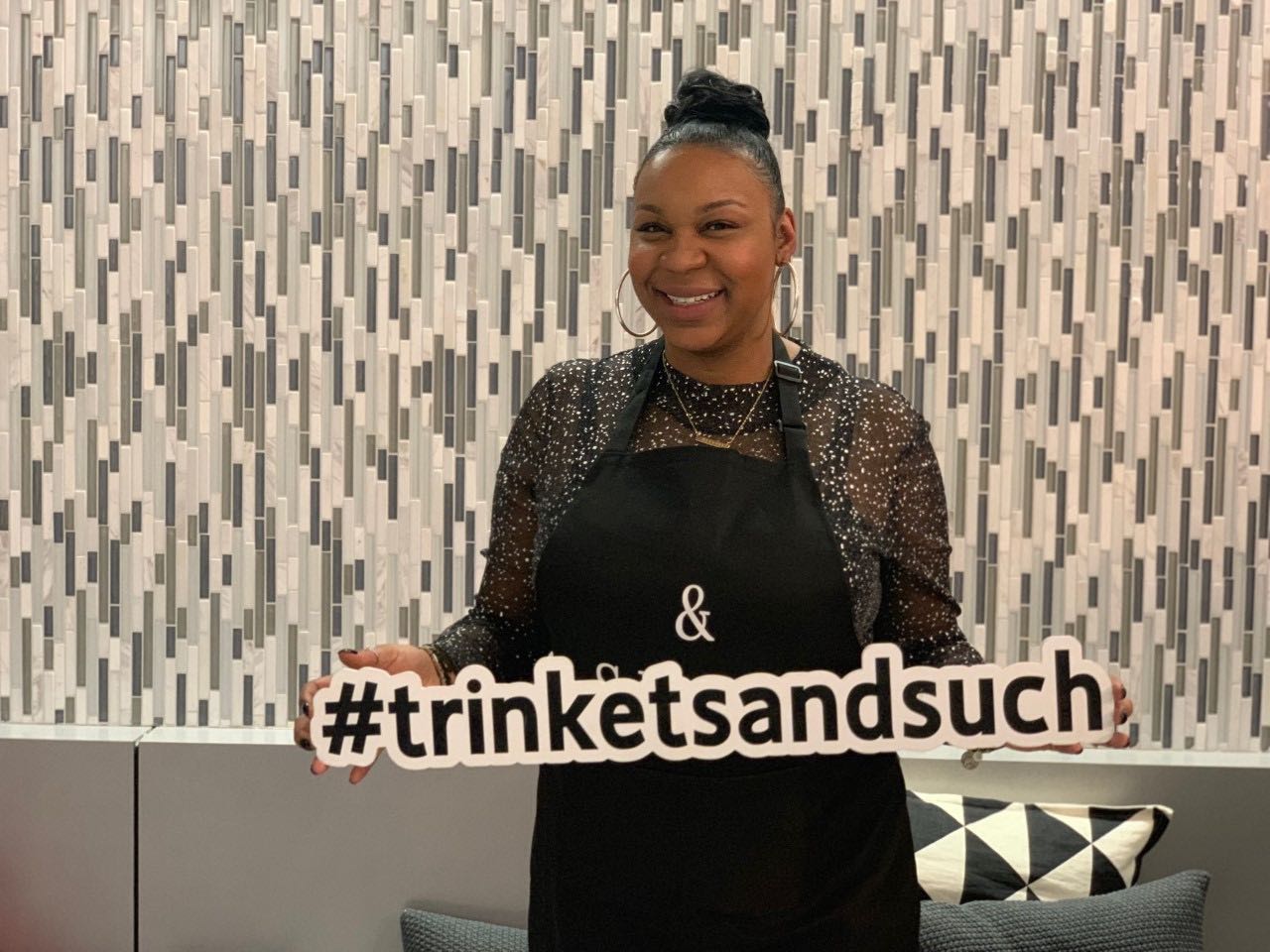 Daisha Mitchell was on the couch one night in October of 2016 Netflix and chilling with her boyfriend, when the idea for her company popped in her head. She would call it "Trinkets and Such."
"I knew that I wanted to start a business, but I just couldn't figure out what direction I wanted to go," said Mitchell, who said she failed at three other attempts to be an entrepreneur. "I couldn't think of anything and he was like, 'what about all that little stuff that people compliment you on?' I said, my trinkets and such? And there came the name."
Trinkets and Such is a one-of-a-kind, black-owned company that focuses on practicing and promoting the art of giving by providing a quality collection of effortless lifestyle essentials, hand-stamped semi-fine metal jewelry pieces and a stylist curated collection of accessories to compliment them.
Mitchell started off buying and selling trinkets, then began offering hand-stamped, personalized items. Trinkets and Such also offers earrings, pendants, bangles, pillows, branded pop sockets, Mitchell's signature Blossom beret, bag totes, and much more.
The personalized trinkets make gift giving easy for the Christmas holiday or any occasion, available in a 14K gold-plated, rose gold, or sterling silver metal flat bar, expandable cuff, heart toggle, key chain, or dog tag. Prices range from $35 for a heart toggle to $52 for the metal bars.
Mitchell pulled the inspiration for the brand from her own personal style and sense of fashion.
"I really wanted to do something that meant something to me," said Mitchell. "Although fashion is first and foremost, trinkets are more often than not what I'm complimented on. My personal fashion changes so often, but trinkets are the constant."
Mitchell does the hand-stamping herself, striking a small bar with each letter on it with a small hammer to spell out words or whatever customers want on their piece(s). Each piece is hand-stamped into the metal one letter at a time, so the spacing and depth of each letter may very a little and may not be perfectly centered or aligned. But Mitchell said you should not look at this as a imperfection, but as a unique one-of-a-kind individual piece. That brand is specifically targeted at women but can be worn by men.
"I do try to make every piece as perfect as I can," Mitchell said. "But I don't want it to look like a machine did it, so that I can say it's a hand-stamped piece instead of it looking like it came out of a production line."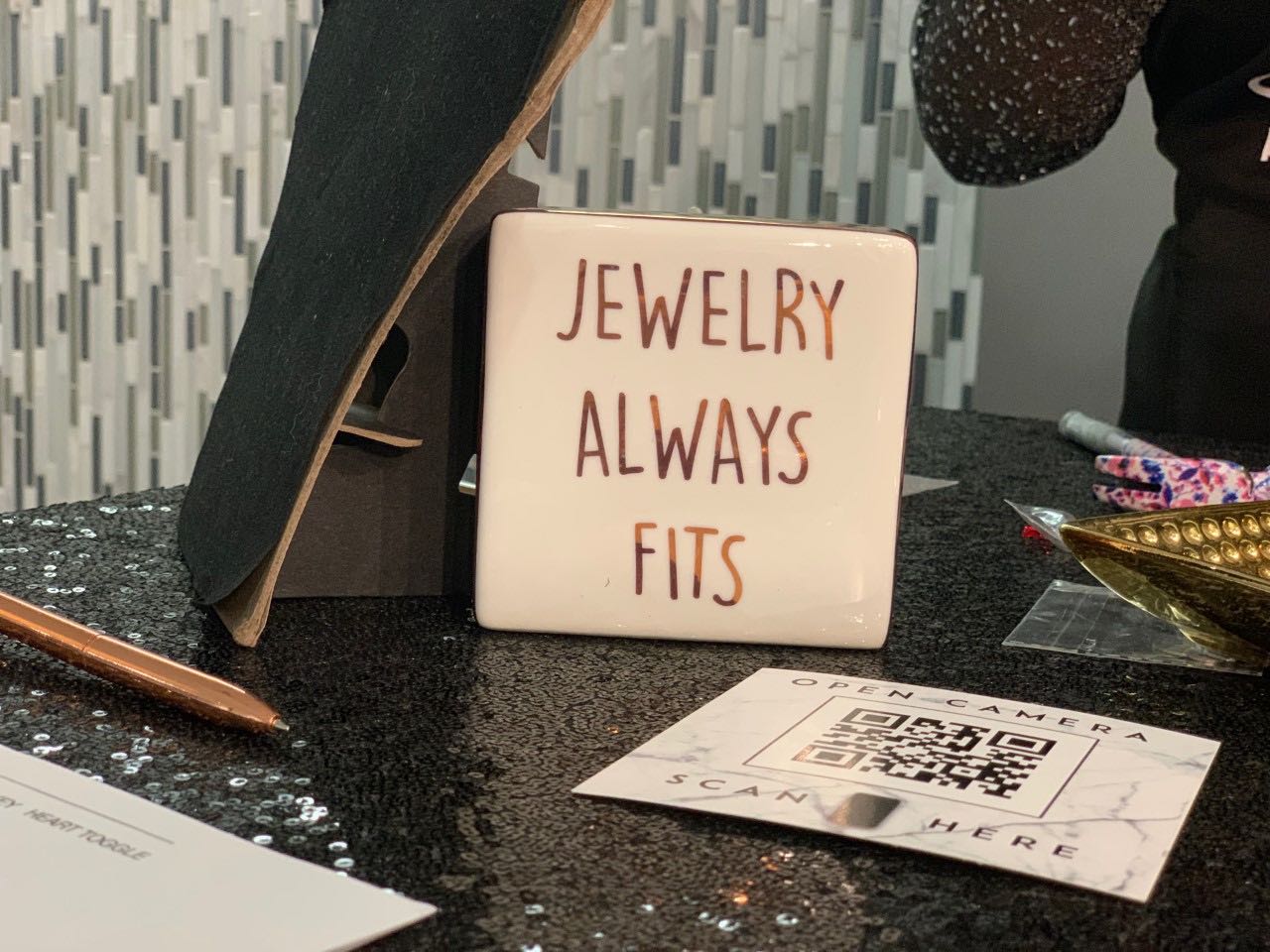 Mitchell said the craziest thing someone has asked her to stamp on one of her pieces was the phrase, "Boy, bye." But other than that, most people come to her for sentimental pieces, anniversary dates, and kids names, among other things.
Trinkets and Such is currently located at a pop-up location at the 1441 Woodward Collection in downtown Detroit until the holiday season is over. And while Mitchell will only be there for a short time, the foot traffic on Woodward has helped provide exposure for her brand.
"It is absolutely amazing that I am able to setup shop here with my brand," said Mitchell. "This is my second year being here for the holidays. I was at 1001 Woodward last year, so to be able to be a part of this again and to keep propelling forward in my business, I'm grateful for the platform."