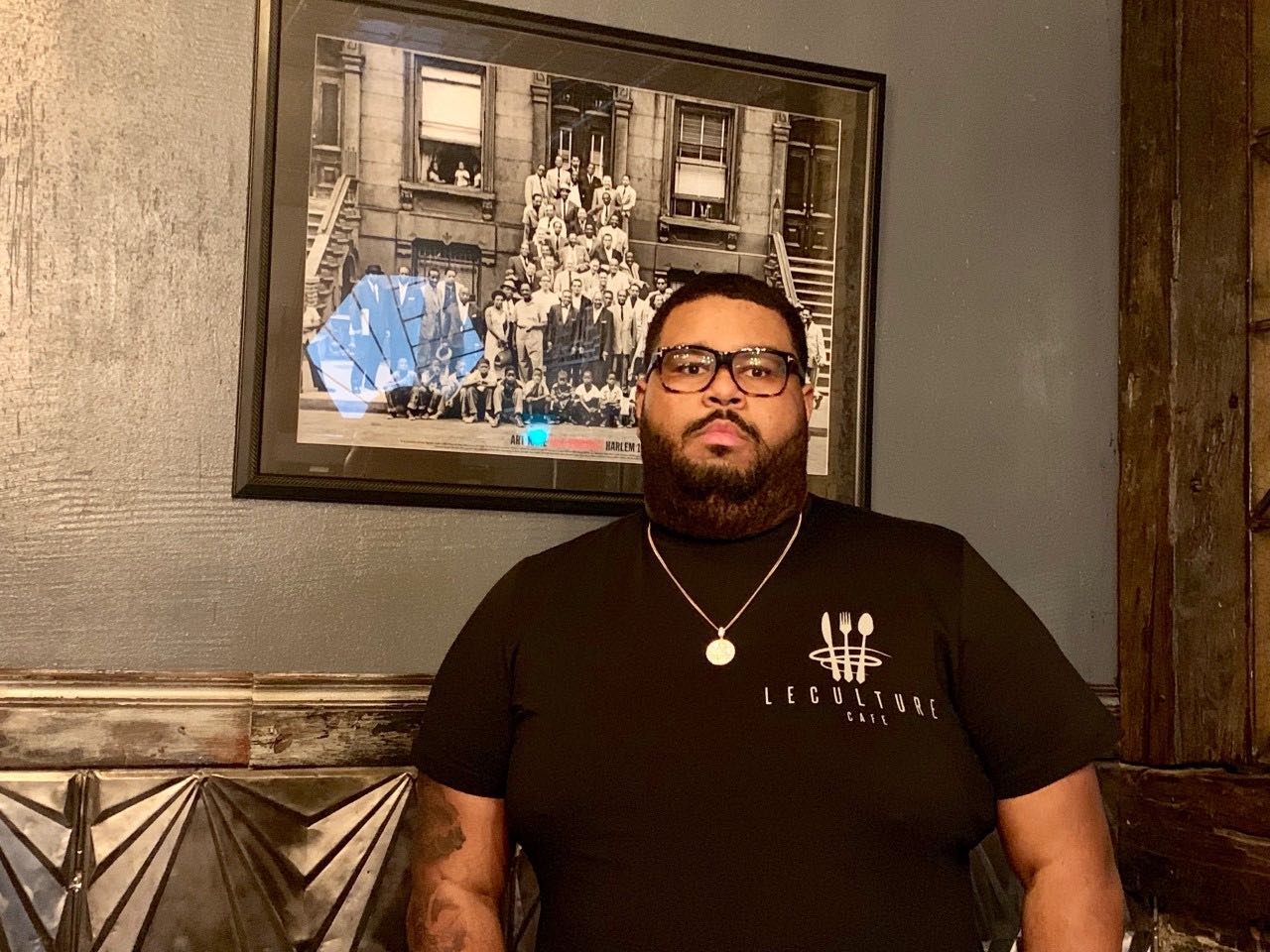 The hottest restaurant in Detroit is not in downtown or midtown. It is situated in the former Black Bottom neighborhood, a predominately black utopia in the early to mid 20th century that was wiped away by city officials for urban renewal. Le Culture Café, located at 1428 Gratiot, is a new experience that combines fine-dining and Detroit black culture.
"I describe Le Culture as upscale/comfort," said owner Drew Matthews, who partnered with Dennis Irving to open the restaurant. "That was the whole idea; to have a restaurant for us to go to. Nothing against anyone else, but if you go to Ruth's Chris with a t-shirt and jeans on, they stereotype and look at you crazy. There was a void for us and I wanted to have a restaurant that you can come dressed casual, but still get top-notch service and food."
Le Culture boasts a diverse and affordable menu. Appetizers include $12 Culture wings and $15 Maryland crab cakes. Burger and sandwich offerings range from $14 to $16. Entrees include $20 mamba chicken pasta and grilled New Zealand lamb chops for $28. They even have Faygo Pop in the glass and Black Bottom Cheesecake. There is no microwave or freezer in the building, as the food is made fresh daily.
Matthews, 32, was selling dinners out of his home last May before he ever thought about opening a restaurant business. The one-time sale went so well for Matthews, serving 500 orders, that he decided to do it on a much larger scale. Le Culture first opened on November 9 and although they are still in a "soft opening" phase, have had over 5,000 people visit in three weeks. In order to dine-in at Le Culture, you have to make a reservation. They have been sold out every night.
"When I first started selling dinners and I had all of those orders, it clicked that there was a void missing for quality food," said Matthews, who learned how to cook from his grandmother. "So I started doing brunches over at the Horatio Williams Foundation nearby, serving 500-600 people every Sunday. I did that four times and I knew I needed a restaurant. Then we moved into this place."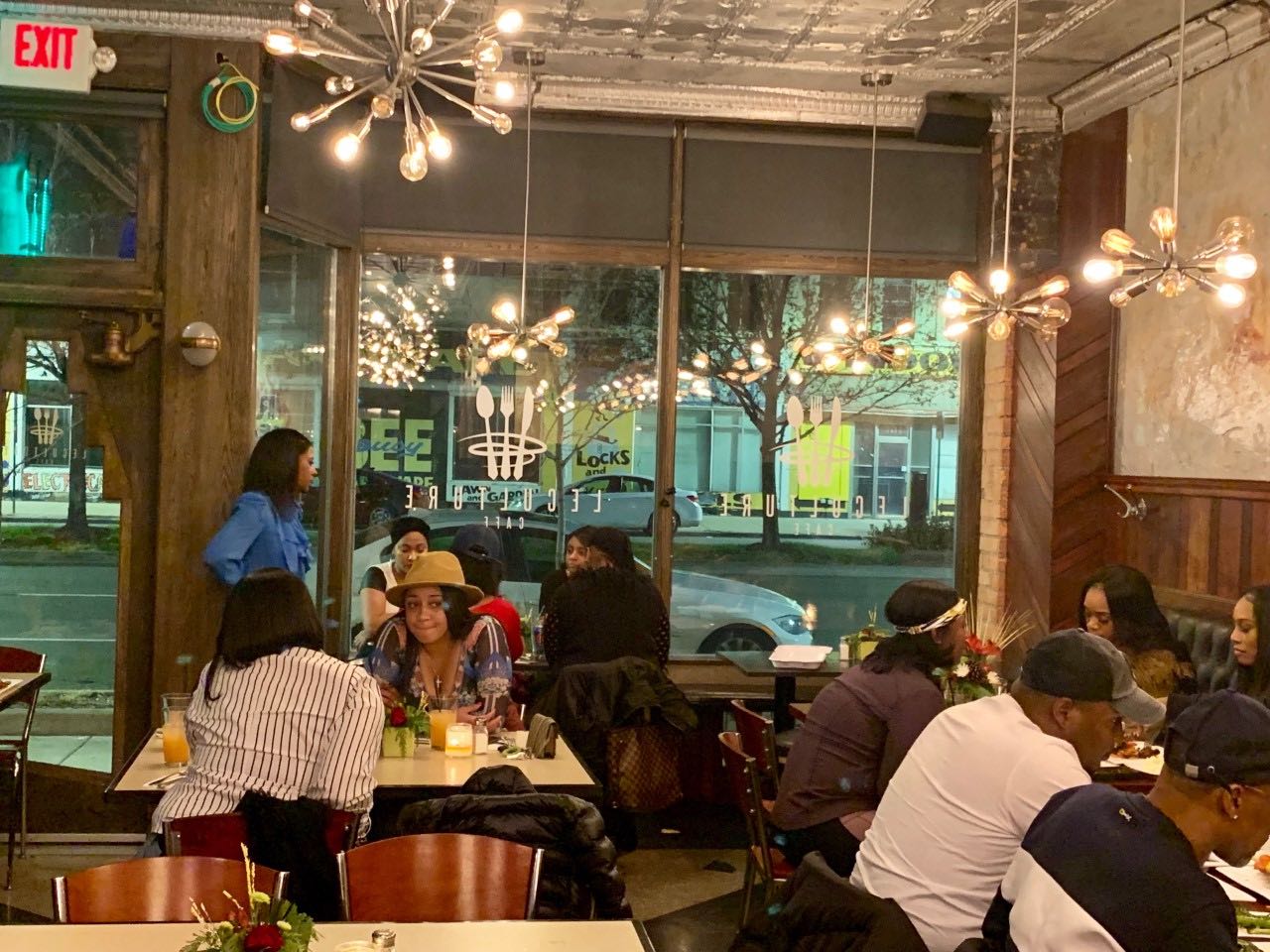 The former tenant of the Art Deco building, the French-inspired restaurant Antietam, closed its doors in March. Le Culture soon leased the building and joins a bustling block of retail storefronts, including Orleans + Winder, SMPLFD, and Boro Resale, as well as shared plates-style eatery Gather.
What is unique about Le Culture is its location and atmosphere inside. Black Bottom was home to thousands of African-Americans during the early 20thcentury, bound by Brush street to the west, the Grand Trunk railroad tracks to the east (now the Dequindre Cut), the Detroit River to the south, and bisected by Gratiot Avenue, where Le Culture is situated.
Its main commercial strip was Hastings street, which was transformed into one of the city's major African-American communities of black-owned businesses, social institutions, and night clubs. It became nationally famous for its music scene. Major blues singers, big bands, and jazz artists such as Duke Ellington, Billie Holiday, Della Reese, and Ella Fitzgerald regularly performed in the bars and clubs of Paradise Valley's entertainment district: an adjacent African-American neighborhood. Some of Black Bottom's more prominent residents included Joe Louis, Malcolm X, Berry Gordy, Sugar Ray Robinson, Dr. Ossian Sweet, and many others.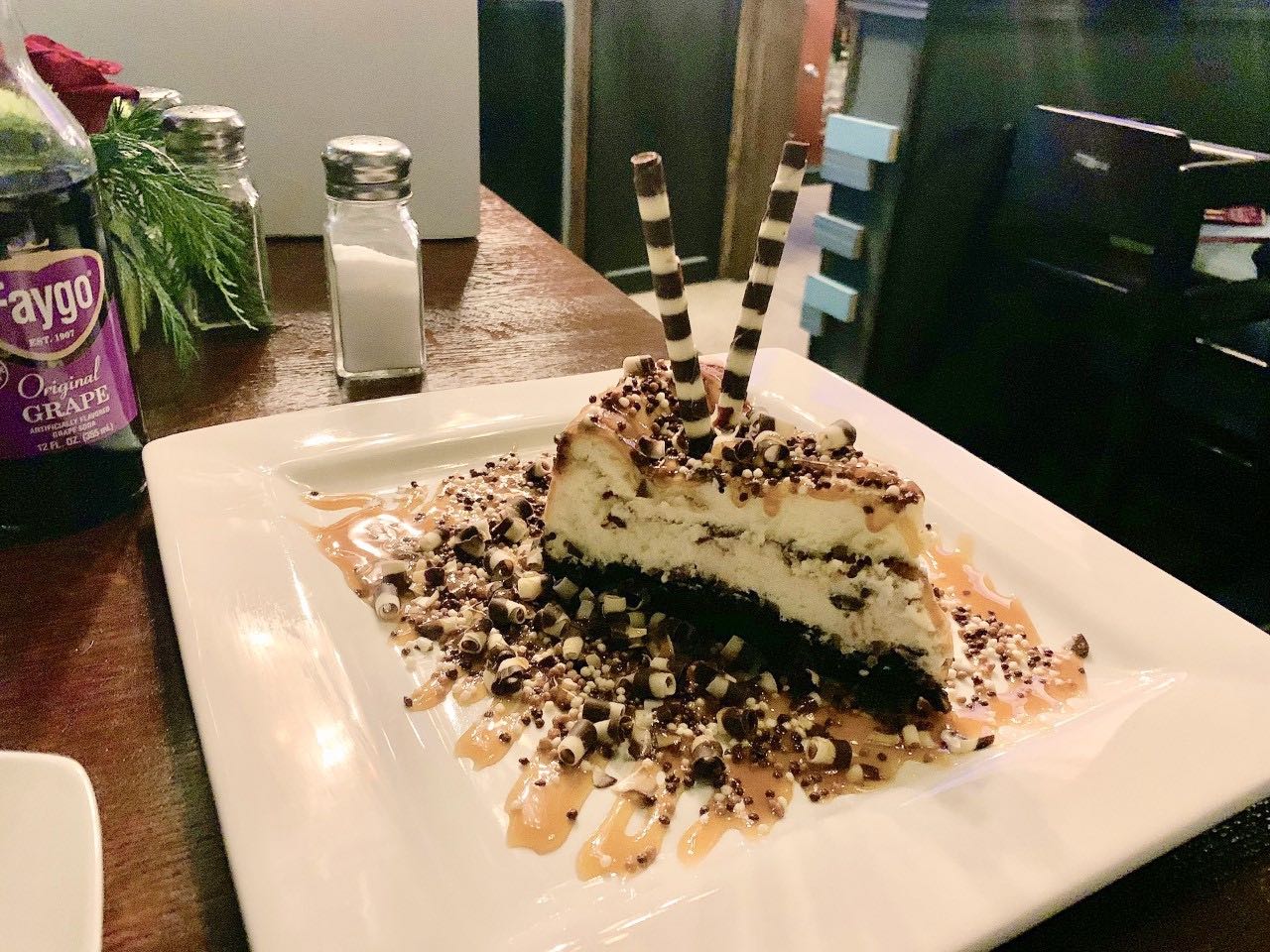 In the early 1960s, the City of Detroit conducted an Urban Renewal program to combat what it called "urban blight." The program razed the entire Black Bottom district and replaced Hastings street with the Chrysler Freeway and Lafayette Park. The physical remnants of Black Bottom are gone, but Le Culture reminds you what it was like for black people to fine-dine and fellowship, in our own way, at the same time.
"I could have opened up anywhere. A lot of people run to the suburbs, but I wanted to be right here in Detroit," said Matthews, whose grandmother grew up in Black Bottom. "I saw a couple of other places, but once I did my research on it and saw that it was in Black Bottom, and me knowing about this neighborhood, that's what made me choose this location."
"As millennials, we forget about Black Bottom or we don't know. We don't understand what they went through and for us to have this restaurant in this area means everything because this is where our people are from. My great-aunt cried when she came in here. This is where they grew up in the 1920s and 30s."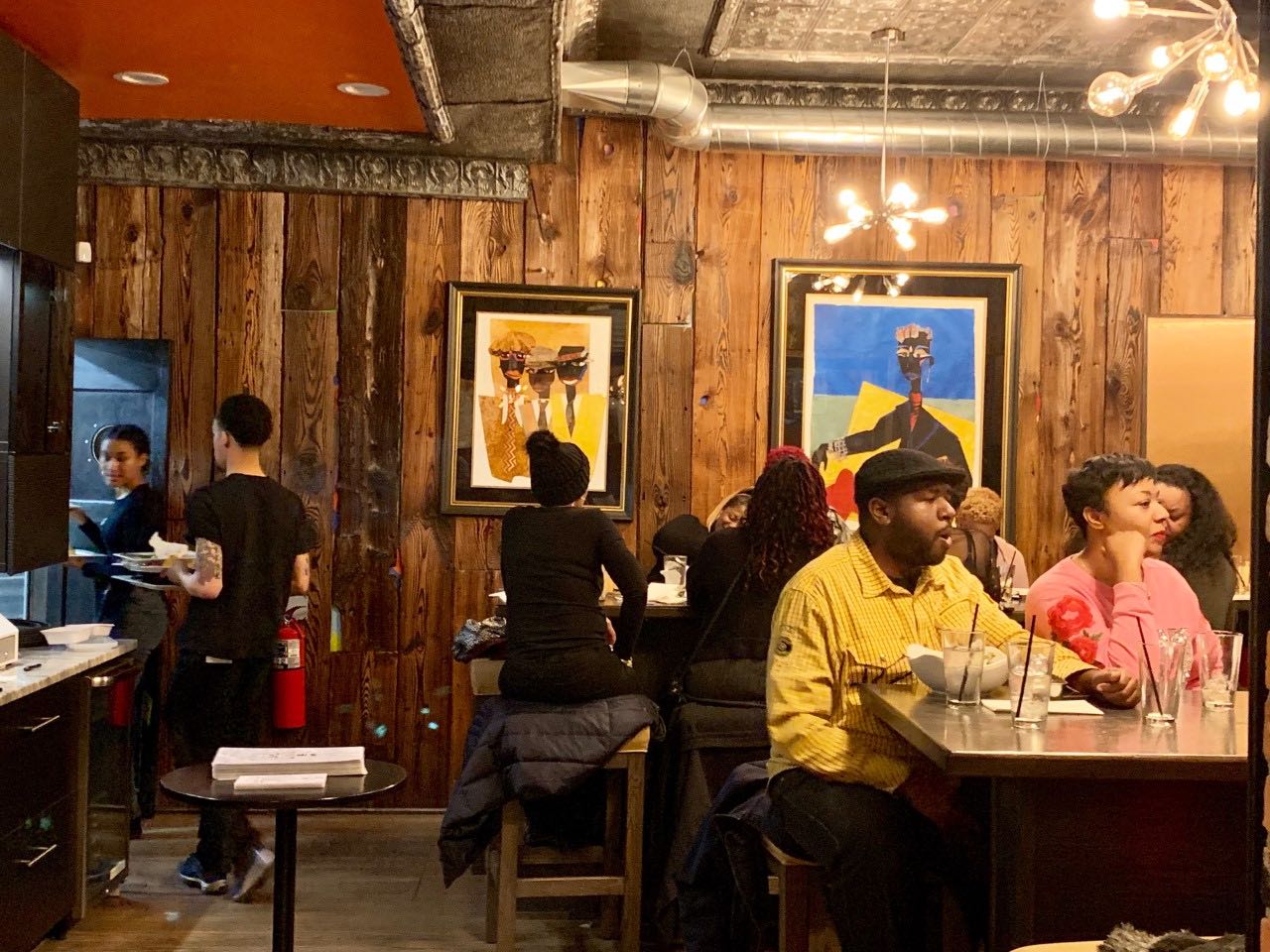 The atmosphere inside Le Culture also makes it an enjoyable experience. When you enter, Judy Bowman paintings line the wall. Bowman is from the east side of Detroit and grew up in Black Bottom, attending Detroit Public Schools. There are also photos of Duke Ellington, Billie Holiday, and even the famous 'A Great Day in Harlem' picture on the wall. Matthews said some photos of the old Black Bottom neighborhood are being prepared. The music will not disappoint you either. On any given night you will be able to hear anyone from Sade to Bobby Brown.
"The atmosphere was one of the things I told people I think they'd enjoy," said Re-Kenya Roberson. "I liked that it felt so original because of the wood work around the building and the overall structure. It was really comfortable and familiar, although it's new. The music selection was on point, too. They set the mood."
Le Culture is opened from 4-11 p.m. from Tuesday-Saturday and 2-10 p.m. on Sunday. All ages are welcome.