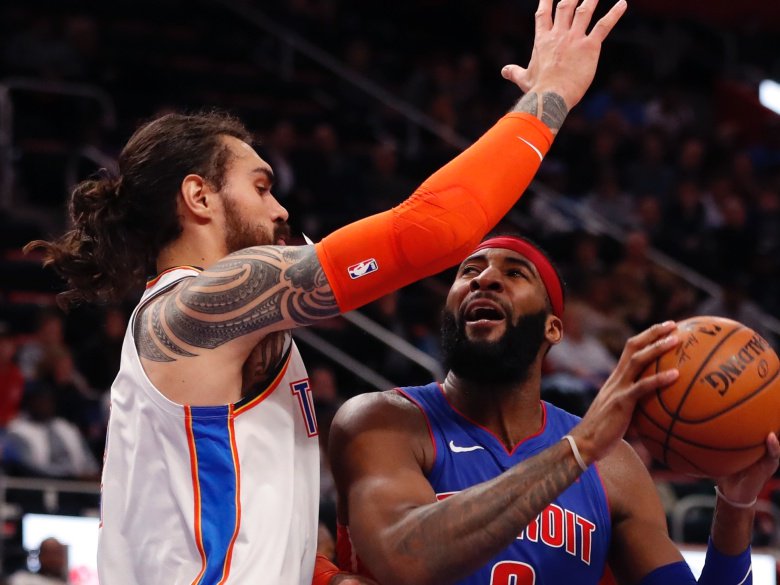 DETROIT – Not much went well for the Detroit Pistons Monday night in a 110-83 loss to the Oklahoma City Thunder. Detroit registered its lowest offensive output of the season and snapped its five-game winning streak.
The Pistons (13-8) beat the two-time defending NBA champion Golden State Warriors on Saturday and were on a high after that. But it did not last long, losing by their largest margin of the season (27). OKC (15-7) entered the game as the No.1 rated defensive team in the league.
"Their defense is very good," said Pistons head coach Dwane Casey. "Hats off to that team. They came in with the right approach and we didn't. I take the blame for not getting us ready for the top defensive team in the league."
Blake Griffin was the lone bright spot for Detroit, with a team-high 20 points on 7-18 shooting. Andre Drummond chipped in 13 points. Jon Leuer led the bench with 12 points in just eight minutes.
Detroit shot a season-low 33 percent from the floor (31-of-94) and made only 6-of-32 3-pointers (18.8 percent). Their previous season-low for points was 89 points in a loss to Boston at home on October 27.
"We just have to have the same approach to every game," said Glenn Robinson III, who was the first of the players dressed in the locker room following the blowout loss. "We have to have that same effort every single night, no matter who comes to town."
Despite their offensive difficulty, the Pistons were hanging around in the first half, trailing only 50-40 at the break. But the Thunder closed out the third quarter on a 29-10 run to break it open, leading by as many as 35 points in the fourth quarter.
Steven Adams led the charge with 21 points. Russell Westbrook scored 18 points, with six assists, and Paul George added 17 points and 10 rebounds.
Starting forward Reggie Bullock left the game early in the first quarter after he pulled up lame following a shot.
The Pistons are in tough stretch of their schedule. They visit Milwaukee (15-7) Wednesday, then play two of their following three games against Philadelphia (17-8), Friday at home and Monday on the road.
"It's back to the drawing," Casey said. "We have Milwaukee next and another tough game Friday night. So we'll see how we bounce back."