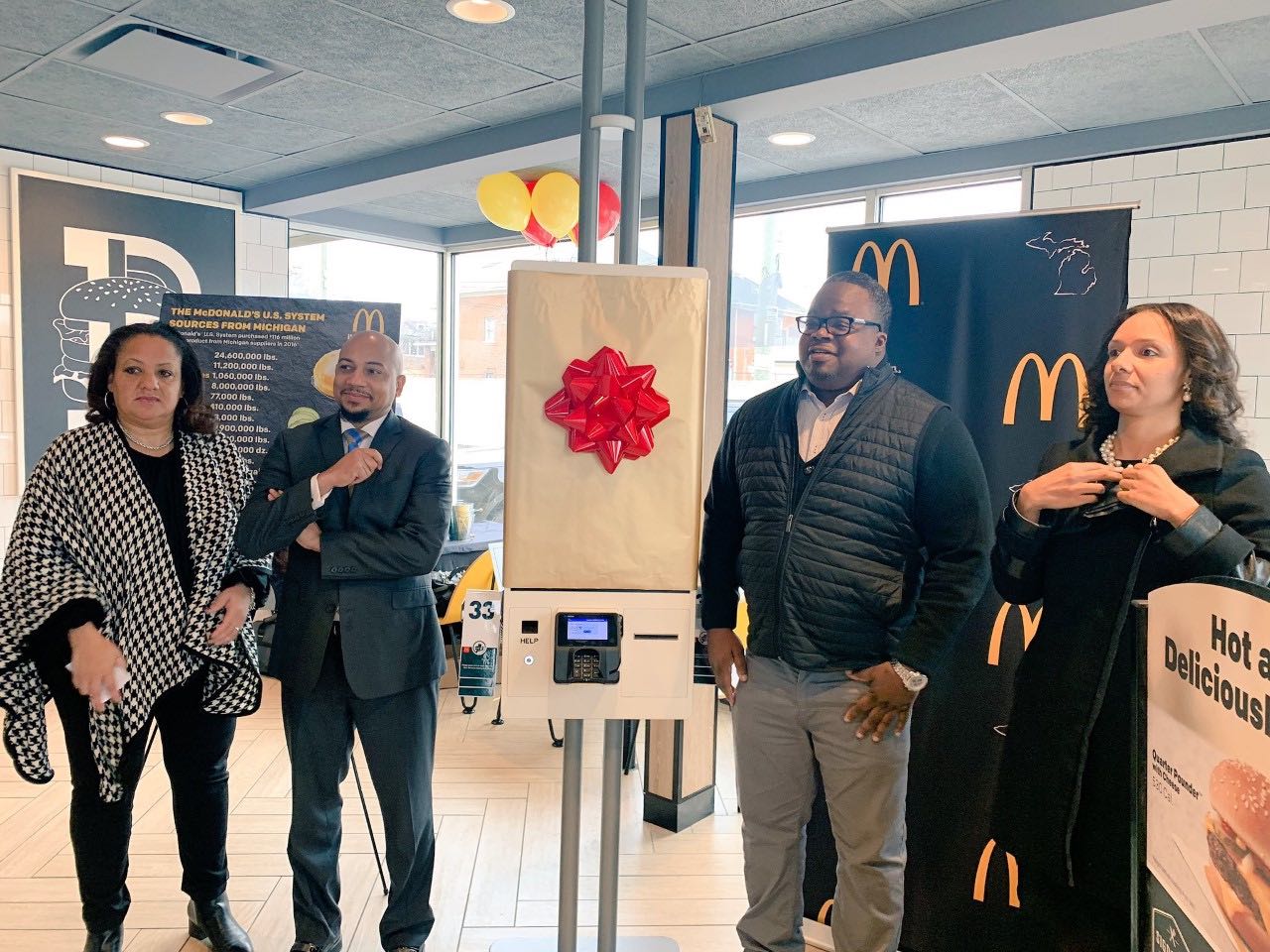 Ordering a McDouble or doing some work on your laptop just became a lot easier and welcoming at the McDonald's on Linwood and Davison on Detroit's west side. The location, which is owned and operated by James Thrower II, celebrated the completion of extensive interior and exterior upgrades, all designed to transform the customer experience inside and outside of the restaurant.
The renovation project is part of a series of investments totaling around $10 million over 24 months in construction, technology, training, and improved customer service. The newly renovated 13500 Linwood, 1321 West Eight Mile Road, and 6003 West Vernor Highway locations are among the first in the city of Detroit to receive improvements. In total, McDonald's and franchisees are investing $6 billion to modernize most U.S. restaurants by 2020, including most restaurants in Michigan.
"Today marks an opportunity to show what McDonald's is doing in the community," said Thrower, who has been in business with McDonald's for 28 years and an operator for 10. "We wanted to bring innovation to our locations, make our customers feel welcomed when they visit our restaurants, and bring the experience of the future to Detroit."
With the significant construction investment, the transformed restaurants now feature modernized dining rooms with globally and locally inspired décor, new furniture and refreshed exterior designs, and an enhanced customer experience with digital self-order kiosks that make ordering and paying for a meal easier. The kiosks empower guests to browse the menu, find options and tailor their meal just the way they want. Thrower and one his employees gave a tutorial of how the kiosks work.
Remodeled counters allow for table service that offers guests the opportunity to relax while their food is being made. Bright and easy-to-read digital menu boards were installed inside and in the drive-thru, with expanded McCafé counters and larger display cases.
New designated parking spots for curbside pick-up through Mobile Order & Pay were also implemented.
"We're working to build a better McDonald's across Detroit and we're proud of the investment that we're making in our neighborhoods long-term," said Anne Christensen, McDonald's Brand Reputation Manager. "Our modernization not only brings a new, convenient, comfortable experience for our customers, but it also supports local architecture, engineering and construction jobs across the city of Detroit."
Detroit City Council President Pro Temp Mary Sheffield, National Business League president Ken Harris, a representative from Mayor Mike Duggan's office and other dignitaries were in attendance to acknowledge the investment that McDonald's is doing outside of downtown and midtown and the work they do affecting every day working people in underserved neighborhoods.
"I am very pleased at what you all do outside of this restaurant," said Sheffield. "I know first-hand of the work you all do with our high schools students in my district and I've seen some of the benefits from your benefits assistance program. Thank you for your dedication to improving the quality of life for residents of Detroit."
"Why this is important is because there is a misnomer that quality blacks businesses do not exist," Harris added. "This situation not only represents our community, but the Thrower family has invested in technology that shows not only are there quality businesses, but there are businesses that are cutting-edge, breaking the digital divide, and closing the digital gap. This is all about corporate and community responsibility."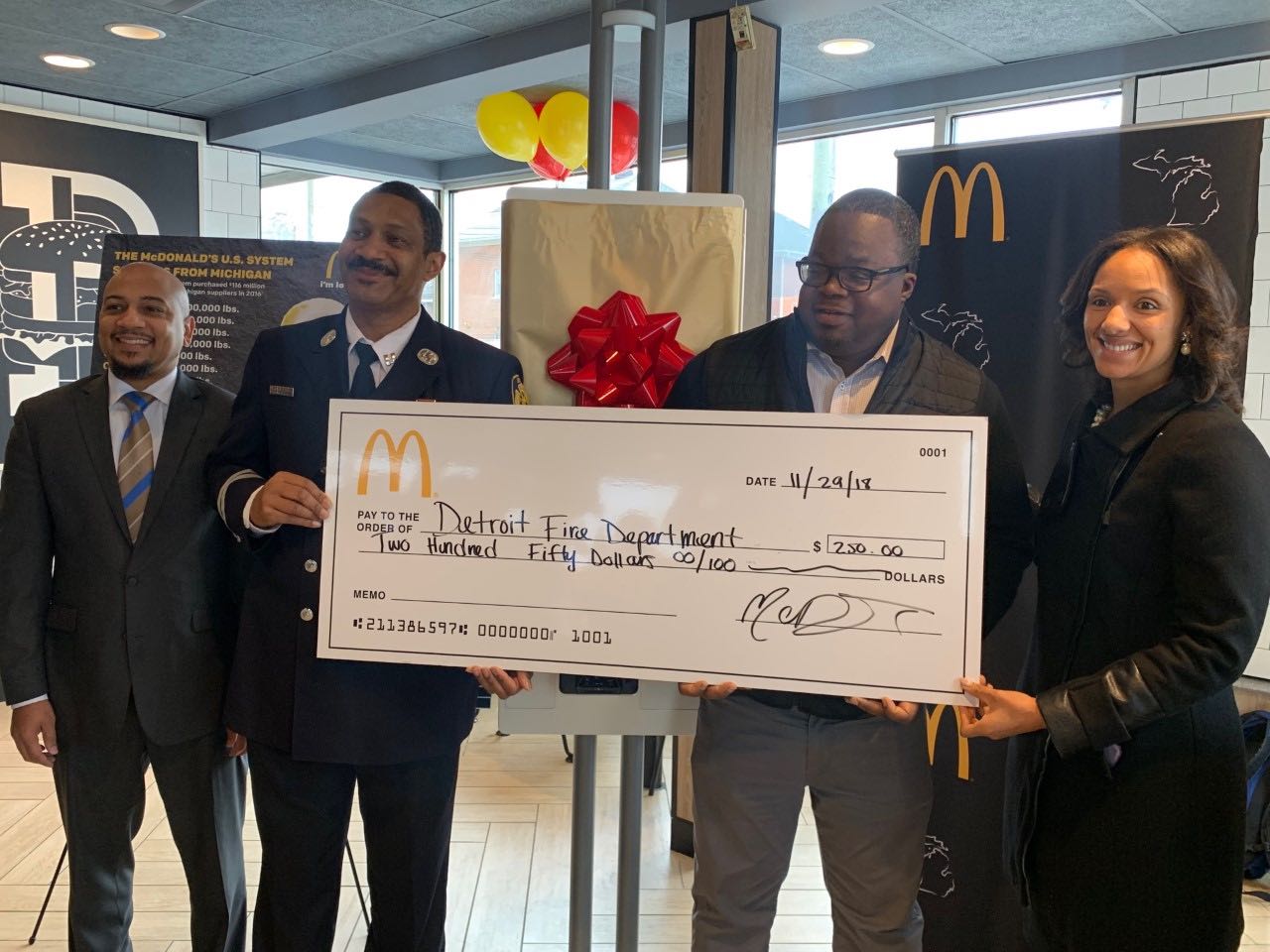 In addition to the investments to modernize the restaurant, McDonald's has also introduced McDelivery with Uber Eats at more than 5,000 U.S. restaurants. With new technology and other methods of ordering food thrown in the bag, comes the concern of job loss for hourly workers.
"No jobs will be lost at all," Thrower stressed. "We have an employee that helps customers with using the kiosk and you can see now that we are fully-staffed. These new features are not going to affect any jobs, as far as we're concerned."
The Thrower family has been in the McDonald's business for close to 30 years, even since Jim and Marla Thrower opened their first McDonald's in 1989. The family now owns and operate over a dozen McDonald's locations in Detroit and New Orleans, passing much of the responsibility on to their children. The Thrower family has given so much back to the people of Detroit, whether it has been through charitable donations or providing employment opportunities. James Thrower II continued that work by donating two $250 checks to the Detroit Police Department and Detroit Fire Department.
"It's huge to have DPD's and DFD's involvement in the restaurant," said Thrower. "We depend on them a great deal in the city and we like to have them as customers and provide a service to them as well."