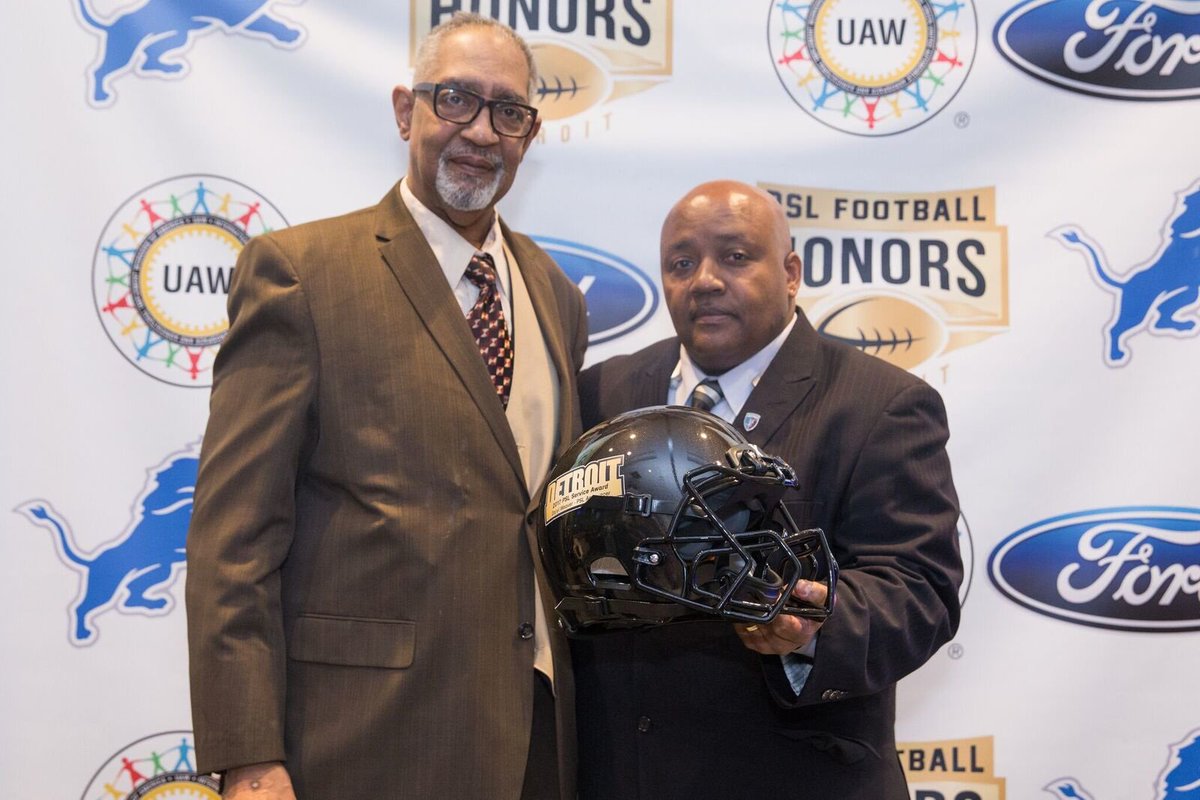 The NFL Alumni Detroit Chapter returns to highlight and celebrate the top Detroit Public School League (PSL) student-athletes and coaches during its 3rd annual 2018 PSL Football Honors Awards Banquet on Thursday, December 13 at Fellowship Chapel (7707 West Outer Drive) from 5:30-8 p.m. sponsored by Xenith.
The awards dinner is an accomplishment of student-athletes, coaches, and administrators that exemplify out-standing performance in the areas of leadership, coaching acumen, strength of character, and academic achievement. It will embody everything that is great about the Detroit Public School Football League. WXYZ Channel 7 Sports Reporter Justin Rose returns as Master of Ceremony with Detroit Lions Safety Glover Quin presenting the 2018 "Mr. PSL" award to the top overall athlete in the league.
"The premise behind this event was to shine a positive light on the performances of our student-athletes, those that support the PSL and our coaches," said President of the NFL Alumni Detroit Chapter Ron Rice. "Detroit has so much to be proud of and our young people are certainly no exception. The evening allows for them to see the culmination of all their hard work and dedication throughout the year."
This elegant recognition ceremony will present the following awards: The Service Award recognizes an individual or company for its outstanding service to the PSL District and/or its students. Coach of the Year recognizes a head coach that displayed outstanding leadership and mentorship on and off the field during the past season. Rookie of the Year is given to the top freshman or sophomore (1st year varsity player). The Valor Award recognizes a senior team leader that exhibited strength and a will to win in the face of adversity.
Scholar Athlete of the Year is given to the top student-athlete with a 3.2 GPA or greater. Lineman of the Year recognizes the top lineman in the league. Defensive Player of the Year recognizes the top defensive player in the league. Offensive Player of the Year recognizes the top offensive player in the league. "Mr. PSL" recognizes the overall top player in the league presented by Detroit Lions safety Glover Quin.
"Thanks to the NFL Alumni Detroit Chapter, we can honor coaches and student-athletes who have achieved both on and off the field," said Willie Burton, Programs Associate High School Athletics for DPSCD. "Success in and out of the classroom cannot happen without highly qualified athletic coordinators and coaches leading the way in the Detroit Public Schools Community District. The NFL Alumni Detroit Chapter and its PSL Football Honors Program, brings into focus those who have exceeded expectations and earned the right for special recognition."
Tickets to the 2018 PSL Football Honors, which include dinner, highlight videos and a media hour, can be purchased via Eventbrite. Business attire is requested.