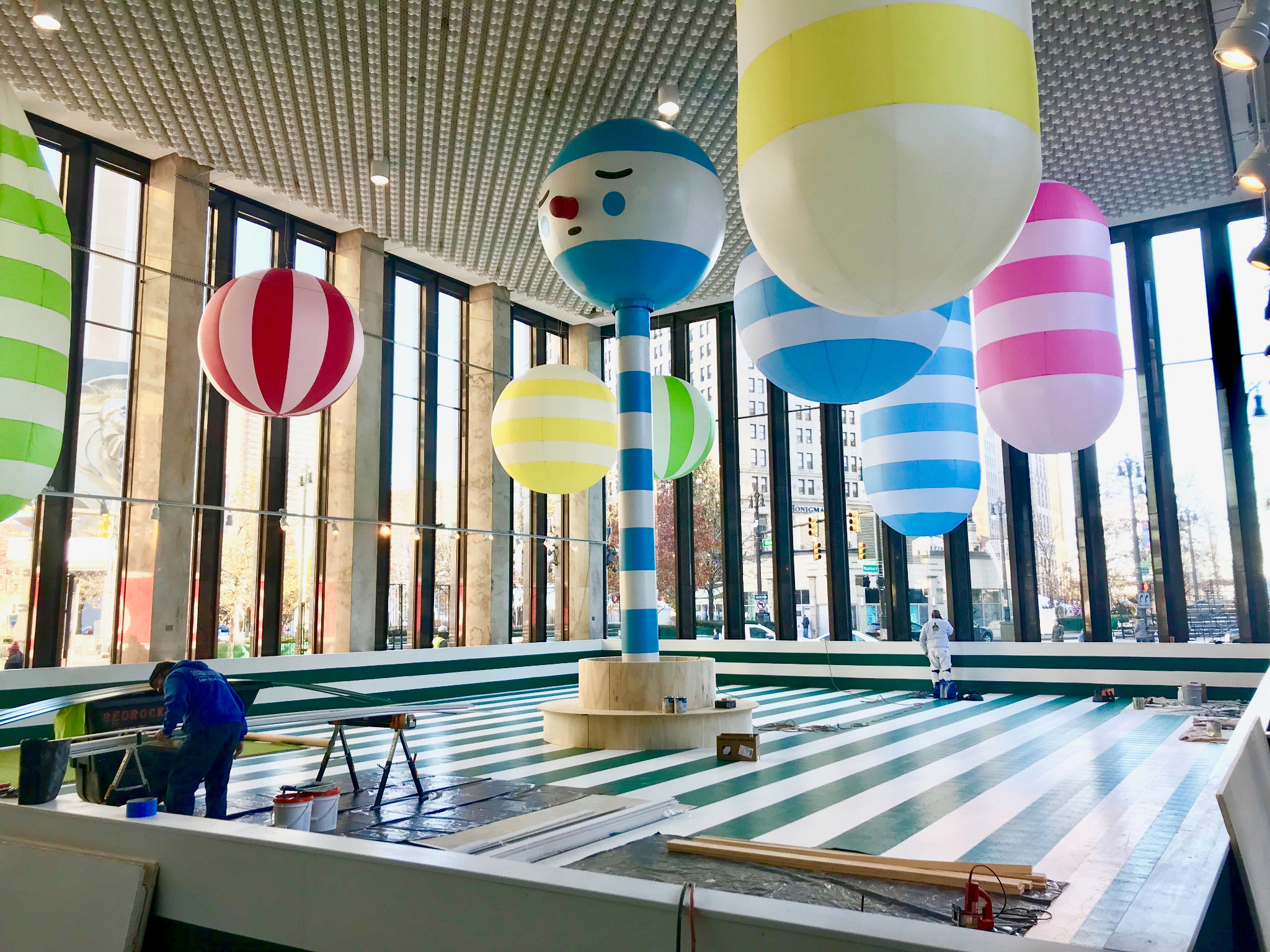 It will not be Royal Skateland or Northland Roller Skating, but the experience will still be enjoyable.
A free-of-charge roller rink is opening on the first floor of the 1001 Woodward building overlooking Campus Martius from November 30-January 27. The Rainbow City Roller Rink is produced by Detroit-based Library Street Collective and sponsored by Bedrock and the Quicken Loans Community Fun
Rainbow City Roller Rink will be an inflatable wonderland-turned-roller skating rink designed by acclaimed artist duo FriendsWithYou, Samuel Borkson and Arturo Sandoval III, bringing a colorful and whimsical experience to downtown Detroit. The rink will be 69 feet by 53 feet, with an overall area footprint of 88 feet by 60 feet and can accommodate 50-60 skaters at a time.
"There is a big history of roller-skating in Detroit, so this is going to be incredible," said Anthony Curis, partner of the Detroit-based Library Street Collective art gallery. "It is right down where a lot of the other holiday activations are happening, so it will be easily accessible in terms of location, and it will fit in really nicely with everything else that is happening down there."
Rainbow City Roller Rink presents a vibrant collection of weightless sculptures suspended from the ceiling of 1001 Woodward, hanging overhead as skaters traverse the rink's striped floor and encouraging activity and exploration. Each balloon-like companion is minimal in form, composed of simple geometry and towering high above. The largest figure in the group features a rotating head and stands at over 30' tall, reminiscent of carnivals or revolving signs off west coast highway roads.
By dwarfing the audience, the totemic pieces trigger a sense of reverence, yet the softness and friendly features of these monoliths are welcoming and warm. The installation creates a surreal landscape intended to provoke an iconic and childlike awareness and offers an opportunity to connect physically and psychologically with an energetic, ephemeral setting. The rink is still under construction but is scheduled to be finished in time.
"The space and pieces will be lit up really beautifully," said Curis. "We are going to incorporate more lighting elements to the piece and hopefully it will give that vibe and ambiance of skating back in the day in Detroit and around the country."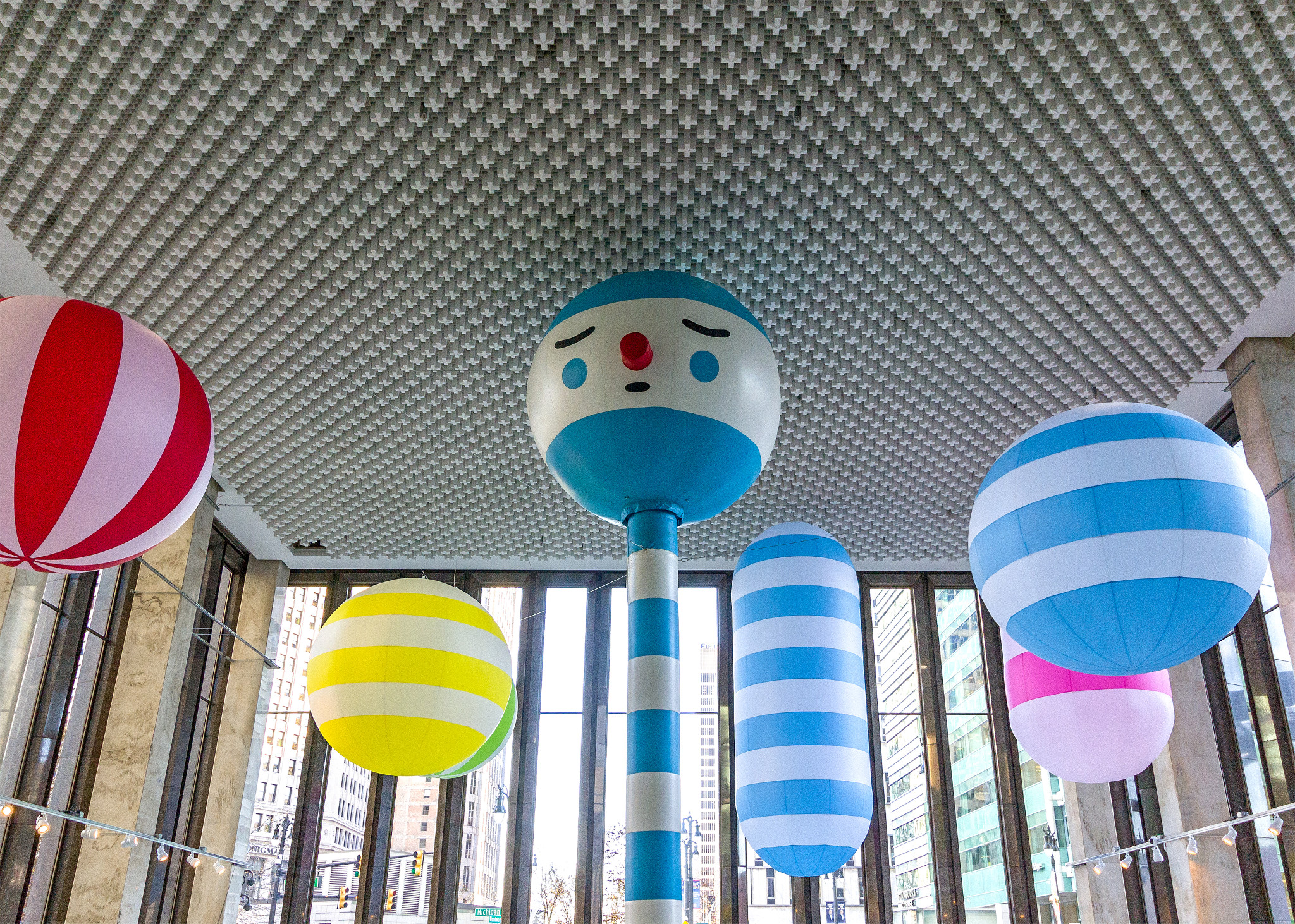 Rainbow City Roller Rink will be open to the public Wednesdays through Sundays, 2-9 p.m. Entrance to the rink is free and skates and lockers are available to visitors. Admittance will be permitted on a first-come-first-served basis. For more information, visit rainbowcitydetroit.com.
"Luckily we have the support and funding from Bedrock, otherwise it would be impossible," Curis said on the roller rink being free throughout the season. "This will be a fun, engaging project for adults and children."
The streets are already buzzing about the opening of the roller rink. With shopping, Santa Claus, an ice-skating rink, and a giant Christmas tree already bring downtown, the roller-skating rink adds another element that can only be found at Skateland on the city's east side, Northland and other skating rinks around the city.
"I honestly did not believe the news until I walked the building and saw the large figures," said Kamryn Porter, who works downtown and grew up roller-skating at Royal Skateland. "I remember going skating when I was a little girl and you could only go to a few rinks in the city. This adds another unique touch to the city for everyone to enjoy and I hope it stays open beyond the holiday season."