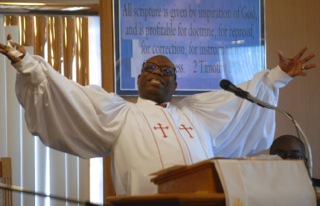 But as for me and my household, we will serve the Lord"
Joshua 24:15
Holidays are a faith-filled family reunion for the Rev. Eric Nelson, 61, his wife of 38 years Jennifer, 60, and their five adult daughters.
He's pastor of the family's church home, New Mt. Sinai Missionary Baptist Church in northwest Detroit – and holiday gatherings of 40 – 50 people include some of this extended church family as well.
"Holidays are all about relationships," says the pastor.
Jennifer says the doors to the family home are open to receive everyone from grandparents, aunts, uncles, nieces, nephews and cousins, to life-long friends who are godparents to their children and the millennials who regularly drop by on Sundays to bask in the family atmosphere.
"Reverend is the ultimate host. He has a shepherd's heart. He likes to give and feed and share and it has become what we do," Jennifer said. "We have a sense of family and people just want to be around that."
Three daughters, Jessica,37, Jenna, 24, and Brittany, 30, travel home from Maryland, Kalamazoo and Ypsilanti respectively. "It's just magical when all five of us are in one room," says Erica, 35, who lives in Detroit as does Ashley who is 33.
With the crowds they expect, Thanksgiving and Christmas preparations take the full week with each family member staking their claim to the dish they do best to accompany the turkey and ham.
Eric mans the barbeque pit, grilling ribs and chicken; daughter Ashley, a violin teacher at Detroit's Edward "Duke" Ellington Conservatory of Music and Art is a maestro on the mac and cheese; and everyone insists on mom's pound cake. Mother and daughters take turns in the small kitchen acting as either prep chef or main chef depending on the dish.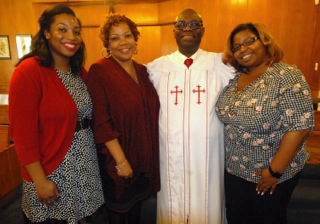 Some dishes serve to keep the spirits of family members alive long after they've passed on. Jennifer says she's managed to "clone" her late mother-in-law's top-secret sweet potato pie recipe last year, and when Erica, a DTE Energy business specialist recreated her recently deceased grandfather's special black-eyed peas for that same meal, her mother told her, "That's how papa is going to be here for the holidays."
Then there is the fellowship that is the real purpose of these family gatherings.
Most years the family worships before the meal but every year the meal is followed by a communion of conversation and activities. This may include a bid-whist game, a movie, or adults attempting to separate kids from their electronics with probing questions. But what it ensures is that there is catch-up and connection.
"We share food, then we talk and listen to find out how life is treating each of us," says Eric. "That's why they call it soul food."
Family Recipe: Jennifer Nelson's Pound Cake
Ingredients:
2 sticks butter 3 cups Swan's Down cake flour
2.5 cups sugar 1 cup. Milk
4 eggs
1 teaspoon lemon extract 1 teaspoon vanilla extract
In a mixer, cream butter and sugar until fluffy. Add eggs one at a time, beating well after each egg. Alternately add milk and flour, ending with flour. until mixture well blended. Add lemon and vanilla extracts.
Grease and flour a Bundt or other pan appropriate for pound cake. Pour batter into prepared pan. Bake 1 hour and 20 minutes. Remove from oven. Let stand 20 minutes before transferring cake to plate.
About Post Author