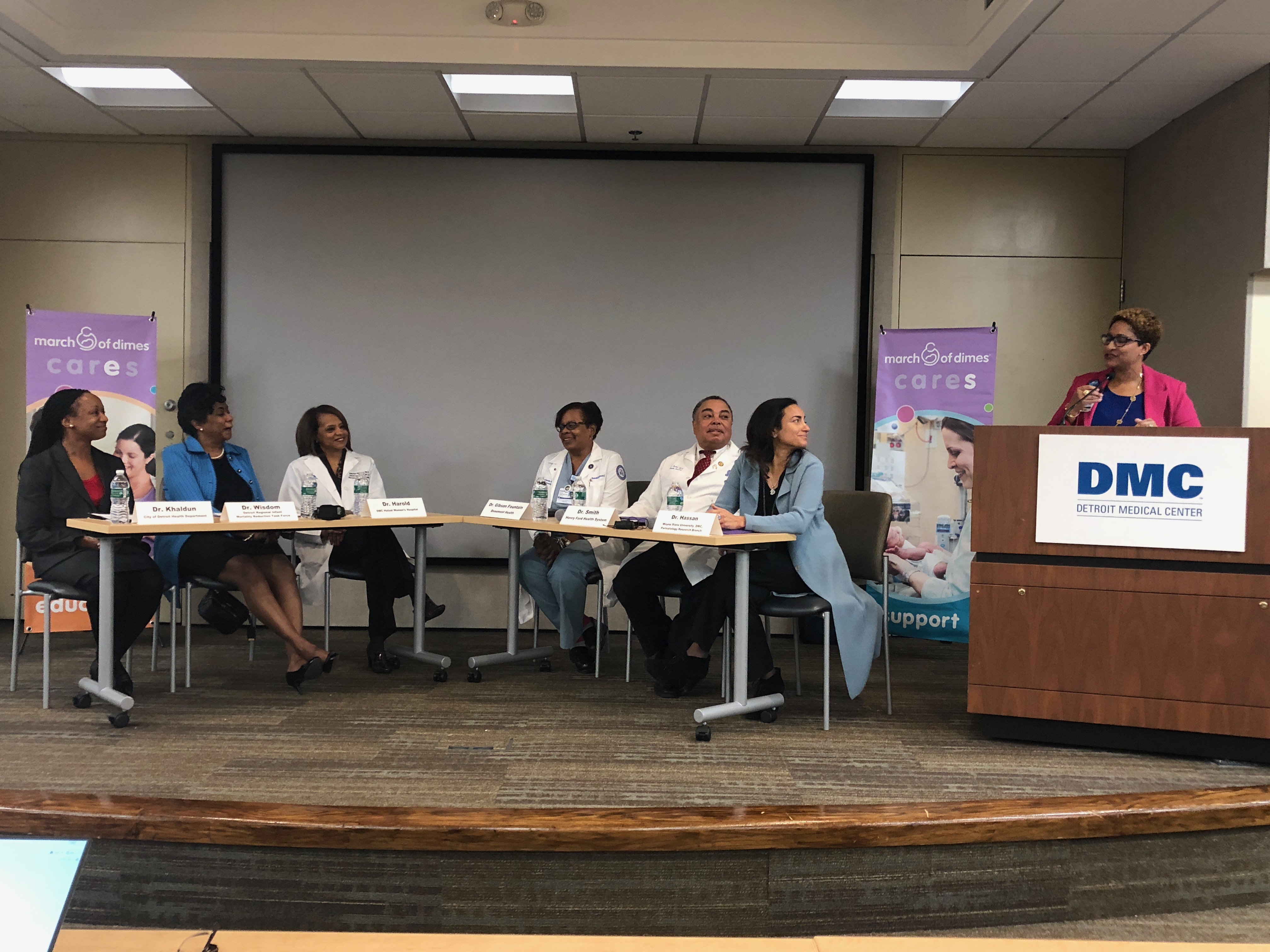 Experts from the Detroit Medical Center, Wayne County Health Department and the March of Dimes gathered on Thursday, Nov. 1, at Hutzel Women's Hospital to address the serious issue regarding the preponderance of premature births in the city.
According to the 2018 Premature Birth Report Card from March of Dimes, the nation's leading maternal and infant health nonprofit, Detroit earned an "F" with the highest preterm birth rate (14.5 percent) among major cities in the United States. Michigan remained at a "C" grade, but the state's preterm birth rate in 2017 increased from 10.1 to 10.2 percent.
While experts agree there is no single cause for preterm births, unequal access to quality health care and social influence both play a major role in this unfortunate occurrence. As part of the discussion, panelists touched on the different ways to ensure women have proper access to preventive and supportive care before, during and after pregnancy. Additionally, the panelists discussed prenatal programs, advanced research and various policies to protect both mom and baby.
"While the statistics you will hear today, about premature birth rates in Detroit, are discouraging," said Dr. Patricia Wilkerson-Uddyback, Detroit Medical Center Vice President of Academic and Community Affairs. "We have to focus on what we can all do together to improve prenatal care and to ensure women have access to preventive and supportive care before, during and after pregnancy."
Wilkerson-Uddyback moderated a distinguished panel of six experts including:
Patrice L. Harold – OBGYN, Minimally Invasive Gynecology Medical Director at DMC
Sonia Hassan – Wayne State University, DMC, Perinatology Research Branch; Director, Center for Advanced Obstetrical Care and Research; Professor, Division of Maternal-Fetal Medicine
Kimberlydawn Wisdom –Detroit Regional Infant Mortality Reduction Task Force Representative
Joneigh Khaldun – Director & Health Officer, City of Detroit Health Department
Richard Smith –OBGYN, Henry Ford Health System
Cheryl Gibson-Fountain –OBGYN, Beaumont Health
A new program already in the works has been launched by March of Dimes and various health partners in Michigan, and Detroit in particular, to address these discouraging inequities. In partnership with the Detroit Regional Infant Mortality Task Force and Henry Ford Health System, March of Dimes has launched One Key Question® (preconception/interconception education). This program is an evidence-based intervention that promotes and micro-focuses on women's health before they become pregnant.
In general, and in Detroit, more and more women are entering pregnancy with one or more chronic health conditions, which inevitably puts women at a higher risk for poor birth outcomes. In 2019 the program will expand to Detroit Medical Center, as well as Henry Ford Health System.