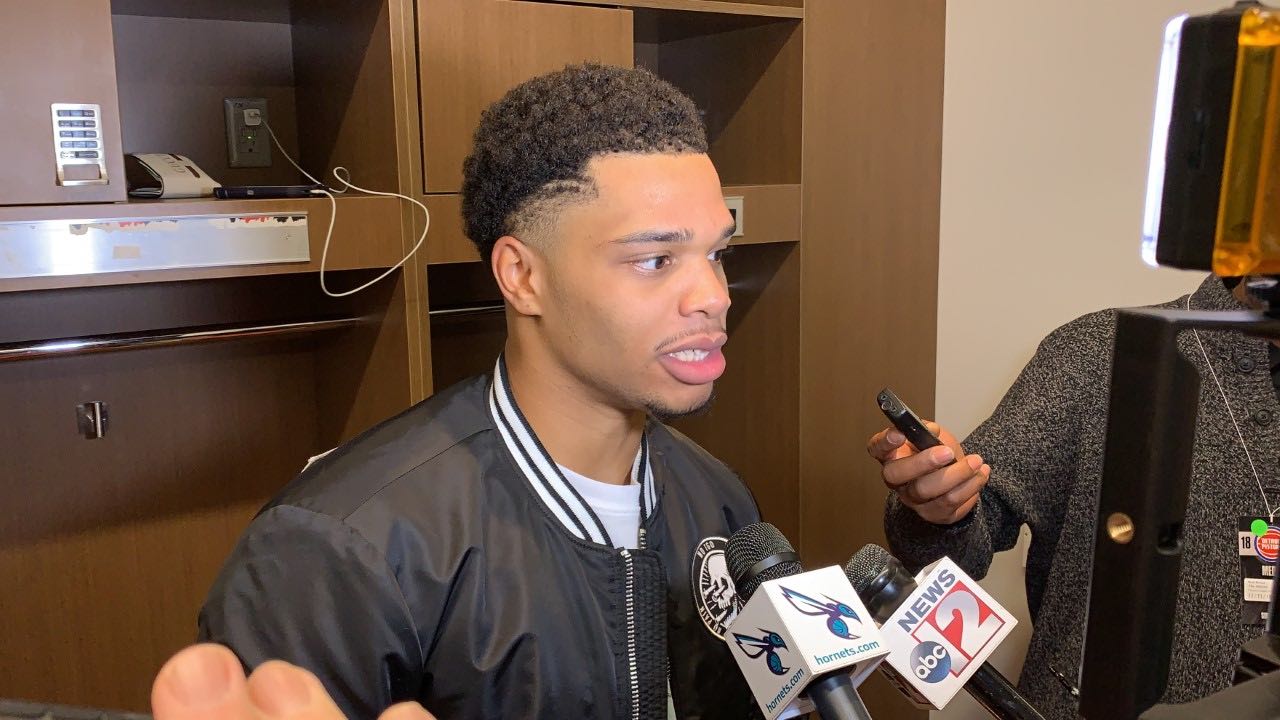 Charlotte Hornets rookie small forward Miles Bridges is not from Detroit, but he grew up watching the Pistons as a child in Flint. Bridges made his first trip home as an NBA player Sunday afternoon, edging his childhood team 113-103.
 Bridges, who has earned himself a spot in the playing rotation for the Hornets, plated 23 minutes against the Pistons, finishing with eight points, eight rebounds, two assists, one block, and two monster dunks that ignited the crowd. Yes, Bridges was not in Flint and he was playing for the away team, but it felt like a home game to him, with a contingent of family and friends in attendance cheering him on. Including Detroit rapper Sada Baby.
 "It's a great feeling and I'm happy to be back," Bridges said in the locker room after the game, rapping the popular tune "Mo Bamba" as he got dressed. "I was happy to see my family and friends, but at the end of the day, it was a business trip and I'm happy we got it done."
 The last time Bridges played at Little Caesars Arena, he was in college and his Michigan State Spartans had just lost to Syracuse in the first round of the NCAA tournament. Bridges finished with just 11 points and six rebounds, in what would be his last game as an amateur.
 To end the game against the Pistons, Bridges blocked Andre Drummond's shot, did an interview on the court, and ran through the tunnel to the very same locker room he was in back in March with MSU. This time the results were different.
 "It's crazy, when I walked in the locker room, I remembered that this was the same locker room that I was in when we lost," said Bridges. "But this time we came back in here with the win, so it's a different vibe."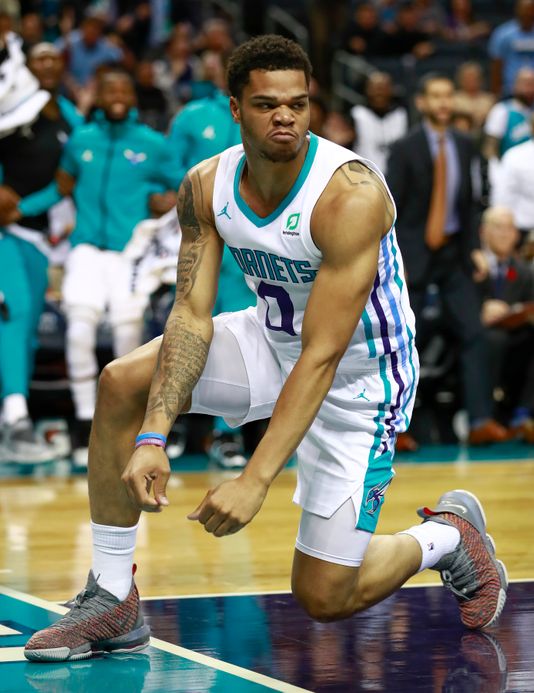 In high school as a freshman at Flint Southwestern Academy, Bridges was a star. Everyone from around the state wanted to see the next great Flintstone who could jump out the gym. But that was short-lived, when Bridges transferred to one of the top prep schools in the nation, Huntington Prep in West Virginia, where he starred for the next three seasons.
 Bridges was one of the top players coming out of high school in 2016 and committed to Michigan State in October of 2015 at Mott Community College in Flint. He would spend two years in college, before becoming a lottery pick for the Los Angeles Clippers, then being traded to Charlotte. Bridges knew he would not be the go-to guy anymore like he was in high school and college. At least for now.
 "Coming in, I knew I wasn't going to be a star player in the NBA" he said. "We have an all-star on our team in Kemba Walker and I'm just adjusting and learning my spots."
 But Bridges is doing well for himself in his first year. The 6-7 forward is averaging 7.8 points and 4.3 rebounds per game, while shooting 54.5 percent from the field and 37 percent from 3-point range. He is on ESPN nightly with his high-flying dunks and has earned the respect of his teammates and coaches.
 "I always love seeing Miles out there, said Hornets first-year head coach James Borrego. "He's a fantastic player and he's growing every single day. He helped us out there. His numbers don't show it, but his ability to defend, rebound, and run is really helping us out right now."
 Hornets forward Michael Kidd-Gilchrist sprained his ankle in the game. Borrego said Bridges would get a lot more minutes if Kidd-Gilchrist was not able to play.
 Along with being new to the NBA, Bridges is also a new father. His son, Ace, was born last month. Bridges' father played basketball in Flint and now he is in the NBA, so basketball is a part of the family business. His former coach at MSU, Tom Izzo, said he did not want Bridges' son if he could not dunk. Bridges laughed it off, understanding his former coach's style.
 "I know Izzo is going to be tough on him if he goes there," said Bridges.
 Bridges was not able to officially go home during the Hornets' trip to Detroit. They play the Cleveland Cavaliers on Tuesday. But he did have his taste buds set on his favorite restaurant back home.
 "We didn't have time because we were in Birmingham the whole time," he said. " I would have gone to Flint to this place called Sagano's."