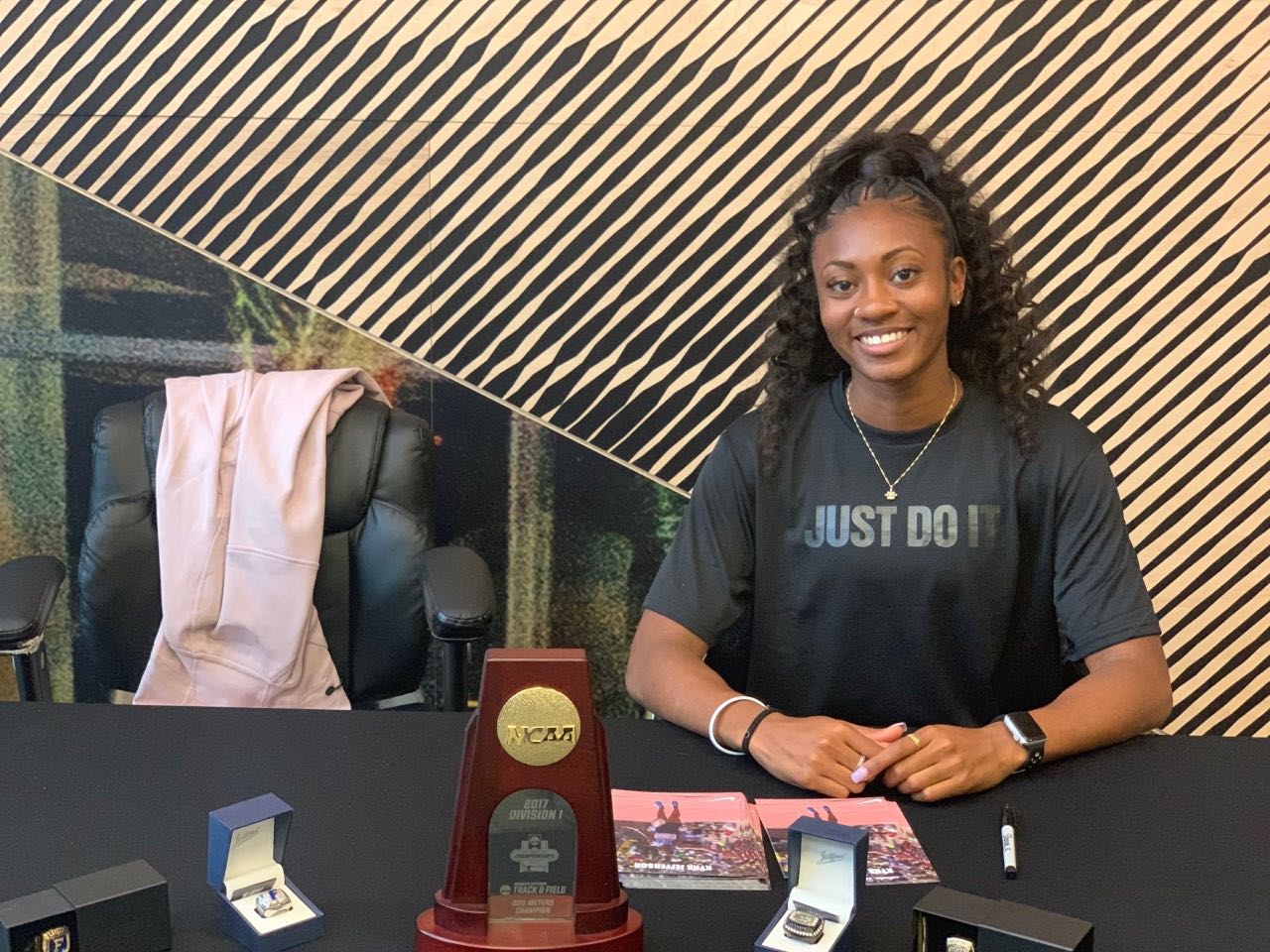 Growing up on the west side of Detroit, speed clinics for aspiring track and field athletes like Kyra Jefferson were almost non-existent. The kind that were free, at least.
So, after a successful track career at Cass Technical High School, the University of Florida, and now as a professional, Jefferson has decided to create her own speed clinic. And it will not cost participants a penny.
The inaugural Kyra Jefferson Speed Clinic will be held at the Mack Athletic Complex Saturday, November 3 from 10-2 p.m. Registration is now closed, with Jefferson and her camp expect 125 girls and boys from ages 10-17 to show up. Jefferson signed autographs and held a meet and greet for fans at the Nike Community Store in downtown Detroit prior to the clinic, less than a mile from where she starred in high school.
"I've never done anything like this because I never felt I was that cool," said Jefferson. "But I've had a few people come up to meet me and a couple of people who thought everything track related is Usain Bolt."
Jefferson, 24, was humble about her accomplishments, yet outgoing around her family and friends at the Nike store. She has gotten off to a quick start so far as a sprinter.
At Cass Tech, she was a three-time MHSAA Division 1 LP Finals champion in the 200m and 2011 MHSAA Division 1 LP Finals champion in the 100m. At Florida, Jefferson broke a 28-year-old collegiate record at the 2017 NCAA Women's Division I Outdoor Track and Field Championships. In 1989, LSU's Dawn Sowell ran 22.04 in the 200m. Jefferson ran 22.02, capturing the title and the record. In 2017, Nike signed her to a professional contract.
Track and field has presented Jefferson with a multitude of opportunities, on and off the track. Now she is passing the baton on to those in her city who wear the same spikes she once wore.
"I feel a lot of people who don't do things is because they can't afford it, or they don't know about it," said Jefferson. "So I decided to hold this free speed clinic and have my family and friends help me get the word out. I don't need the money and it works out that I can help others."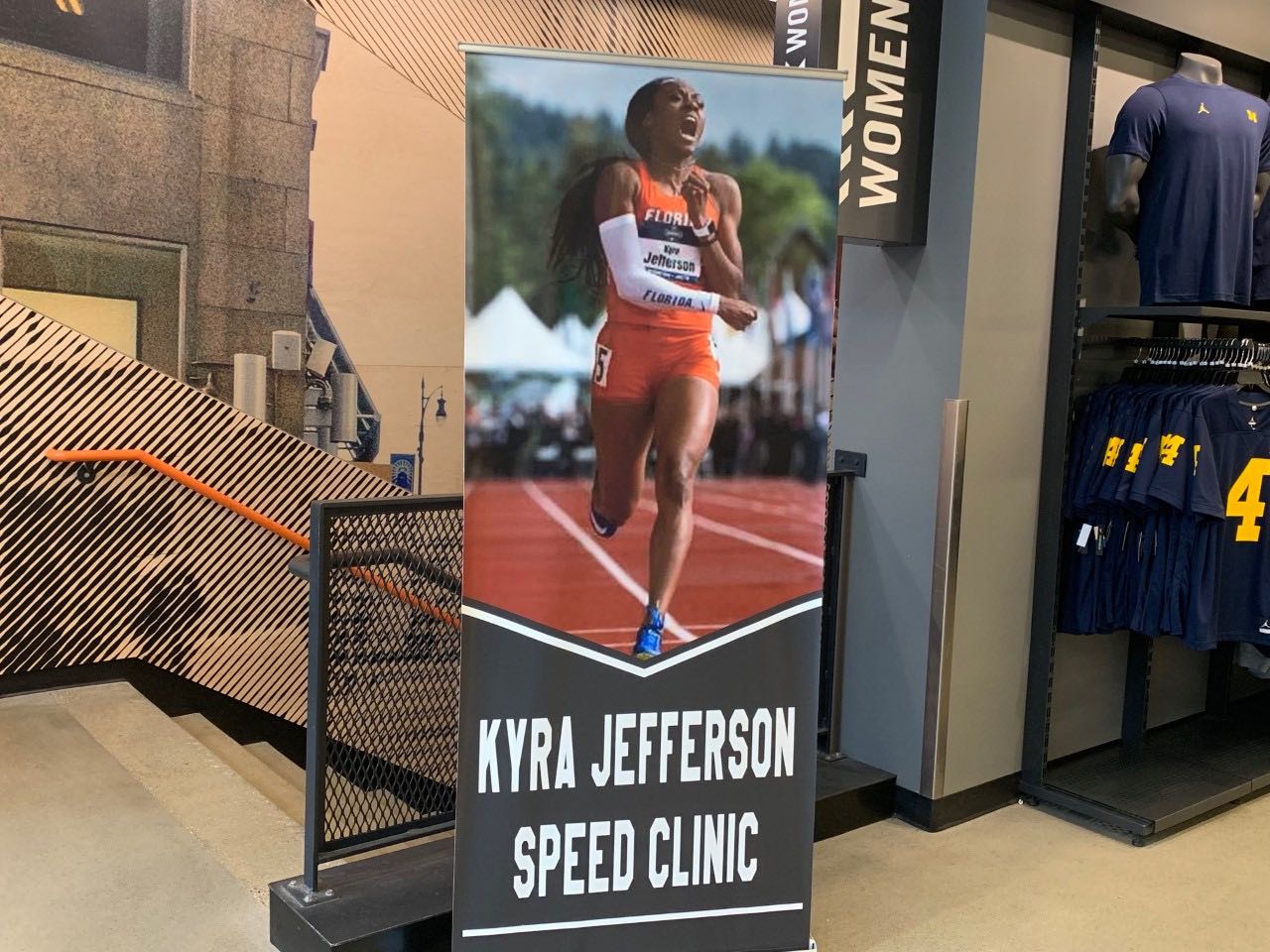 Jefferson's biological father is Thomas Jefferson, who was a bronze medalist in the 200m at the 1984 Olympic Games in Los Angeles. Her mother, Michele Watkins, ran on the LSU Lady Tigers 4X400m relay as a student-athlete. Running and running fast is in her blood. Jefferson's parents passed their genes on to her and she plans to pass on her knowledge of the sport to younger runners.
At the speed clinic, Jefferson said campers will learn the three principles of track, there will be a Q&A session for parents, and they will be able to talk to her sports psychologist and fellow professional track and field athletes.
"We've always believed in giving back," said Watkins, who co-founded the New Breed Track Club in Detroit in 2009. "I'm excited that she is comfortable with doing that and wanting to reach out to younger kids to encourage them that they can make it to where she is today. You can't forget where you came from."
In Detroit, professional football and basketball players return to give back to the city's youth often. But what Jefferson is doing is rare for the city because not too many track athletes make it to the professional ranks and she is giving back while still in her prime. Jefferson recalled having to travel the country as a little girl for the same opportunities and is blazing a lane for others to follow.
"I've been friends with her since high school and seeing her making her dreams come true and giving back to others makes me shed a tear," said Jefferson's best friend and college teammate at Florida Najee Glass. "I've seen her grow on and off the track. What she is doing here is amazing and inspiring and I'm doing the same thing back in my home state of New Jersey. We are giving back to the community through track."
While taking pictures and signing autographs for fans, Jefferson talked to a younger girl who was excited to meet her in person and participate in her speed clinic. Jefferson used to be that little girl once, aspiring to be like pro track athletes such as Marion Jones, Allyson Felix, and Tianna Bartoletta among others. Now she is someone else's goals and is understanding that once they step on the oval, it is all business.
"I was definitely a Marion Jones fanatic and when she got popped for doping, it broke my heart to pieces," Jefferson laughed. "Ever since then, I always looked up to Sanya Richards-Ross and I've met her and Allyson Felix several times. Now I don't really look up to people and I have to treat my idols as my rivals. I might run against Allyson in the preliminaries and I can't ask her for an autograph when we're done."
Richards-Ross, Felix, and Bartoletta are all gold medalists in track. Jefferson plans to join them one day, with her eyes set on the 2020 Olympics in Tokyo.
More information on Jefferson and her initiative can be found at kyracares.org.