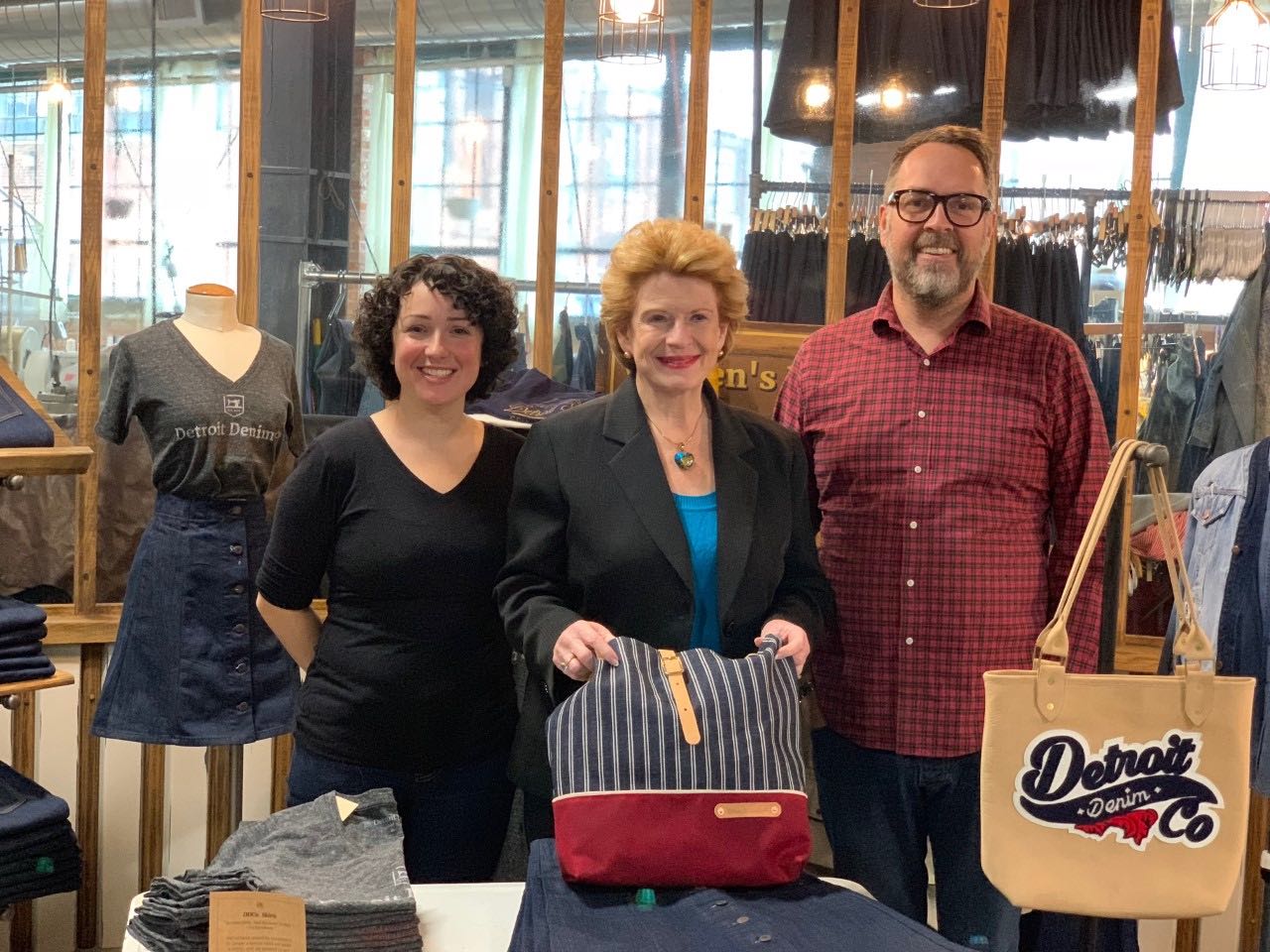 DETROIT – The 2018 general election is just over a week away and incumbent Democratic Senator Debbie Stabenow is touching all bases to assure she has a fourth term in Washington D.C. To do that, she kicked off her "Made in Michigan" tour Monday morning, a statewide tour meant to highlight the positive message of the senator's campaign.
The week-long tour includes visits to manufacturers, small businesses, apple orchards, colleges, breweries, lakes, automotive plants, farmer's markets, workforce training centers, and other stops that reflect the senator's Michigan roots, accomplishments, and Michigan way of life.
The first leg of the tour began in Southeast Michigan at Detroit Denim, a Detroit-based jeans maker, whose factory is in Rivertown. Stabenow met with the owners of the small business, employees, and supporters during the first of five stops.
"For me, this is really retapping into what I'm all about," said Stabenow. "I was here a little over a year ago and rolled out an American jobs agenda, which was very much focused on small businesses. The majority of jobs are created in small business and even though we have great strength in terms of our large manufacturers, when you look at what's happening in Detroit, it's entrepreneurs that are creating the jobs."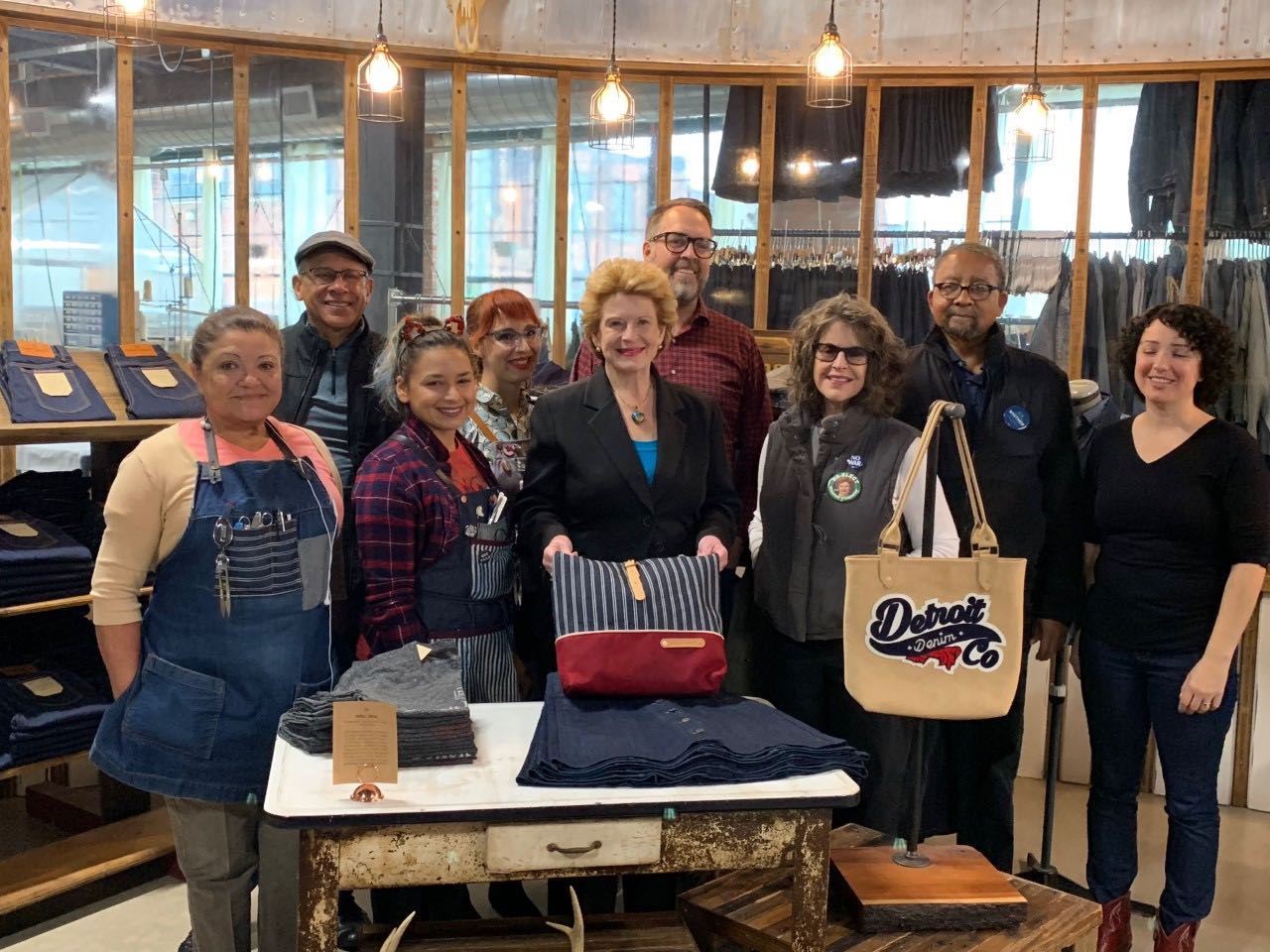 Stabenow's re-election campaign focuses on growing Michigan's economy, improving health care, education and training, and standing up for small businesses, among other important issues. Many of those issues affect the millennial population (ages 21-37), who Stabenow plans to address during her tour, including a stop at Eastern Michigan University Monday evening.
Millennials are on the brink of becoming the generation with the largest population in the nation, with more influence on the country's economy and government than any other living generation.Yet, they have the lowest voter turnout of all generations.
"One of the fun things about this tour is that we are going to visit several colleges," Stabenow said. "We are going to Eastern Michigan tonight, we've been to the Michigan State and the University of Michigan, and Wayne State just celebrated its 150thanniversary, which was so great."
"But, I'm going all over the state in terms of community colleges and universities to engage young people because it's a very important time for them. I've also talked to high school students who will be voting for the first time and it was very inspiring to me to see the seriousness which with they were taking the election. I have great hope for the future."
Stabenow has been an advocate of small business and believes they are the backbone of Michigan's economy. She took a tour of Detroit Denim's factory, spoke with workers, and even purchased a hand-made denim bag from the company.
"We're just really grateful for Senator Stabenow and her office," said Detroit Denim co-owner Brenna Yelsma. "Sometimes, these elections, especially at the federal level, you can feel disconnected from them. As small business owners, things like heath care, transit and school funding, those things really affect us. Since our beginning, her office has always been responsive if we needed anything."


On Friday, Stabenow joined former President Barack Obama and other Democrats at Cass Tech High School for a "Get Out The Vote" rally to endorse all of the Democratic candidates on Michigan's General Election ballot.
"It's always great to be at Cass Tech and it was so wonderful to be there with the former president," said Stabenow. "To have him be so engaged in this election and listen to him as somebody who is a unifier, it was a special moment."
"I'm not seeing him as much as I used to, and I told him I missed him because he and Michelle (Obama) are amazing. When he was in the senate, his desk was right next to mine, and if I would have known he'd be elected president, I would have been nicer to him."
In the coming days, Stabenow's Made in Michigan tour will make stops in Grand Rapids, Lansing, Flint, and Traverse City, leading up to the November 6 election day.