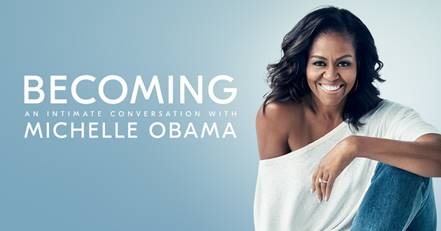 Michelle Obama and Live Nation have announced a selection of the local and community organizations who will receive free admission to the former First Lady's highly anticipated upcoming book tour, Becoming: An Intimate Conversation With Michelle Obama. Mrs. Obama's tour kicks off on November 13th in Chicago.
As previously announced, 10 percent of ticket inventory in each market was set aside for various local organizations including, but not limited to, local charities, schools, and community groups in each city the tour visits.
It is important to Mrs. Obama that her BECOMING tour events are accessible to as many people as possible. That's why — in partnership with Live Nation — Mrs. Obama is giving away thousands of complimentary tickets to people around the country, particularly to young people growing up in communities like she did.
When asked about why these community tickets are so important to Mrs. Obama, she said
"It was important to me that all sorts of people could come to the tour events, not just those with means or who happened to be by a computer when the tickets went on sale. That's why we are giving away thousands of tickets to people around the country, particularly to young people striving to be their best. I want them to see themselves in my story—to see the value in the fullness of their lives and to imagine who they might become in the years ahead."
Several national and local organizations were selected to participate including the Mercy Education Project in Detroit who's mission is to provide educational opportunities, life skills development and cultural enrichment for women and girls who have limited access to resources to enable them to improve the quality of their lives.
Becoming: An Intimate Conversation With Michelle Obama. Mrs. Obama's tour will visit Little Caesars Arena on Tuesday, December 11 at 8 p.m.








Carly Somers
Publicity Manager | 313 Presents
2525 Woodward Avenue, Detroit, MI 48201 | (313) 471-3224
313Presents.com