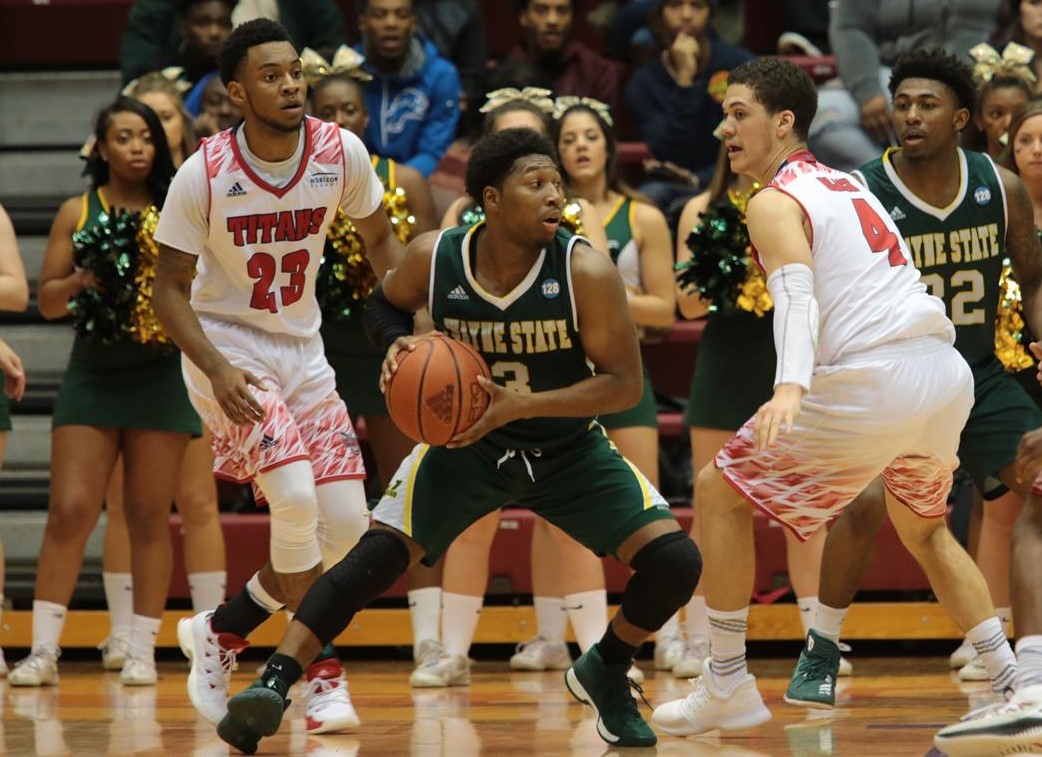 The Detroit City College Series between the University of Detroit Mercy and Wayne State University basketball programs is only in its third year, which means there is plenty of room for improvements. And for the first time, both the Detroit Mercy men's and women's basketball teams will host Wayne State's men's and women's teams in an exhibition charity game on November 3 at Calihan Hall.
In previous years, only the men's teams participated.
"This has been a great game for the city, not only highlighting two premier basketball and academic schools, but everyone in the city coming together to help Detroit Public Schools Community District," said UDM Director of Athletics Robert C. Vowels Jr. "Michigan First Credit Union has been an outstanding partner for us in this initiative and now to have the women also playing will make it even a better day for the city of Detroit."
The doubleheader will start with the women of Detroit Mercy battling the women of Wayne State at 5 p.m., with the men's game to follow at 7:30 p.m. Tickets to the games are $2 per person and are on sale at Calihan Hall.
All proceeds from ticket sales will be donated to Detroit Public Schools Community District (DPSCD) K-5, with Michigan First Credit Union contributing a matching donation for all tickets sold. In the last two years, the City College Series has raised over $15,000 for DPSCD K-5 between ticket sales and a matching donation from Michigan First Credit Union. Detroit Mercy and Wayne State are two of the premier academic institutions in the city of Detroit and both have an excellent history in basketball.
"As a Credit Union founded by Detroit educators, Michigan First is proud to support the Detroit Public Schools Community District through the City College Series and we're honored to give back to the community where our organization started," said Michael Poulos, Michigan First Credit Union President and CEO. "Ensuring students and teachers have the tools they need to be successful in the classroom is vital to helping children develop to their fullest potential and we look forward to contributing to their academic achievements through our donation."
Detroit Mercy has a new coach in Mike Davis and a revamped roster. Outside of seniors Josh McFolley, Gerald Blackshear, and junior Cole Long, no other players have been a part of the City College Series. McFolley and Blackshear attended the same DPSCD high school together, winning a state title at Western International High School in 2015. So, they have a little more to play for, representing their former school district.
"I'm looking forward to this game a lot because it gives us bragging rights to the city and the players that are from Detroit," said McFolley. "This game is important for the kids of the city. I feel like it's a good idea because the two city colleges bring everyone in the city out to support and I hope they continue to do it after we're gone."
Wayne State also has a couple of DPSCD graduates, including guards Marquel Ingram (Pershing), Antonio Marshall (King), and Karim Murray, who played at Western with McFolley and Blackshear.
The Warriors have won both games so far against the Titans, which has given McFolley extra motivation to win before he exhausts his college eligibility.
"We've been working hard every day in practice and striving to get better, so hopefully we can get the win," McFolley said.
For additional information about the game, sponsorships or donations, contact Detroit Mercy Director of Athletic Marketing & Promotions Stanley Willard Jr. at 313-993-1700 ext. 7330 or at willarsr@udmercy.edu.