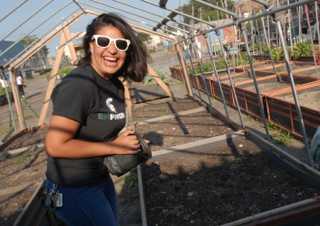 Alondra Alvizo looks at rows and rows of peppers, leaf lettuce and green beans and cannot help but smile.
The 22-year-old Alvizo is the field manager of the Cadillac Urban Garden on Merritt Street, operated by Southwest Detroit Environmental Vision, a nonprofit organization dedicated to improving the environment through sustainable practices, recycling, and cleanup projects.
The park near St. Hedwig Parish was created about five years ago and has become so successful it became the inspiration for 10 more gardens in the area and the creation of an environmental district.
"I wanted to put to use what I learned," Alvizo said. "For me it was not about money or recognition. There is a brain drain in communities…where people get an education or training and leave. It is important to give back to your community."
Alvizo, a Michigan State University graduate, considered furthering her agricultural studies at Purdue University but felt working in the community was too much of a draw for her to do so right now.
"I always knew I would come back to Detroit," she said. "People say the city is coming back, but it has not gone anywhere. It is the people who are coming back. Detroit is a city of prospects."
The garden is open to the public 9 a.m.to 5 p.m. weekdays. Visitors can pick from the numerous vegetables planted in the garden. Volunteers help visitors with their selections and tend the garden.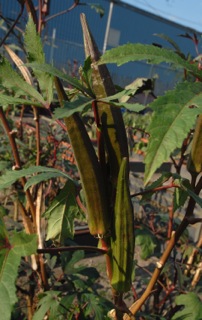 Frank Venegas, owner of Ideal Group, came up with the idea of the community garden and donated space for it, said Kathy Stott, executive director of Southwest Detroit Environmental Vision.
Since then the environmental group has partnered with other groups, businesses and corporations to plant more gardens across southwest Detroit, Stott said.
"Southwest Detroit Environmental Vision is all about being stable and eco-friendly," Stott said. "We realize there is so much interest and that it brings the community together."
General Motors Corp. initially donated numerous empty containers that would have gone in the scrap heap or been recycled, Stott said.
Her organization uses them to make sure contaminated soil does not wind up in the mix. Many of the gardens are in vacant lots, some of which used to be home to manufacturing facilities.
"You never can be too sure about the soil," Stott said. "We want to make sure we are not growing food in contaminated soil."
Stott said she smiles whenever she sees senior living facilities or senior centers bus older people to the garden to get fresh produce. Volunteers, most whom are very young, guide the visitors and help harvest the food with them.
"It is adorable to see the seniors connect," Stott said of the multiple generations interacting. "It is cool to see them interact."
For more information on the Southwest Detroit Environmental Vision, visit www.sdevweb.org or phone 313-842-1961.