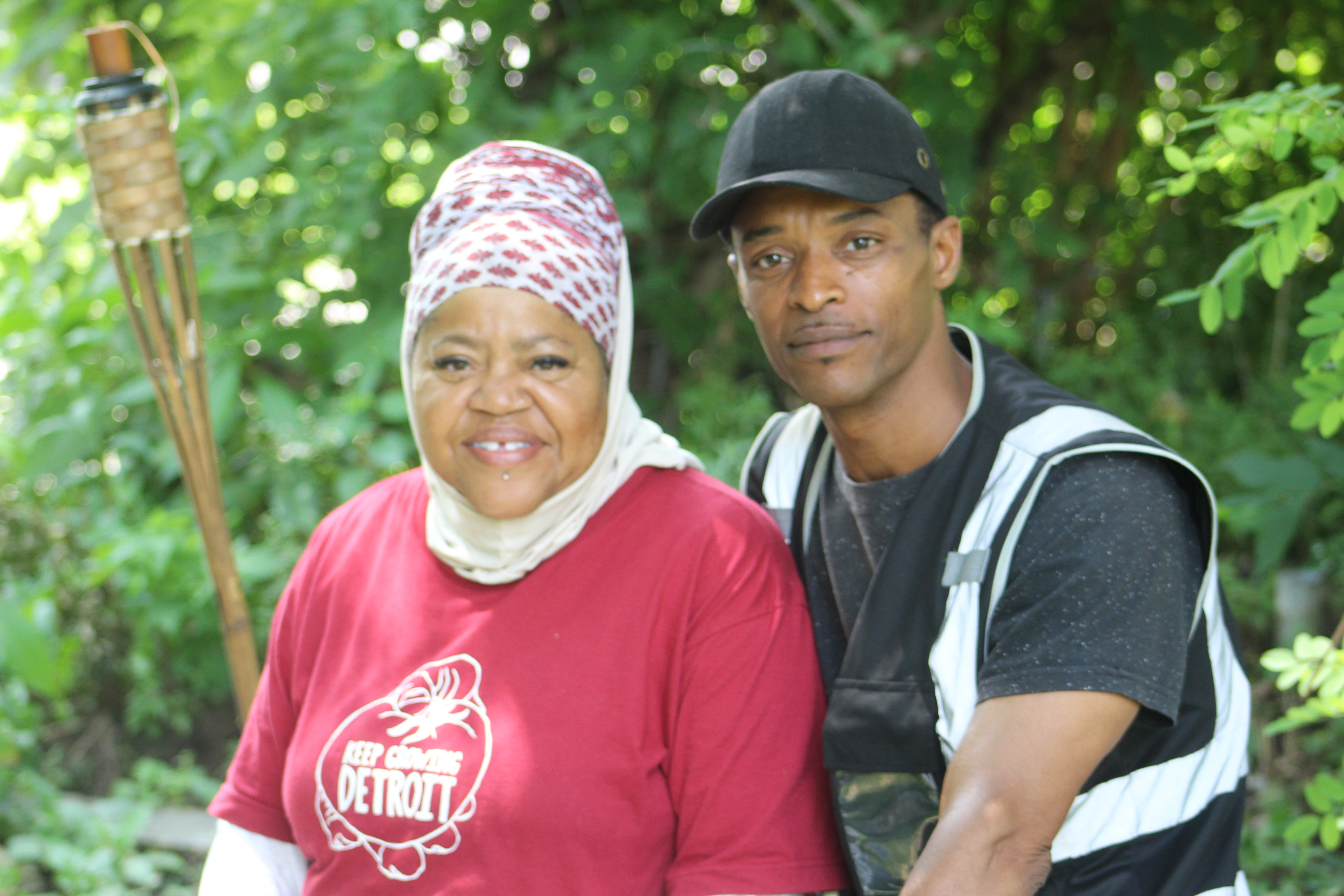 Nestled neatly on the corner of Cortland and 14th on Detroit's west side is a garden oasis of greens, cabbage, carrots, beets, tomatoes, and bees! YES! Bee hives.
It's called "Making Shade Farms."
The oasis is located directly behind the home of its main caretaker, Hanifah A. Rahman and her husband, Larry (Taalib) Whitner.
It exists to help feed the community with food and knowledge about the power of urban agriculture, said Rahman, who is known affectionately as Mama Hanifah or Auntie Hanifah to many in her community.
"Making Shade Farms believes that there is enough land in Detroit to make sure no one goes hungry and no one should suffer due to lack of skills," she said. "Agriculture can support whole communities with the vacant land in Detroit."
Urban gardening is about self-empowerment, said Rahman who started the garden in 2016.
"I view Making Shade Farms as a necessity in teaching my community to be self-sufficient. I wholeheartedly believe that if you give someone or something permission to feed you, you also give them permission to starve you," she said.
"Making Shade Farms" was named Community Garden of the Year in 2017 by Keep Growing Detroit, a garden and agriculture information and support group. The organization highlights growers as part of its year-end celebration that honors growers and provides an opportunity for them to share their stories, in hopes of inspiring others.

"Mama Hanifah and her work to establish Making Shade Farms was an easy choice in 2017. '' said Lindsay Pielack, co-director of Keep Growing Detroit.
"She expanded her original backyard and side lot garden to three lots that sit behind her house and started Making Shade Farms. She has been working diligently ever since to utilize the garden as a tool to foster relationships with neighbors, especially seniors and teenagers."
Through the Garden Resource Program (a program of Keep Growing Detroit), she has received training, seeds, vegetable transplants, soil testing, compost, raised beds and most recently an irrigation station, which helps to provide water access on site, Pielak said.
"In addition to receiving support for her own garden, Hanifah has been an incredible leader in the Garden Resource Program, generously giving time to pitch in towards GRP member "sweat equity"," Pielak said. "It is passionate residents like Hanifah, who have fueled the growth of the Garden Resource Program, which now has just under 1,600 participating gardens, with their vision, warm hearts and commitment to making Detroit a healthy and thriving place for residents sand families."
Rahman purchased vacant lots surrounding her home from the Detroit Land Bank Authority.
"I wanted to teach the youth in my community where food came from and how to eat healthier through gardening," she said.
She said the Making Shade Farms main philosophy is: "If you can get people involved in growing it, they will eat it."
The farm also emphasizes the importance of using healthy food to give back to your community, she said.
She was inspired to give back to seniors after a meal for seniors was accidentally delivered to her home. She was saddened to see what it contained.
"Everything was processed! There was not one item freshly prepared. I am not saying the program is not needed. For some this may be the only meal they have all day. There needs to be better options for our seniors," she said
Rahman and the neighborhood youth decided that they would create an alternative. They used a wagon and delivered fresh produce to seniors in the community.
About five youth participate in the program that she hopes to expand.
Among her goals is to make the area a community gathering space.
"I love Detroit and its people and as long as I am able I will be there for them," she said.
For information on joining or supporting the garden visit Making Shades Farm on Facebook.
About Post Author