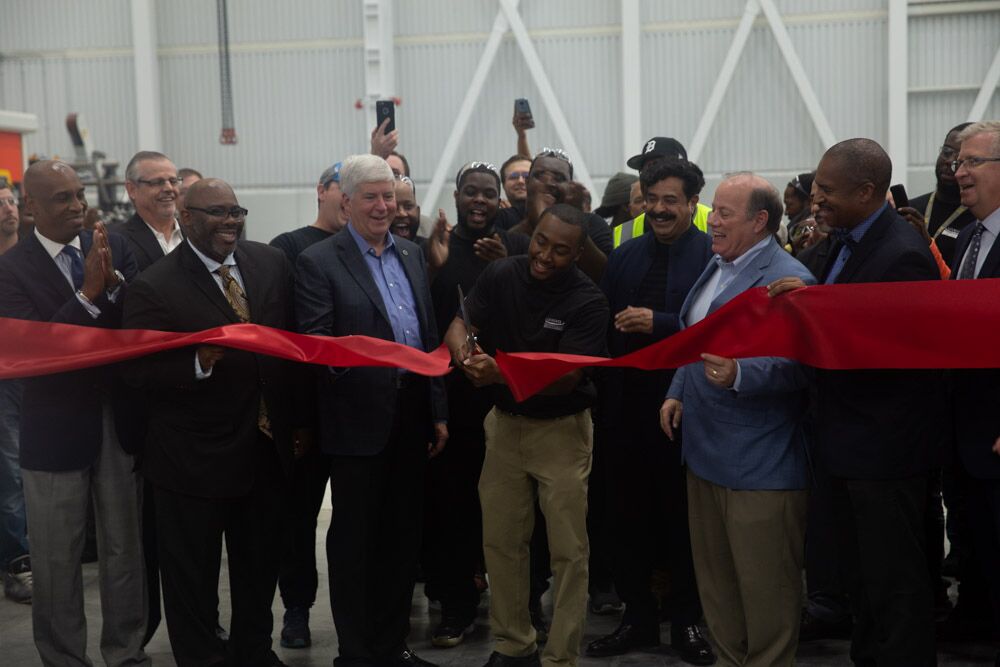 How can you have a revitalization or comeback in Detroit if the residents, who are 80 percent African-American, are not benefiting from it?
That is why Flex-N-Gate having a 50 percent Detroit-based workforce at its new production plant on the city's east side is integral to the city's redevelopment. The global auto supplier officially opened a new $160 million manufacturing facility not far from the Coleman A. Young International Airport, on 30 acres of Detroit's I-94 Industrial Park. Owner Shad Khan, Governor Rick Snyder, Mayor Mike Duggan, Flex-N-Gate employees and other city and state dignitaries held the ribbon-cutting ceremony on Monday. The investment represents the largest by an automotive supplier in Detroit in more than 20 years.
"Now the real work begins," said Khan. "We need to get more people employed and produce a good, competitive product right here."
Flex-N-Gate builds vehicle front-end parts, such as headlamps and bumpers, for automotive manufacturers. Ford Motor Company awarded the company a long-term contract to manufacture parts. The Detroit plant is manufacturing about 50 percent of the body for the Ranger.
Half its first 230 employees live in the city. Flex-N-Gate will also continue to hire Detroiters first as they ramp up production. Residents can access training and apply for these new jobs through Detroit at Work.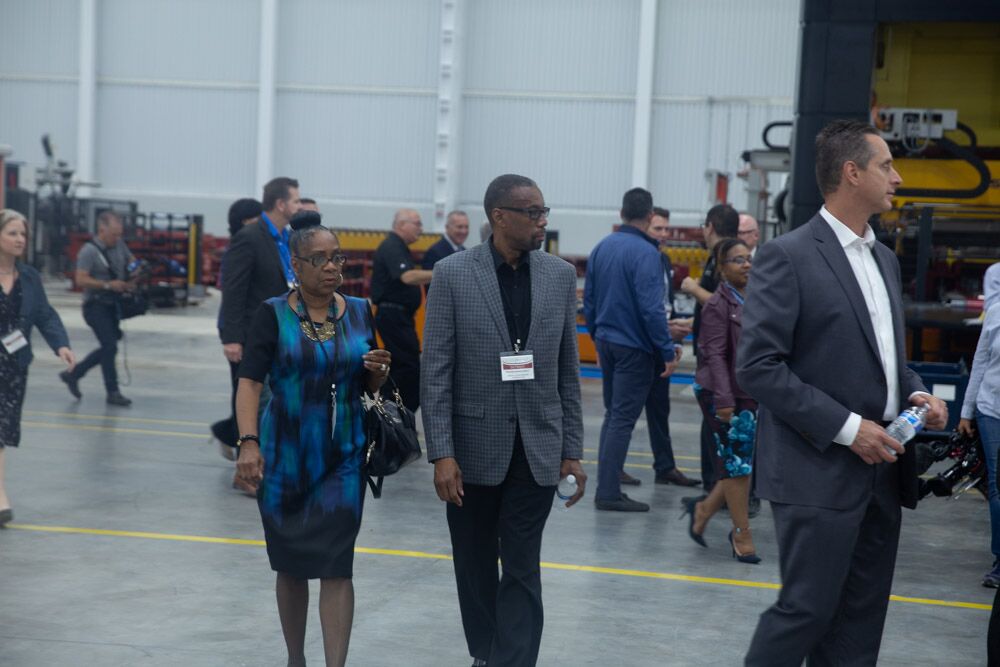 Entry-level pay is $14 per hour plus benefits, with the opportunity to get to a $16 wage over the first 18 months.
"We are building a city where anyone who wants a job has access to one. Through Detroit at Work, Flex-N-Gate has hired 115 Detroiters so far, some who live in the same neighborhood as the plant," said Mayor Duggan. "As we bring more manufacturing facilities to Detroit, we're going to ensure that they look to Flex-N-Gate as an example when it comes to putting Detroiters to work."
A Detroit At Work training program to prepare Detroiters for these jobs was developed by Flex-N-Gate and Focus: HOPE. Training was available for Detroit residents for hourly positions as Hi-Lo drivers and operators, with Flex-N-Gate hiring 70 Detroit graduates of the program. Training is still available and Detroit residents can sign up through detroitatwork.com or by calling 313-962-WORK.
Tashar Mosby, 26, is one of those recipients. In search of a career, he attended the program at Focus: HOPE in 2011, where he became the youngest certified machinist at age 19. His time there, he commuted to training by way of three city buses, which took up to two hours, and worked two jobs, all while providing for his daughter Arielle. Fast forward to 2016, where Mosby became the first employee hired at the new Flex-N-Gate facility. He is currently an industrial engineer who was recently promoted and helped design Flex-N-Gate's training program.
"This is all surreal," said Mosby, who attended high school in the same neighborhood as the plant. "I remember those days catching three buses and I told myself one day I'm going to get to where I want to be. When I was done with the Focus: HOPE program and Flex-N-Gate came and got me, I was happy for the opportunity."
The Detroit Employment Solutions Corp., the city's workforce-development agency, budgeted $150,000 to fund Focus: HOPE's training of Flex-N-Gate workers. Its training program centers on critical thinking and problem-solving activities designed to sort out which applicants have transferable skills. As the company expects the plant to grow to 750 people, it said it will continue to hire Detroit residents first and offer training over the next year. Flex-N-Gate said it received more than 16,300 applications for about 500 positions at the company.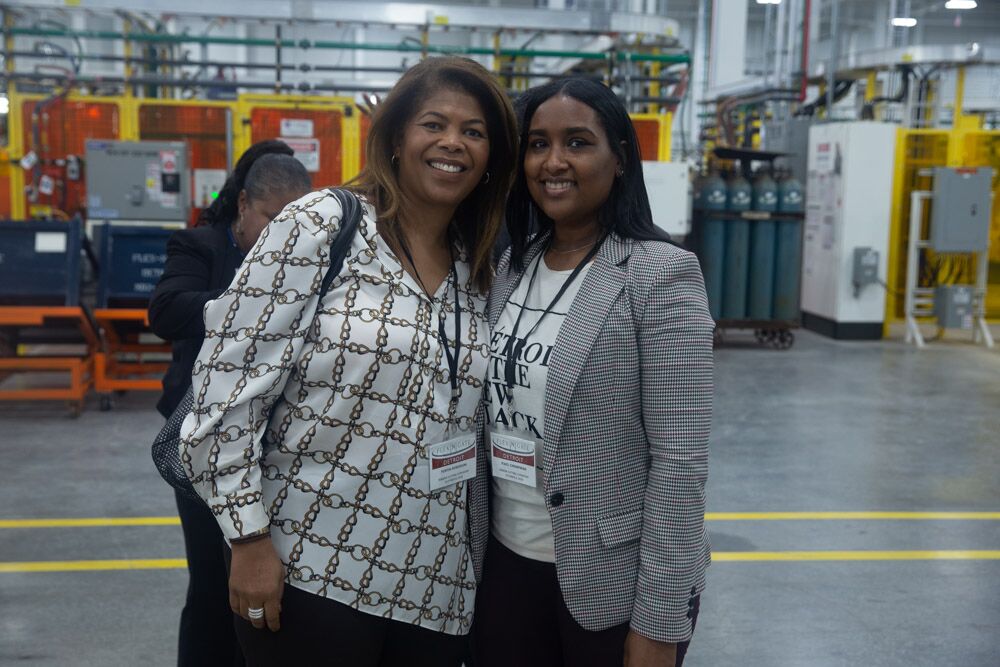 Flex-N-Gate Detroit's commitment to hire Detroiters came out of the community engagement process for the project, where residents voiced concerns about access to the new jobs. As Detroiters continue to fill the majority of jobs available at Flex-N-Gate, work continues on a solution for another key resident concern: truck traffic. In the past, trucks from the industrial park drove through residential areas.
Now, street improvements on Georgia Street, along the facility's south side, are underway as part of a separate $2.6 million grant from the US Department of Commerce and the Economic Development Administration. The Georgia Street improvements will fortify the streets for the new trucks, taking them off neighborhood streets.
"Right now, you've got over 100 Detroit residents working at Flex-N-Gate, many right here from the area around the plant, which is the biggest thing we need right now in the city of Detroit to help move our people out of poverty," said Councilman Scott Benson, who represents District 3 where the plant is located. "Through the community engagement process for Flex-N-Gate, the residents were able to voice their concerns directly to the developers and negotiate these community benefits."
The neighborhood around the plant has a median annual household income of $21,372 and about 49 percent of residents living in poverty. The 48213 ZIP code is one of the poorest areas of Detroit. The area is littered with blighted homes, empty lots, and vacant buildings, including Crockett High School which sits right across from the new Flex-N-Gate plant. Kettering High has also been abandoned since 2012. But Benson said more development is coming to the area.
"You're going to see some more investment around here," he said. "There may be another large tier one supplier locating in the area soon and so we still have plenty of opportunities here. The city is looking to bring in more jobs to put more Detroiters to work, with those same type of numbers, where you see 50 percent of Detroiters working, many who are residents of this neighborhood."