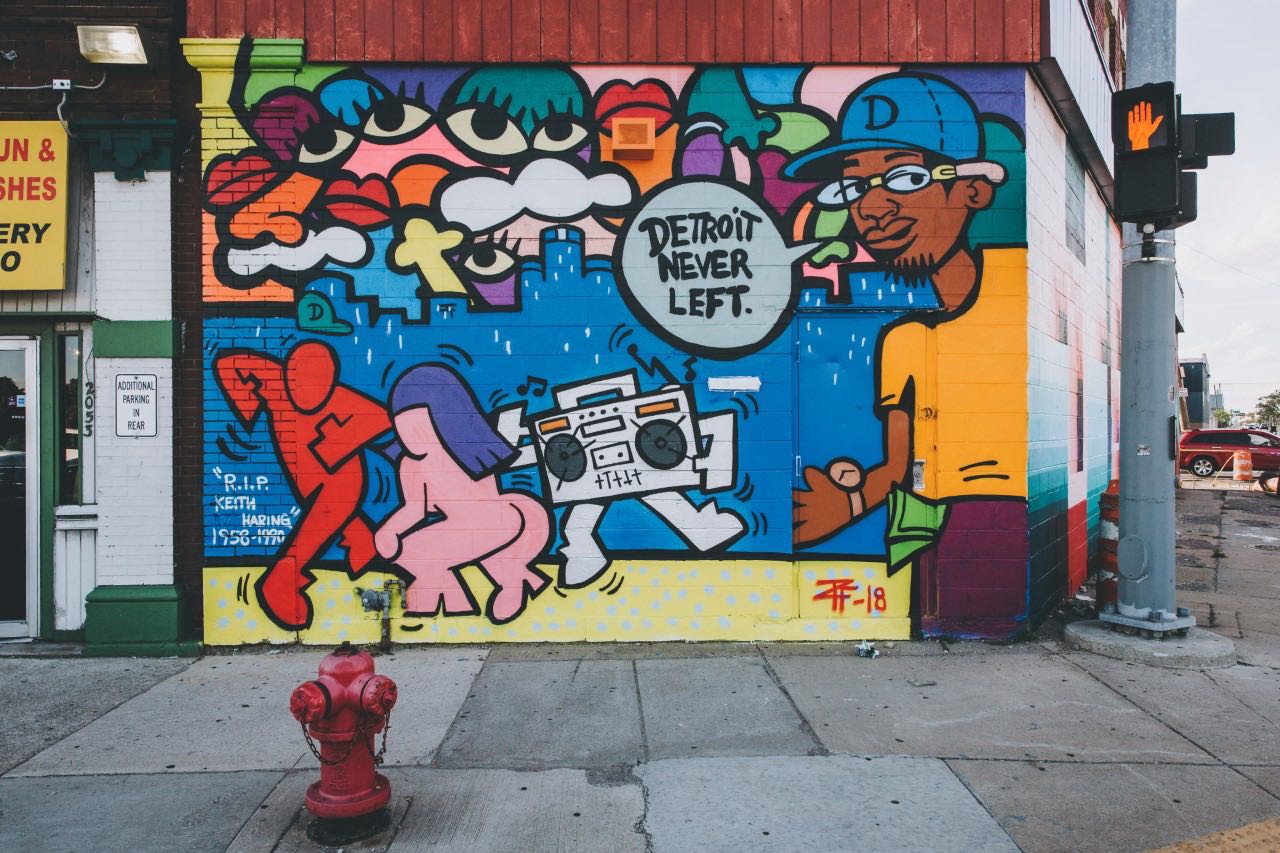 I needed a haircut badly. So, as I do every other week, I took a visit to my barber, Tee, at Presidential Suites on the corner of Gratiot and Chene near Detroit's Historic Eastern Market. Along the way, you have to pass Louisiana Creole Gumbo, which claims to serve 'Detroit's very best gumbo.' To the right of the building is a colorful and powerful mural titled, 'Detroit Never Left,' created by artist Tashif 'Sheefy' Turner.
The term 'Detroit Never Left' is actually trademarked by local haute couture streetwear lifestyle brand David Vintage.
The City of Detroit is more than just automobiles, Motown, and the Renaissance Center, dominating the city's skyline, overlooking the Detroit River. Detroit is jitting – a popular dance created in the city decades ago – flashy Cartier sunglasses, Detroit Tigers baseball caps, and bankrolls. All which Sheefy illustrated in his painting.
"I really wanted this mural to reflect the city," said Sheefy. "I've really been pushing the character "Jit Man." He's inspired by famous street artist Keith Haring, who had these murals of stick-like figures showing movement. I wanted to show a real Detroit party using minimalistic movements, which is why I have the guy jitting, a girl twerking next to him, the radio, and a black dude with Cartiers on and money in his pocket. Anyone from Detroit that walks by can identify with the mural."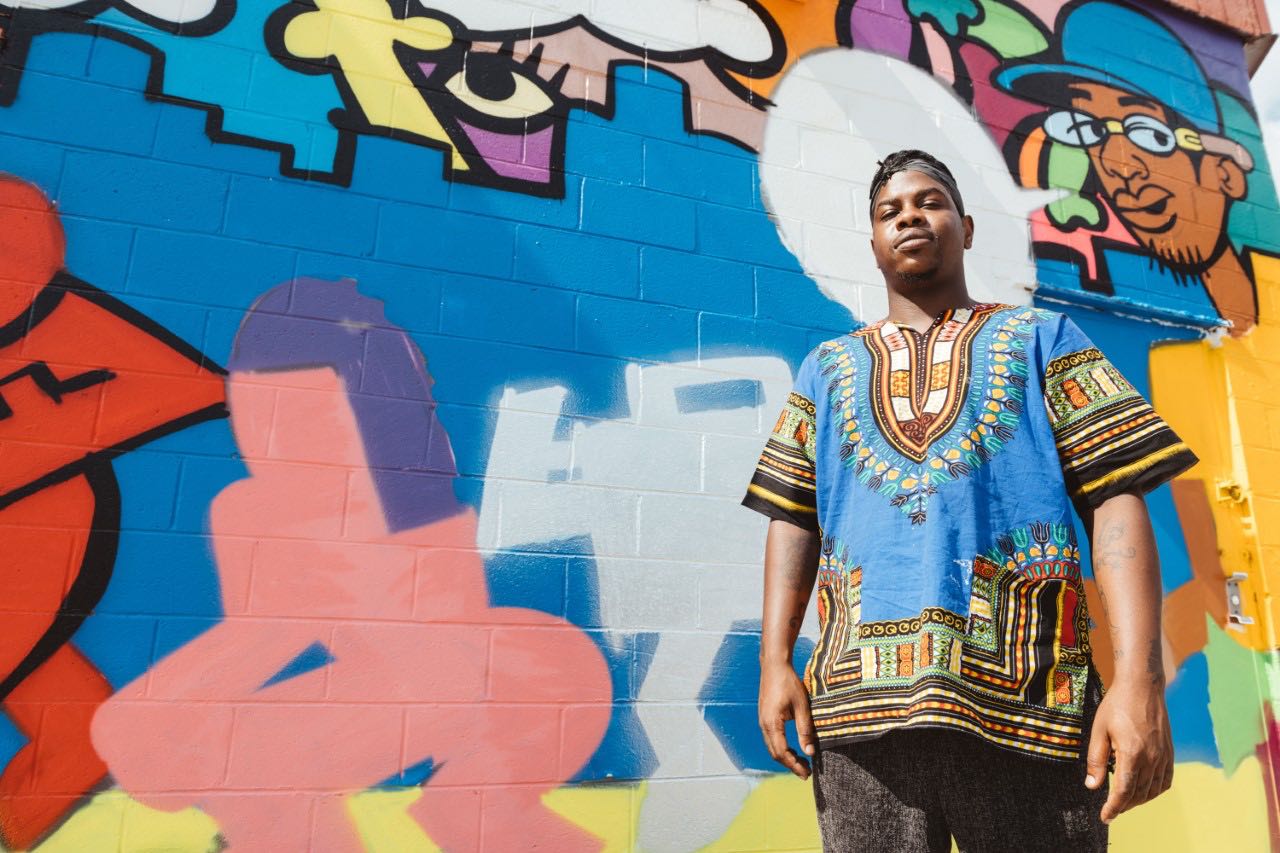 Sheefy concocted the mural through Murals in the Market. In its fourth year, the street art festival is curated by Detroit art publisher 1xRUN and has produced more than 125 murals in the Eastern Market District from artists all over the world. Sheefy has two of his own.
"I felt my first mural with Murals in the Market was more about me influencing my style on a bigger canvas," said Sheefy, who is 29 and attended Detroit School of Arts. "I really wanted to have nuances of the city with this second mural. I wanted it to be as Detroit as it could be, instead of it being just another white person on the wall. It's something Detroiters can relate to. I want my murals to empower the city."
When people speak of Detroit in 2018, they speak of a resurgence. But that comeback talk often starts and ends with downtown, midtown, and white flight back into the city. The Detroit Never Left mural is the complete opposite. It is black Detroit culture, both young and old, created by self-proclaimed Detroit legend.
"I feel like my mural is important right now because the true Detroit is being overlooked," Sheefy said. "Everybody is talking about the resurgence of Detroit and bringing it back, but no one is talking about the Detroit that's already been here. There are plenty of black people that have been here since the riot (1967), through the bankruptcy, and so much more. We've gone through so much stuff and we never left. That's what inspired the name for the mural."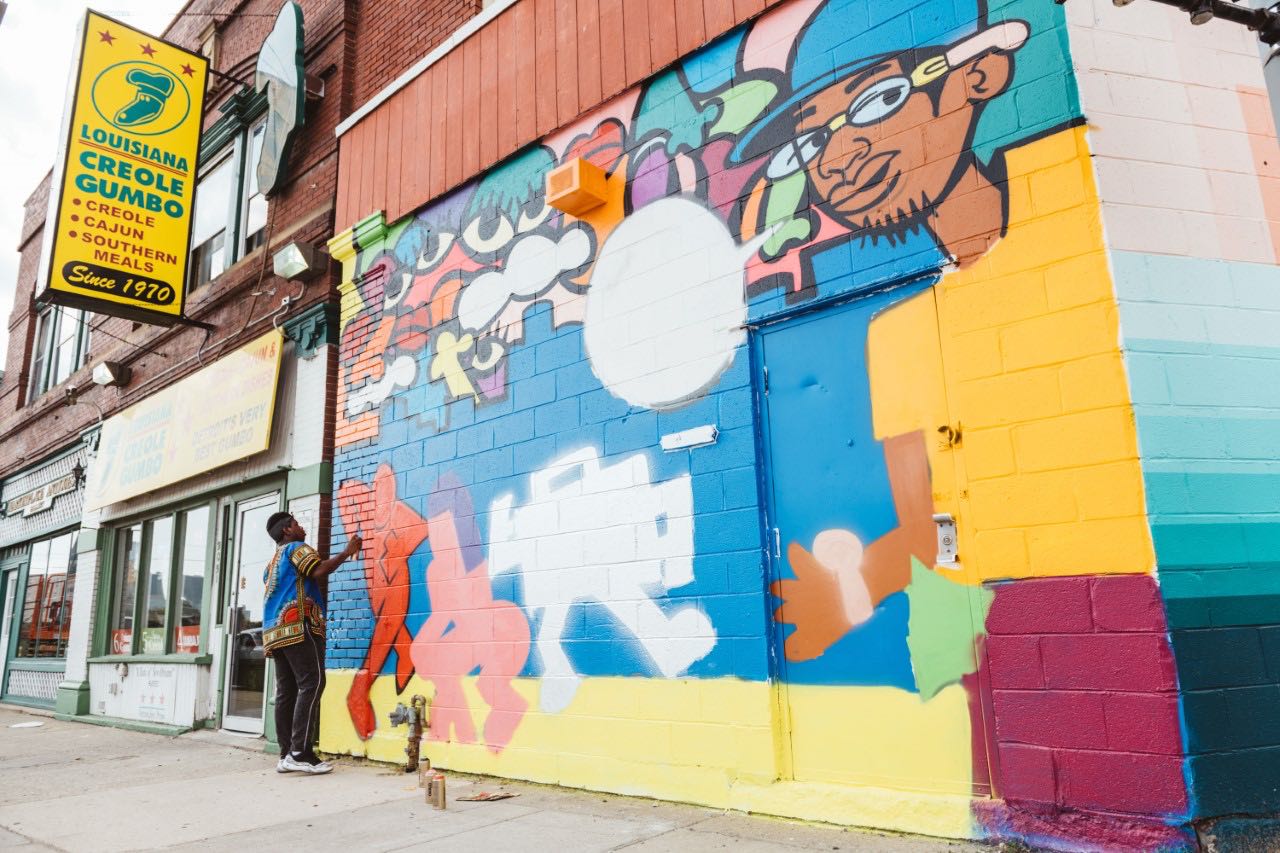 Since the mural was completed in late September, it has been welcomed with open arms by Detroiters. It was one of the more talked about topics on social media in Detroit and has close to 1,000 likes on Sheefy's Instagram page. Anyone in the area, whether heading downtown, to Eastern Market, or cruising the neighborhood can see its bright colors along Gratiot Avenue.
"I like the energy that it brings to real Detroit," said Joy Greene, who was on her way into Louisiana Creole Gumbo. "I saw the artist out here doing it and I thought it was a great touch to an area that needs some more uplifting through art. Downtown is not the only area of Detroit and his painting shows a Detroit I can relate to."
The Detroit Never Left mural is located on the corner of Gratiot and St. Aubin.