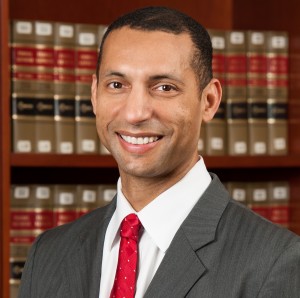 The Damon J. Keith Center for Civil Rights at Wayne State University Law School is pleased to announce its Seventh Biennial Lecture featuring Spencer Overton, president of the Joint Center for Political and Economic Studies.
Every two years, the Keith Center welcomes a civil rights luminary to campus for a lecture on their work, passion and wisdom about today's civil rights issues. The lecture is free and open to the public, often drawing hundreds of residents from around Michigan.
Past speakers have included writer, activist and professor Julian Bond; humanitarian, activist, actor and singer Harry Belafonte; renowned and pioneering lawyer Constance Rice; and Lani Guinier, a groundbreaking scholar and the first African-American woman to receive tenure at Harvard Law School.
Delivering the Seventh Biennial Lecture on Oct. 5, 2018, will be Spencer Overton, president of the Joint Center for Political and Economic Studies.
The Joint Center for Political and Economic Studies is the nation's black think tank, a non-profit based in Washington, DC that creates ideas that improve the socioeconomic status and civic engagement of African Americans. Overton's lecture in Detroit on "Racial Equality and the Future of Work" will include a discussion of automation, the rise of "gig-economy" independent contractors and other factors that are rapidly changing economic opportunity. According to Overton, these economic shifts could either deepen existing disparities or allow marginalized communities to leapfrog ahead, depending on today's legal and policy choices. Overton will discuss the challenges and opportunities these shifts present for the future of racial equity in Detroit and the nation.
Born in Detroit, Overton grew up in Conant Gardens until he was 7 and from there he and his family moved to Southfield. Upon completion of law school Overton returned home to work for Judge Keith and practice law at Dickinson Wright.
"This is special to me for a variety of reasons. Most important, I clerked for Judge Damon J. Keith, and his support and lessons have shaped my professional and personal life," said Overton. "
The subject of his talk on Friday, Oct. 5–Racial Equality and the Future of Work–grows out of a core element of the Joint Center's research.
"We found that 27% of Black workers are concentrated in just 30 jobs at high risk to automation (e.g., cashiers, drivers, retail sales, fast food servers and preparers, security guards, and more).
How can we use these and other changes to the economy (e.g., the rise in independent contractor work in the "gig economy" with few and sometimes no benefits) to reduce racial disparities, rather than expand them," asks Overton.  "Detroit has changed a great deal in the last few years, but questions of equity persist. I look forward to coming home and sharing our work and also learning from people who are thinking about the future of equity in Detroit."
"Right now, the Joint Center is trying to answer some key questions.  How can we use automation and other changes to the economy to reduce rather than expand racial disparities? How can we ensure people have access to the skills and support to land and succeed in good jobs? Can the vast majority of Detroiters and residents of other cities with large Black populations use the disruptions to leapfrog ahead? As Spencer would ask in reference to the futuristic African nation in the movie Black Panther, 'how do we make Wakanda a reality?'"
The lecture, titled "Racial Equality and the Future of Work," is sponsored by Comerica Bank and will take place at 7:30 p.m. in Wayne State University Law School's Spencer M. Partrich Auditorium.
A reception with light refreshments will follow the lecture.
The event is free and open to the public, but registration is required and can be done online at https://rsvp.wayne.edu/spenceroverton.