Parker Village, a proposed "Smart Neighborhood" and Community Resource center, has commissioned its second solar installation at its campus in Highland Park, Michigan. The collaborative project features a mural by up and coming artist, Waleed Johnson, who won an Art-Ops grant to produce it.
ArtOps, is a non-profit, LLC owned by Detroit Chamber Winds & Strings, that has a plan of action that will lead to the creation of a pilot program geared toward expanding the Erb Foundation's Arts & Civic Engagement initiatives in metro Detroit. The primary goal of this project is to empower Highland Park residents to creatively address the disparities within their community. The inspirational mural depicts the past of the historic city, but also incorporate images of what the planned future holds at Parker Village, including renewable energy, technology, aquaculture, health, wellness and more.
The installation will provide irrigation to the planned raised garden bed section of the aquaponics garden at Parker Village, a power station for charging tools, computers or phones, internet and security features to the campus.
The partners for the structure were convened by Soulardarity, an energy democracy non-profit based in Highland Park, supporting community-owned clean energy. The organization brought solar components and student design to the project, via its partnerships with Appropriate Technology Collaborative (ATC) who donated the initial solar panels for the project and The Black Caucus Foundation of Michigan, "Navigation to Success Program" who provided an opportunity for several youth to learn Solar installation via the project.
The Appropriate Technology Collaborative is an international community of designers, engineers, architects, creatives, social entrepreneurs and unique individuals who collaborate on appropriate technology designs for the development context.
The Black Caucus Foundation has several programs to prepare youth for workplace and college success. These include the sixteen-week school-based Navigation to Success program which works with 800 Wayne County students each year to make positive decisions and pledge to be drug free.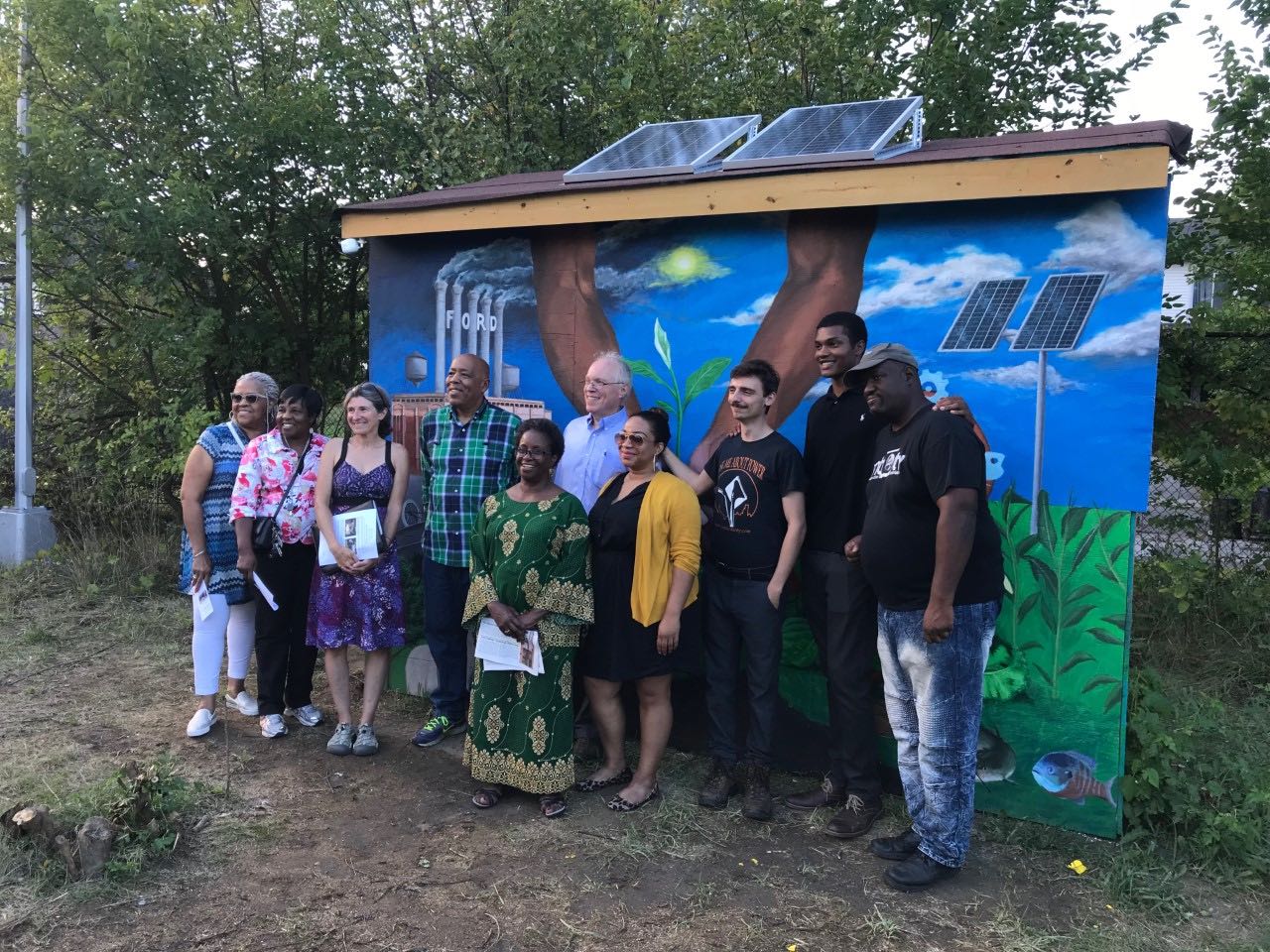 Community members, professionals and student design teams work together to create breakthrough technologies in low income communities by the Black Caucus Foundation in partnership with DESC and Grow Detroit's Young Talent and Ryter Cooperative Industries (RCI) that assisted with additional student training. RCI provides engineering solutions for urban development projects, renewable energy solutions, educational trainings, as well as support for the disabled community.