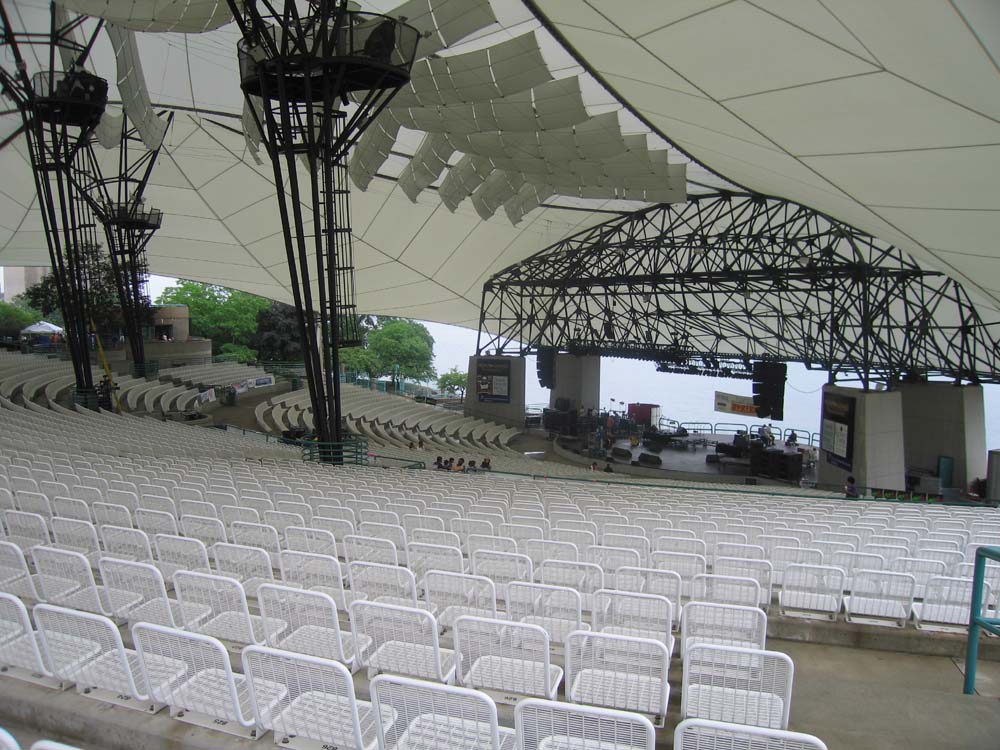 During Aretha Franklin's day-long homegoing services at Greater Grace Temple in Detroit on Friday, Mayor Mike Duggan announced plans to rename Chene Park after the Queen of Soul.
"I met with Detroit City Council President Brenda Jones and talked to my partners on Detroit City Council, and today it is with their strong and enthusiastic report that I can tell you that on Tuesday I will be sending City Council a proposal to rename Chene Park," Duggan said. "Our beautiful waterfront jewel will be Aretha Franklin Park."
On Tuesday, Duggan and all eight City Council members submitted a resolution to rename the park Aretha Louise Franklin Amphitheatre. The name change will be completed before the 2019 season begins next summer and the mayor said that the city would provide money, through bonds and fundraising efforts, to make needed improvements at the 30-year-old park.
"If you did not personally know her, I can tell you she had love for this city," City Council President Brenda Jones said after the vote. "She was a very personal person with a lot of R-E-S-P-E-C-T. She definitely showed respect to everyone."
The Queen of Soul last performed at Chene Park in 2015 when the amphitheater celebrated its 30th anniversary. The unique waterfront venue first opened in the spring of 1985, after former Mayor Coleman Young said he wanted a venue for Detroiters that would rival Pine Knob (DTE Energy Music Theatre). It is named after French immigrant Charles Chene. The Chene family are on record to have owned slaves and servants in Detroit. So, it is only fitting that the popular park is named after a queen.
The street Chene Park sits on, Chene Street, was named after the French settling Chene Family, who settled in Detroit early in its history. Detroit was a smaller farming community in the early 1700s, whose central hub was located along the Detroit River. Most of the city's farms were ribbon farms, which consisted of long strips of land beginning at the water, stretching miles into the city, assuring every farmer had access to irrigation and transportation. The Chene family operated a large farm for a number of years with help from slaves and servants. There were Chene relatives all over the city, but the farm located where Chene Street currently lies was the most well-known. This land had been granted to the family by Louis XIV of France and eventually would also be home to the Alexander Chene House, a home that was added to the National Register of Historic Places in 1985 and demolished in 1991 to make way for the E. Jefferson IHOP.
One of the early known settlers of the Chene family tree to Detroit were Pierre CHESNE dit LABUTTE and his brother Charles CHENE dit LABUTTE in the mid-1700s.
Chene Park was home to Thursday night's musical tribute to Franklin, an event that featured Detroit singers, musicians and dancers and was streamed to viewers online around the world. Performers included the Four Tops and visiting singers such as Johnny Gill, Keith Washington, Raheem DeVaughn, Regina Belle, Angie Stone and appearances by Jenifer Lewis and Tyler Perry.
"When performers from all around the world come here, they'll be reminded that they are performing at the home of the Queen of Soul," Duggan added.