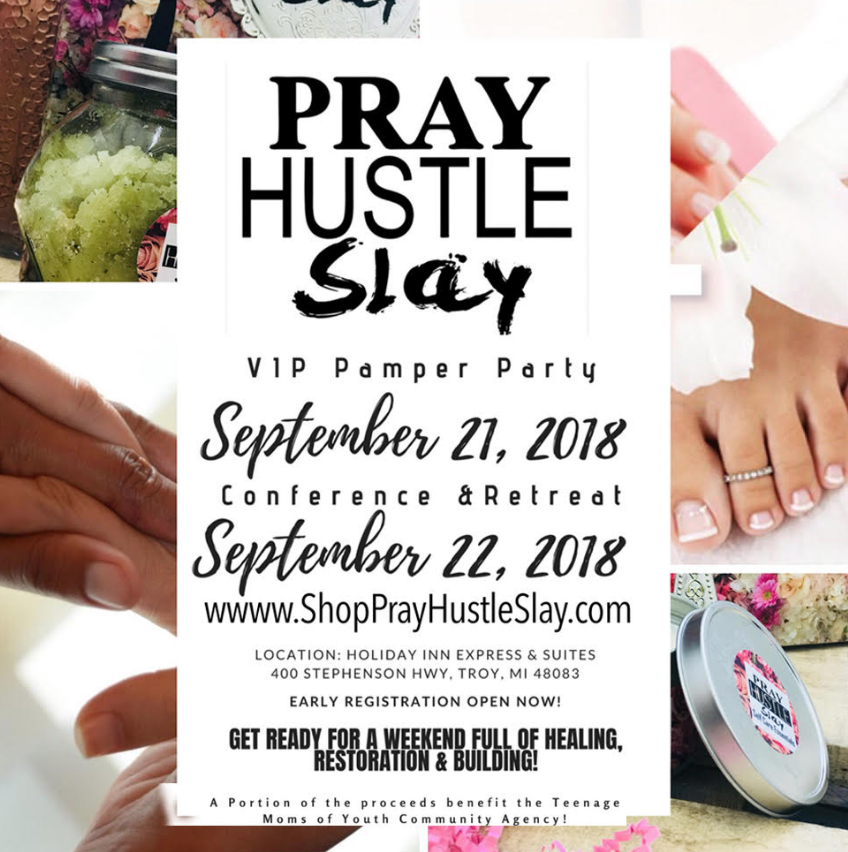 Hey QUEEN! Grab your best girlfriend, sister/friend, cousin and JOIN us for this spectacular event!
Pray Hustle Slay: VIP Pamper Party, Conference & Retreat! #PHSCR
The Unwind and Pre-Game before the conference!
At this exclusive VIP event, you will have the time to get pampered, relax, meet new Queens, shop local business owners, eat great food and get great gifts to take home to activate self care at home!
FRIDAY, VIP Pamper Party Complimentary Inclusions:
Massage (Chair, Hand/Arm, Foot)
Paraffin FREE Hand Treatment
Hors-d'oeuvres & Wine
Red Carpet Photos
and MORE!
Join Us for the Conference the following day! (Bundle & Save)
SATURDAY, What to expect at our 2018 Pray Hustle Slay Conference & Retreat:
Prayer Sessions
Healing (personal & business/work wounds)
Yoga, Restoration, Meditation
Relationship Building
Strategies for Self Care
Dynamic Guest Panelist
Door Prizes, Great food & MORE!
Guest Panelist for the Conference:
Rodnesha Ross, Entrepreneur, Author & Community Advocate, Mogul Life inc/Shop Pray Hustle Slay
AJ Williams, Editor, Michigan Chronicle, City.Life.Style & SingleBlackChick.com
Catrina Hurst, Entrepreneur & Author, Busy Woman 2 Business Woman
Rachel Newsome, Holistic Wellness Coach
Cara Ivy, Personal Finance Coach
Markieta Armstrong, Creator of Titus II Sisterhood
Sherelle Hogan, Author & CEO
Jalyssa Granger, Fashion Designer & Beauty Advisor, CEO, the Fashion Statement
You'll leave with:
More tools to maneuver through your journey with balance
renewed strength & perspective
feeling rejuvenated & refreshed
tools to keep going
and an OVERALL new you!

Connect with us on Facebook: @MogulLifeinc Instagram: ShopPrayHustleSlay