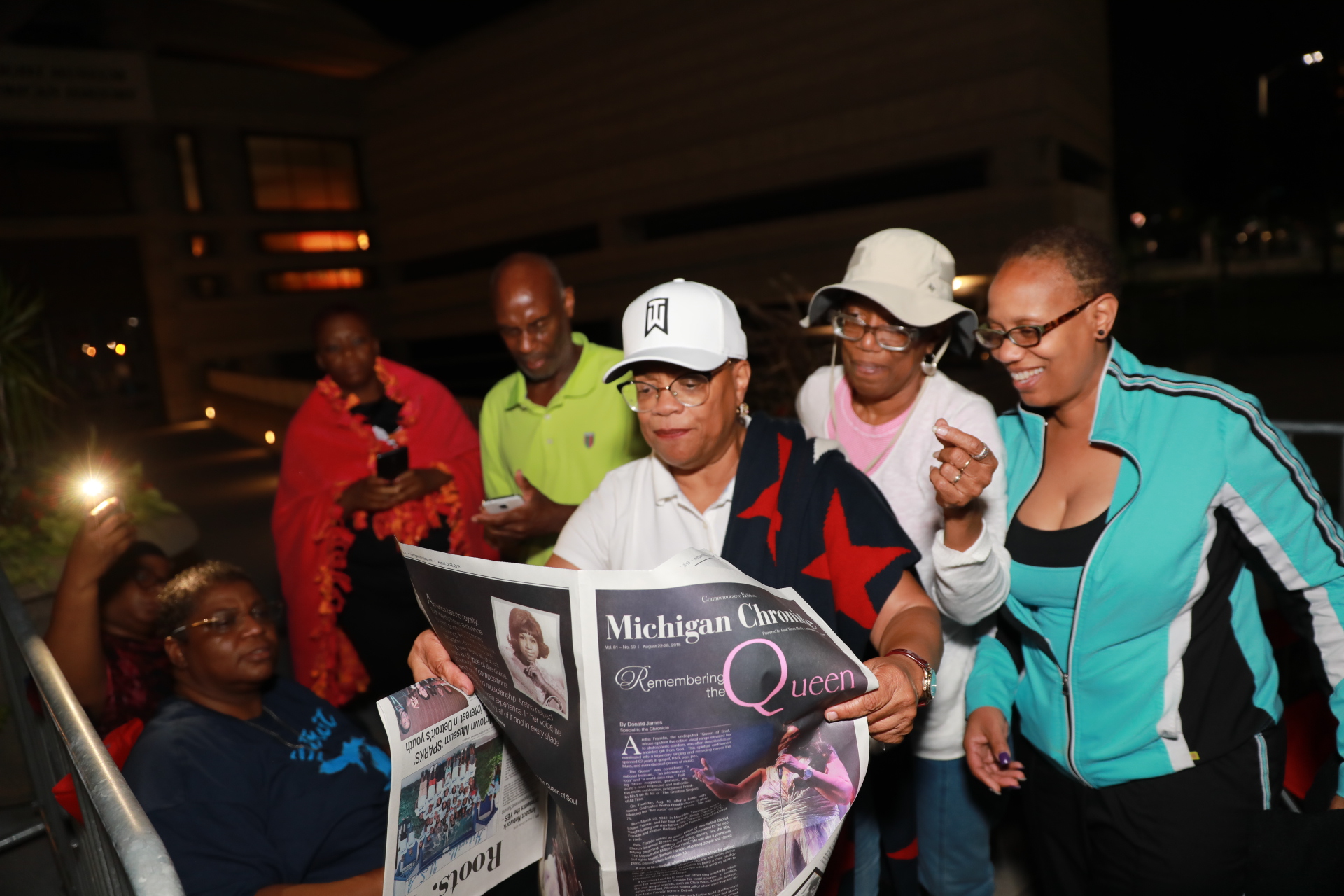 "America has no royalty. But we do have a chance to earn something more enduring. Aretha may have passed on to a better place, but the gift of her music remains to inspire us all."
-President Barack Obama
Our 44th president is usually spot on but this time I have to respectfully disagree—slightly. While America has no monarchy we certainly do have royalty and her name is Aretha Louise Franklin, Queen of Soul.
Millions converged on Detroit this week to honor the life and legacy of Queen Aretha Franklin who died on August 16, 2018 at the age of 76 from pancreatic cancer. Ms. Franklin will lay in state on Tuesday and Wednesday at the Charles H. Wright Museum of African American History an honor fitting a queen.
And they didn't all arrive in pink Cadillac's; they came by planes, trains and bus to pay homage.  Several people began lining up as early as Monday afternoon in efforts to beat the inevitable crowd that Tuesday morning will bring on the first day of the public viewing for Aretha Franklin. The mood Monday night was one of solidarity as people sat in their lawn chairs wrapped in blankets reminiscing on their favorite Aretha memory or song. Everyone talking about they journey
Retired school teacher, Angell Harris, arrived by train from her hometown of Sacramento, Calif to be a part of this historical moment. The trip took two and a half days but Harris' connection to the Queen is such that she felt she had to be here.
"As a child, I watched my mother battle depression," said 54-year-old Harris. "But I noticed that when she would put on Aretha Franklin, it would lift her spirits. I mean whenever she put her music on it just brought joy to her and in that moment she was all right."
Harris' mother died from a massive heart attack in 1992 but she never forgot what Ms. Franklin's music did for her mom. "I came here to pay tribute and show my gratitude for the joy and the happiness that Aretha put in my mom's heart. There is no way I could miss this."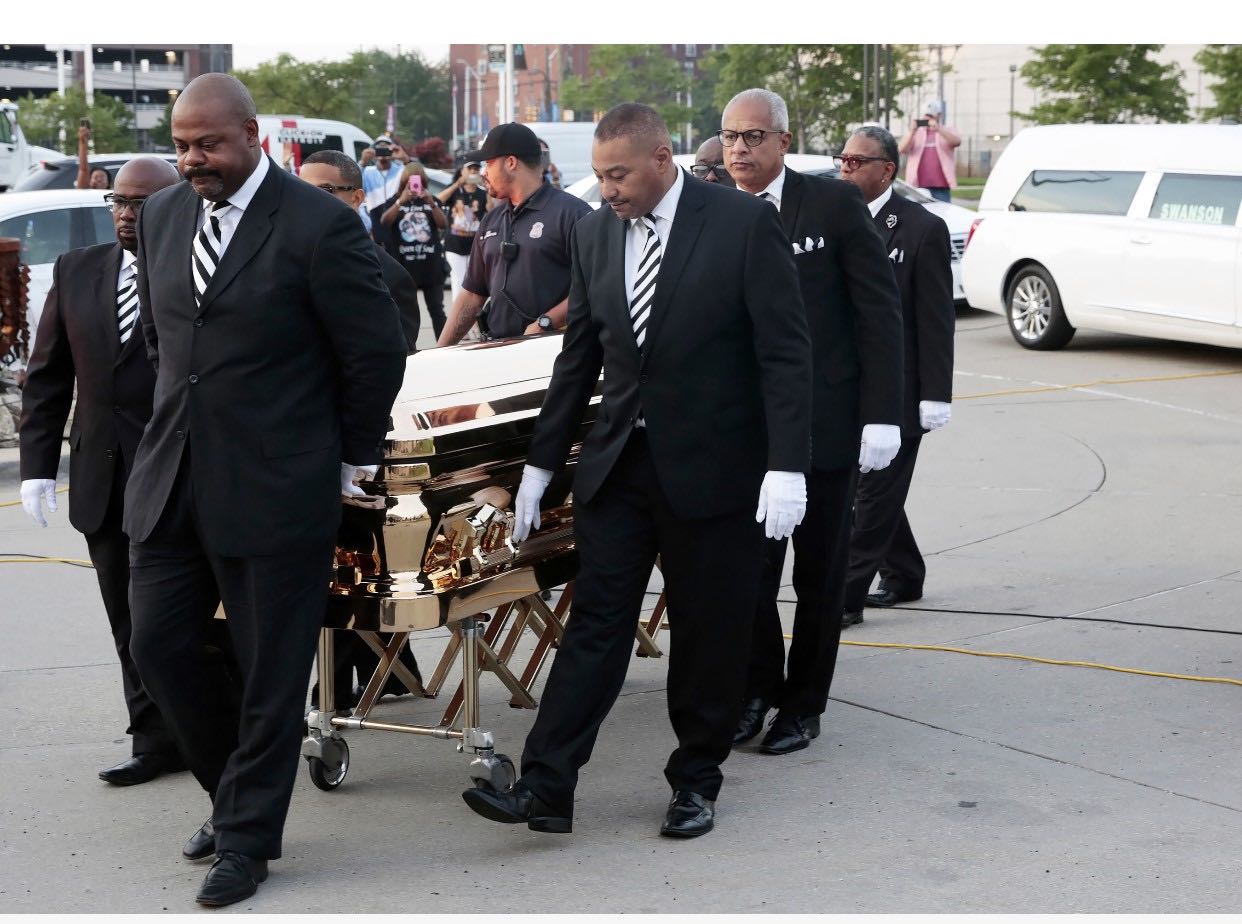 Gwen Cook a 69-year-old disabled veteran from Augusta, GA had a few setbacks that threatened to stop her from making the 12-hour trek to the D.
"I had my obstacles but I told everyone come hell or high water, I'm going to Detroit," Cook recalled.  "When I heard about Aretha's passing it was extremely touching. I remember her very first record. I grew up with her. I felt like she was my sister, my confidant."
Showing the wrist guards on both arms, she indicates that she has severe carpal tunnel and cannot drive. Cook went through two potential drivers before a fellow veteran and neighbor named Ralph agreed to bring her.
"When she asked me to drive her I said, 'no problem' not only because it's Aretha but because it's Gwen (Cook).  She is a great person," said Ralph. "So when she called on me I was happy to share in this moment.  I am lucky that my Queen isn't across the ocean she is right here in Detroit, so it was no problem to drive up and say goodbye to the queen."
As they prepare to hunker down for the night the magnitude of moment is not lost on anyone. Even world-renowned photographer Monica Morgan became sentimental seeing everyone expressing love for the woman she had the honor of photographing for over 30 years.
"This is a very big deal," said Morgan. "To spend two and a half days on a train, they didn't know what they would encounter, they didn't know the weather and they didn't care," she continued. "You can feel the energy and I am excited because being here and having this moment gives closure. They're listening to the songs that touched them and they are able to say goodbye."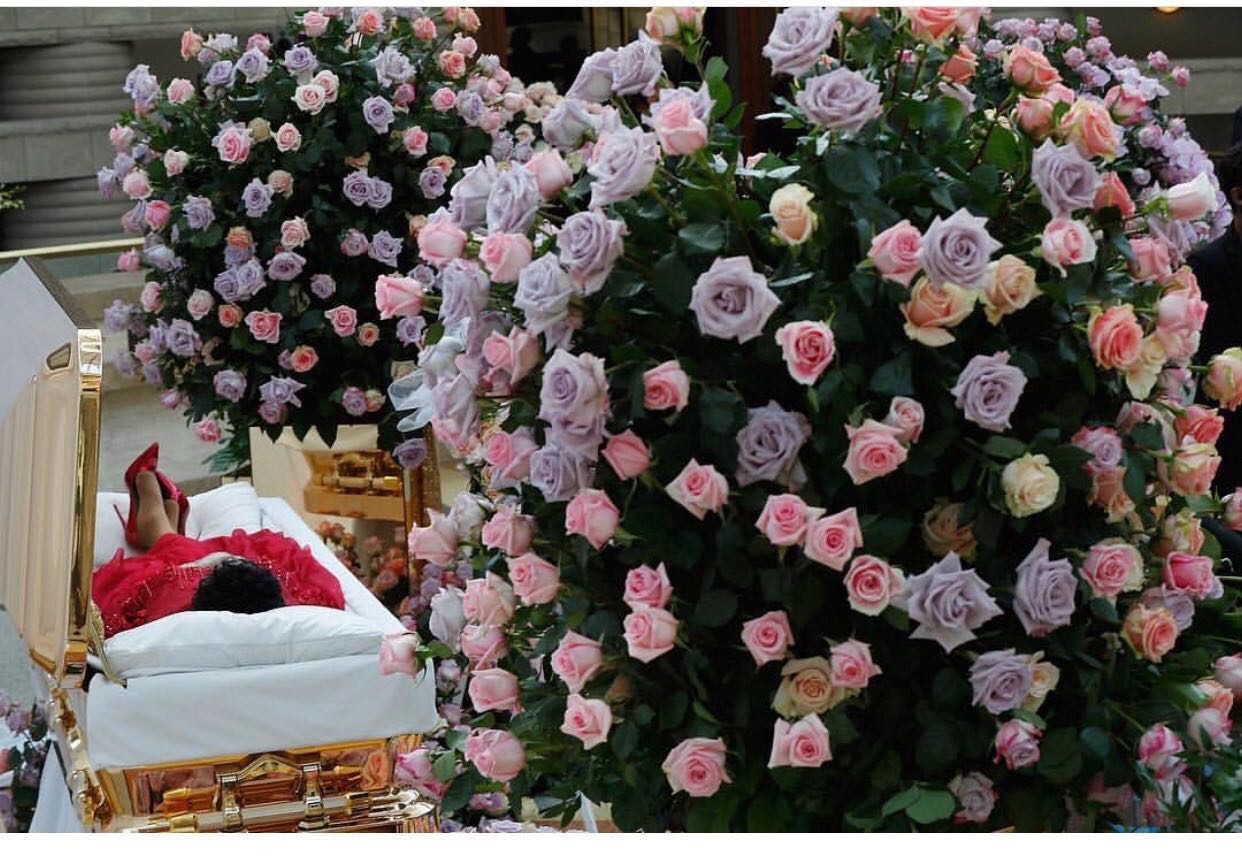 As daylight approaches, the line the campers anticipated starts to form. It's all very orderly everyone is in good spirits. It is truly a heartening occasion. Radios, phones, tablets and any other device that plays music is pumping Aretha Franklin. There's a joyous atmosphere. People laugh when someone mentions there's a Taylor Swift concert the same day… recounting Ms. Franklin's viral moment where she complimented the artist on her wardrobe rather than her vocal abilities, saying "Great gowns. Beautiful gowns." Everyone within an earshot starts laughing and recalling his or her favorite Aretha moments.
People have come from Atlanta, New Orleans, Pittsburgh, Amsterdam, Australia and beyond—bonded by their love for Ms. Franklin.
Around 8:30 am, Mr. O'Neil Swanson and staff from Swanson's Funeral Home escorted Ms. Franklin's body inside the museum. Her gold casket gleamed in the sun as supporters waved, wept and clapped for the Queen.
Upon entering the museum you see Ms. Aretha in the rotunda and its absolutely breathtaking—this great woman taking her rightful place among all things of cultural and historical importance. The room is simply gorgeous—adorned with lilac, pink and ivory colored roses.
Decked out in all red Ms. Franklin is the epitome of diva elegance. Her gown boasts beading and floral accents and red Christian Louboutins. Her legs crossed at the ankles showing the same class she exuded in life. As fans filed in and out the moment was underscored perfectly by her hit song "Angel" echoing through the walls of the museum. Some people sang along others opted to have a silent moment with the queen.  There wasn't an overwhelming sense sadness.  But instead an air of gratitude, people were grateful and happy to have a moment to spend with the woman who gave them so much.
The public viewing at the Charles H. Wright museum will conclude on Wednesday, Aug 29, 2018 at 9pm.  From there Ms. Franklin will be transported to New Bethel Church, the church founded by her father, the late Rev. C.L. Franklin. Located at 8430 Linwood St, Detroit,New Bethel will host its viewing from noon to 4 p.m. on August 30, 2018.
The final service will start at 10 a.m. Friday, August 31 at Greater Grace Temple in Detroit. Announced performers include Stevie Wonder, Faith Hill, Ronald Isley, Chaka Khan, Fantasia, Jennifer Hudson and Yolanda Adams.
Speakers so far include former President Bill Clinton, Smokey Robinson, the Rev. Jesse Jackson and Clive Davis.
The Friday service will be made available for viewing live online and on television.
For TV viewers in Detroit, the service will be broadcast live by several stations, including WDIV-TV (Channel 4), WJBK-TV (Channel 2) and WXYZ-TV (Channel 7). The stations will stay with the funeral through its duration, which could be well into Friday afternoon.