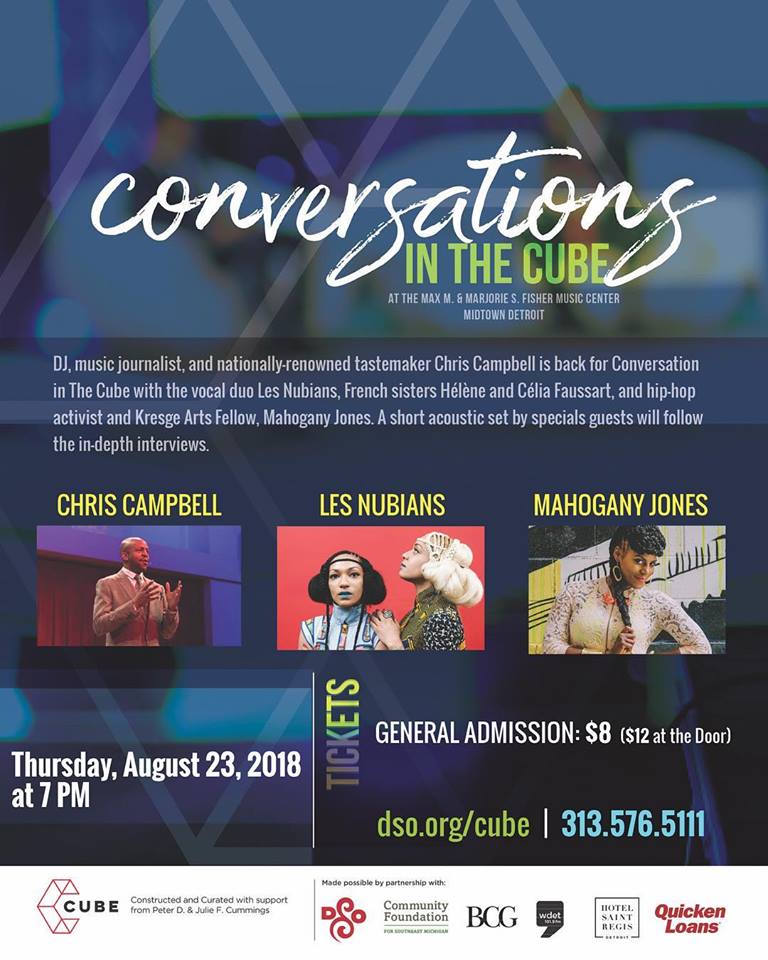 The Detroit Symphony Orchestra (DSO) in association with WDET 101.9 FM host/music journalist Chris Campbell will present "Conversations at the Cube II," featuring international progressive soul sister act Les Nubians and globally-renowned rapper/MC Mahogany Jones, this Thursday, August 23, 7-11 pm, inside the Cube, located at the Max M. & Marjorie Fisher Music Center, 3711 Woodward Avenue in Detroit.

The program consists of long-form one-hour interviews before a live studio audience followed by stripped-down, unplugged-style music sets by each of the artists, and then a meet-and-greet.

The Grammy-nominated sister duo of Helene & Celia Faussart first came to the world music stage with the release of 1998's debut "Princess Nubiennes," which yielded the global world hit "Makeda," along with rhythmic groovers "Tabou," "Desolee" and "Tabou." Their follow-up albums "One Step Forward," "Echoes, Chapter One," and "Nu-Revolution," continued their trajectory of being a groundbreaking act skilled in distilling sensitively calibrated funk, lush soul and beat-driven jazz cool.

Mahogany Jones is a globe-trotting hip-hop and soul artist who came to national prominence as four-time undefeated champion on BET's 106 & Park "Freestyle Fridays." From that platform, she has gone on to tour and headline in over 13 countries on four continents as an official U.S. music ambassador. As a Hip-Hop activist, she launched A PURE Movement to empower women and girls and confront violence against women. Most recently Mahogany was named a 2016 Kresge Arts Fellow.

Chris Campbell is host of The Progressive Underground, as heard on 101.9 WDET. He is also a correspondent for NPR (National Public Radio) curating global underground music for segments such as "Heavy Rotation" and "Songs We Love." He is a DJ/music journalist and nationally-renowned tastemaker who has written for publications such as Upscale, Smooth Jazz News, Soul Interviews and Examiner.

Tickets for Conversations at the Cube II are $8 in advance, $15 at the door. Call the DSO box office at 313.576.5111 or visit www.dso.org to get tickets.