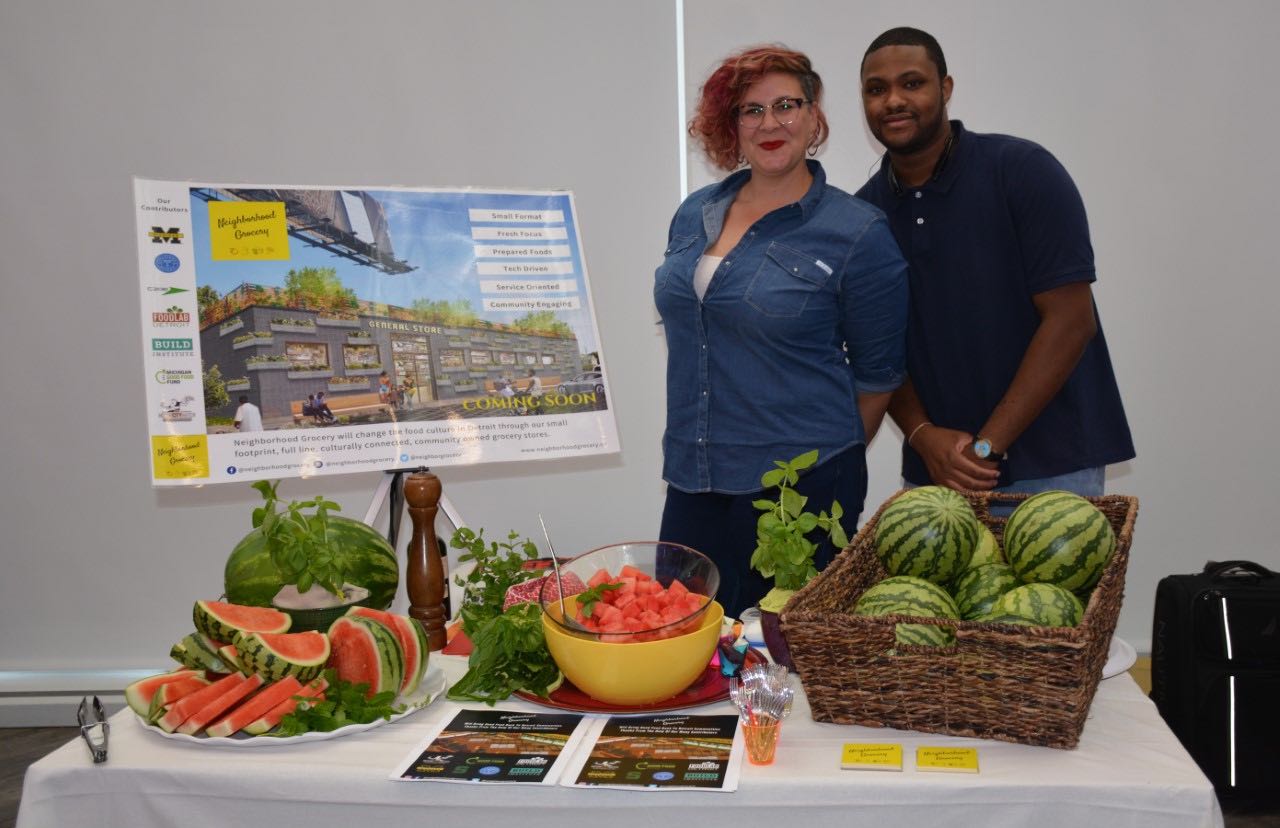 Four lucky entrepreneurs became one step closer to opening their small business in Detroit, Highland Park or Hamtramck Friday, as the Comerica Hatch Detroit Contest Presented by Bedrock announced this year's finalists.
The final four contestants aim to open a brick and mortar storefront, joining the 34 established contest alumni business owners that have successfully opened their businesses. This year's winner will receive $50,000 from Comerica Bank and more than $200,000 in pro-bono services from Hatch Detroit and its partners. The public can continue voting until midnight on Friday, Aug. 24, to help select the eighth Comerica Hatch Detroit Contest winner
The four finalists up for vote are:

Neighborhood Grocery is bringing fresh food back to the neighborhoods with small footprint, full line grocery stores in Detroit, targeting underserved neighborhoods that lack access to fresh foods.
Paradise Natural Foods is a vegan deli that works to create a community of wellness while bringing people from all walks of life together in their journey toward healthier eating.
Slyde's mantra is simple, gourmet, local. The neighborhood eatery will specialize in seasonal sliders, salads, soups and po' boys.
Toma Detroit will serve fresh, locally sourced simple yet sophisticated cocktails and foods from Latin America. Their tasting room will focus on Tequila and Mezcal and will educate guests about regional distillation methods and styles of Agave.
"The amount of community support we receive each year for this contest and independent small businesses is incredible to see," said Vittoria Katanski, executive director of Hatch Detroit. "Already, we've reached more than 20,000 votes, a testament to how invested the community is in this contest. We are looking forward to the continued involvement from the public to help determine the next business they want to see in their neighborhood."
Community members can vote up to three times per day at hatchdetroit.com/vote/, Hatch Detroit's Facebook page or in person at the following locations:

7 p.m. – 9 p.m., Monday, Aug. 20 at Bumbo's Bar
11 a.m. – 2 p.m., Tuesday, Aug. 21 at Eastern Market Shed 3
11 a.m. – 1 p.m., Thursday, Aug. 23 at Honeybee Market
11 a.m. – 2 p.m., Friday, Aug. 24 at Spirit Plaza
Following the close of voting at midnight, Friday, Aug. 24, finalists will have less than one week to prepare and pitch their business plans to a panel of judges as well as an audience of peers at the ticketed 'Shark Tank' style Hatch Off event on Thursday, Aug. 30. The winner of the 2018 Comerica Hatch Detroit Contest will be announced that evening. Tickets to the Hatch Off are $125 and can be purchased on Eventbrite. The event supports Hatch Detroit's operations throughout the year to help generate additional small business growth in Detroit, Highland Park, and Hamtramck.
In addition to the $50,000 from Comerica Bank, the winner will receive more than $200,000 in pro bono support including legal services from Honigman Miller Schwartz and Cohn, architectural design support, IT, public relations support and counsel from Hatch Detroit and its partners.
Hatch Detroit is a Michigan based 501(c)(3) organization that champions and supports independent retail businesses in Detroit through funding, education, exposure, and mentoring. Hatch Detroit was founded by Nick Gorga, a Detroit native who is passionate about the revitalization of the city and inspiring others in the community to create change.