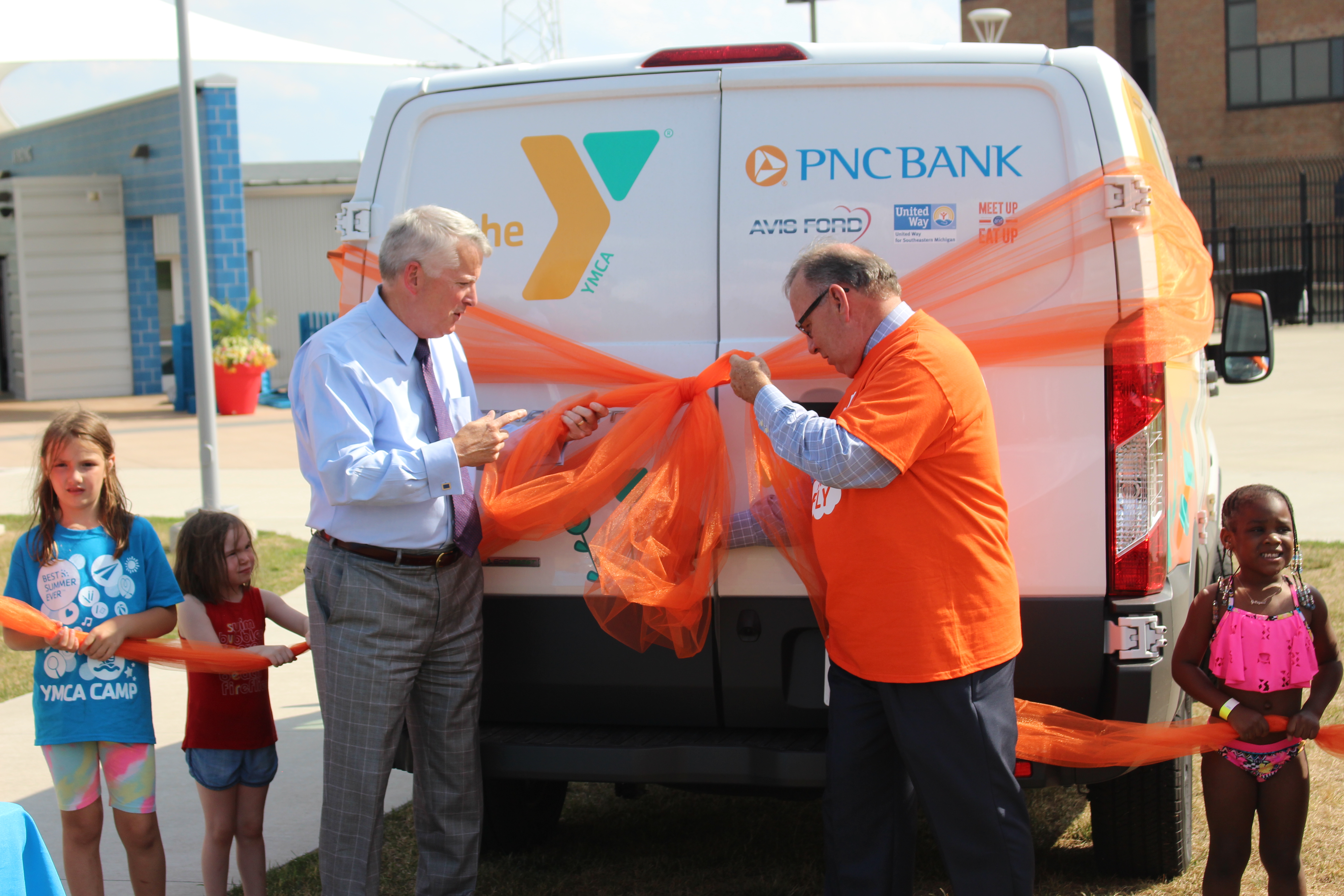 Who would have known that a mobile summer camp could be a thing?
The YMCA has proved it possible with their "Y on the Fly" program. New to Detroit, Y on the Fly is a mobile YMCA program that literally brings the YMCA to you. PNC Bank, Avis Ford, Meet Up and Eat Up, and United Way have all partnered with the YMCA to make the program possible in Detroit. Here is how it works: Five days a week, A Y on the Fly van is packed with games, activities, and healthy meals and brought to neighborhood parks in Detroit and Pontiac. From hula hoops and jump ropes to parachutes and nets, all is available for youth 18-years and under to enjoy without having to sign-up and pay for a camp.
The launch event for the program was held at Mt. Elliott Park near downtown Detroit, where an unveiling of the Y on the Fly van and playtime for the kids took place. Representatives including the CEO of YMCA Metropolitan Detroit, Scott Landry and Ric Devore, PNC Regional President of Southeast Michigan, were able to share their involvement in bringing Y on the Fly to Detroit.
"What we're trying to do is get healthy activities to the kids during the summer," said Devore. "Because when you think about the school lunch programs during the summer, all of a sudden, these things go away — both nutrition and exercise."
The program is off to a great start with their goal of bringing those two components back into neighborhoods during the summer. The park visits consist of an hour of play and 30 minutes of free, healthy meals. Each Y on the Fly van provides roughly 72 meals, meaning about 500 meals per day are given out to youth, according to YMCA Healthy Living Director, Lisa Senac.
"There are 21 million kids on free and reduced lunch in America and 18 million who aren't taking advantage of any food programs, so that's only around 2 million that are getting meals," Senac explained. "So, anything we can do to bridge that gap is what we're going to try to do."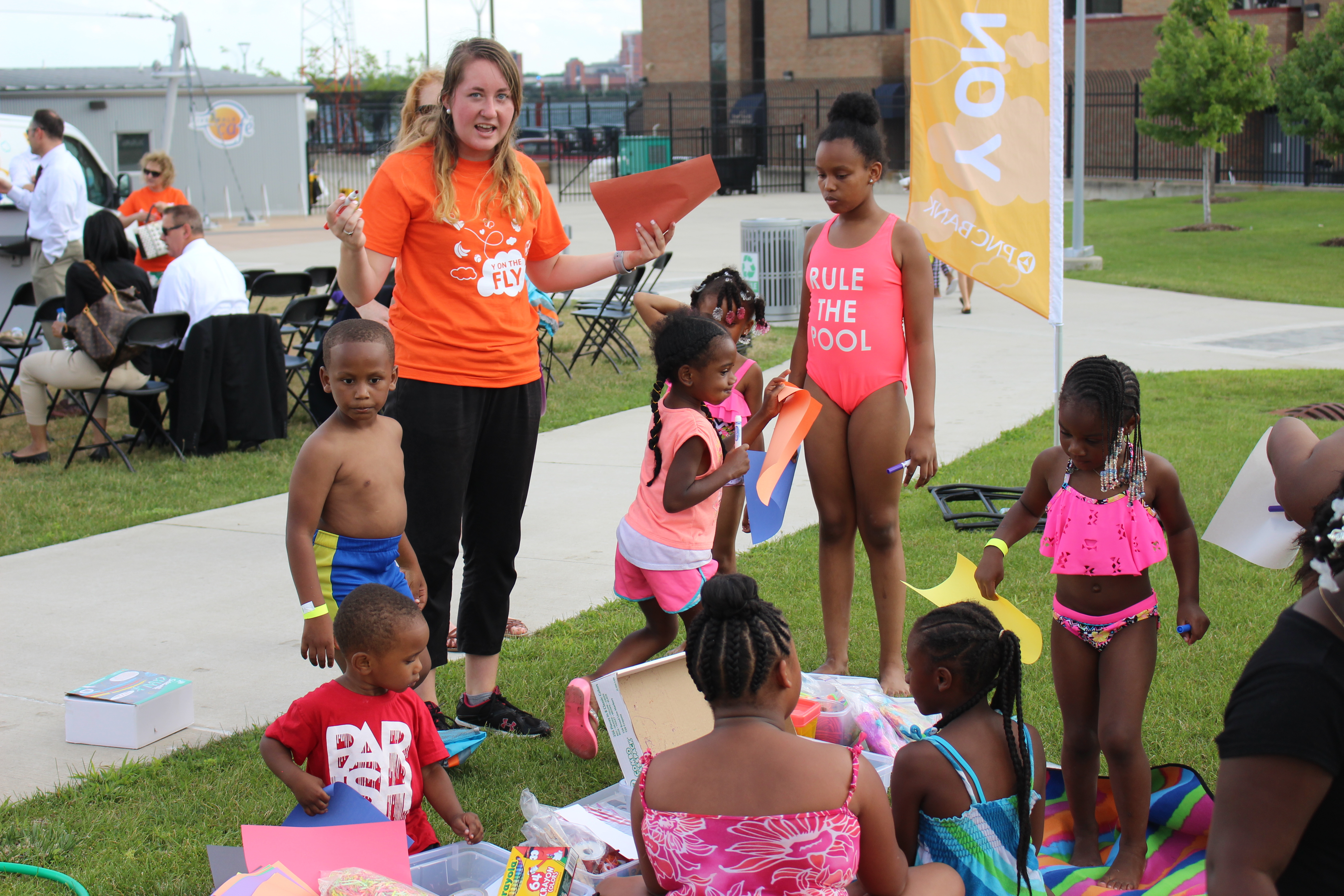 Not only does this program provide healthy eating, but mentorship as well. Twelve young adults have been hired by the YMCA to come work and play with children in the parks every day. The youth are hired to drive the vans, do activities with the children, and serve the meals as well. Dajah Coates, 22, of Detroit, is one of the youth hired and described her job as being something different every day. She goes out and does plenty of activities with kids, from getting them involved with literacy programs to building catapults and other STEM projects with them.
"I love it," said Coates. "It's not a lot of programs where they're just out and open to the community for free. Kids are the youngest generation that we have the biggest impact on, so they're doing a good job with that."
Y on The Fly is not only exclusive to Detroit. The mobile summer camp is spreading across the country. It started in Pittsburgh, then Baltimore, Dayton, Ohio and now Detroit. There are currently eight locations in total in the Detroit market: four in Pontiac, two in Detroit, and one in Westland.
"There seems to be this misconception that since the economy is better, the need is going away and that's not true," said Devore. "And while I enjoy what's going on downtown, it's not really a comeback until we reach our neighborhoods."
Y on the Fly is expected to run every week for the rest of the summer until school starts back up. For more information on the schedule and locations for the program, please visit: ymcadetroit.org.