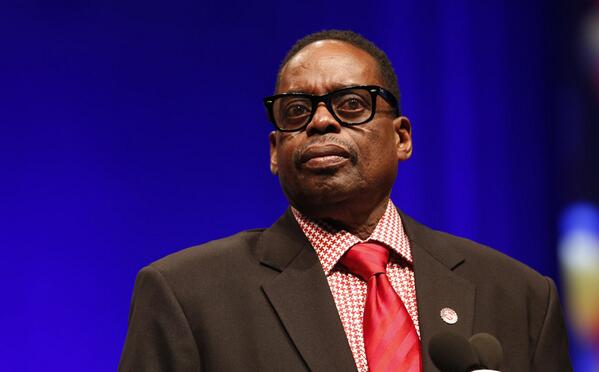 James "Jimmy" Settles Jr. has come out of retirement. A life-long Detroit resident who started working at a Ford iron foundry in 1968 and worked his way up to vice president of UAW-Ford over a 50-year career, Settles has been named the City of Detroit's new group executive for neighborhoods, Mayor Mike Duggan announced.
Settles is no stranger to Detroiters, for whom he has committed significant amounts of community support over the years, from building new ballparks to providing athletic and musical opportunities and mentoring to young people to helping the families of wounded military veterans and feeding homeless people.
Settles, 68, will take over the position from Charlie Beckham, who recently announced his retirement after serving six mayors over four decades in Detroit. Beckham's last day is Sept. 1.
"Jimmy's passion for making things better for working people and the residents and children of Detroit is well-known, and that makes him an ideal leader for a department focused on improving the daily lives of Detroiters," Mayor Duggan said. "I'm thrilled to welcome someone of his caliber to my administration."
Settles said he embraces the challenge of working for the city and its residents after a long career in union activism.
"I look forward to contributing to the resurgence of the city, doing whatever I can to help out, so the city can continue to flourish," Settles said.
Following in his father's footsteps, Settles began working at Ford's Dearborn Iron Foundry in 1968 as a graduate of the city's Northwestern High School. At the urging of co-workers, he ran for a UAW leadership position in 1970 and rose through the union's ranks over the years, ultimately being elected vice president in 2006 and re-elected twice. He had served on the union's International Executive Board since June 2002, when he was elected director of UAW Region 1A.
Settles has been a fighter for worker rights and civil rights, and his work ethic became legendary, including in support of schoolchildren in Detroit. Community projects Settles helped lead include:
A $1.8 million makeover of a baseball field in Detroit's Woodbridge neighborhood. The ballpark's improvements, including new pitching and batting cages, bleachers and scoreboard spearheaded by the UAW and Ford Motor Co., was renamed William Clay Ford Field.
Building improvements at Detroit College Prep at Northwestern High School, including renovation of the gym and pool.
The "Boxes of Love" program through UAW-Ford to provide hundreds of boxes of food for families in need during the holiday season.
An $850,000 donation to the St. Peter and Paul Warming Center in downtown Detroit. The facility was later renamed the Pope Francis Center, proving a broader array of services to homeless people.
As group executive of neighborhoods, Settles will be responsible for administering the city's Department of Neighborhoods, created in 2014. Each of the city's seven City Council districts has a district manager and deputy district manager who act as residents' direct contacts and liaisons to city departments to address blight problems and other significant community issues.
Settles and his wife of 26 years, Karen, live on the city's lower east side in District 5. He has three children and three stepsons.
Settles is a life member of the NAACP and serves on its national board of directors. Over the years he has served on the boards of Blue Cross Blue Shield of Michigan, the Wayne County Airport Authority, Detroit/Wayne County Stadium Authority, the Trade Union Leadership Council, the Coalition of Black Trade Unionists, Henry Ford Community College Employment and Training Development Center, the Detroit Public Schools Compact Association and the North Rosedale Park Civic Association.