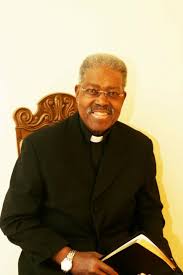 An icon, giant and legend his own right. Pastor Sterling L. Jones, the proud pastor of Mt. Zion Baptist Church where he served as senior pastor for over 48 years transitioned on Sunday, July 8, 2018. This gospel giant of a preacher was known for being one of the most anointed, influential and reigning evangelists across this country.
Taking his own microphone and speakers to churches where he evangelized, "he didn't want to take any chances on the people not being able to hear the gospel, so he brought his own sound equipment with him," according to longtime friend and brother, Dr. Cullian W. Hill.
Pastor Jones was a singer, teacher, preacher and evangelist who wanted to just simply preach the gospel. Throughout his 48 years of pastoring Mt. Zion Baptist Church, Pastor Jones certainly had enough experience to lead anyone to Christ. He cultivated many young pastors and preachers in the city of Detroit and surrounding areas. Some of those who have been blessed with their own ministries due to his Godly wisdom and sound advice. Unselfish, he made time for others as well as making his pulpit available to young preachers in the gospel. He gave them an opportunity and a platform to share their gift on Sunday Mornings.
With its steeple being seen from blocks away, Mt. Zion Baptist Church has become a beacon of light shining on the corner of Mack and Van Dyke that gives a sense of hope to the community. Being the first mega church of its kind on Detroit's eastside, Pastor Jones conquered the unthinkable. With his vison coming to fruition, the completion of the six million-dollar edifice was presented to the congregation in June of 1990. The greatest joy and accomplishment for Pastor Jones was the burning of the mortgage in 2003.
Mt. Zion Baptist Church was built to further the ministry and to provide the congregation with enough space to accommodate all of the various ministries. Although part of his vision had come to pass, Pastor Jones' main purpose was soul winning, which was natural for him. He believed that everyone was created equally and he would help everyone he could. He was just simply a nice guy, with a big heart and would help anyone who he came in contact with.
With great accomplishments also came great obstacles. A kidney transplant survivor Pastor Jones was on dialysis for 12 years. He always kept this faith strong and continued the course. Considering all the prestigious accolades and doctorate degrees awarded to Pastor Jones throughout his career, the most significant honor was having a street named after him. "Having a church on the corner of Mack & Van Dyke for more than 48 years and now having that same street named after you something to sing about," said Pastor Jones in a video clip of the street naming. Father's Day of 2013, The Mt. Zion Baptist Church along with city officials, family and close friends honored Pastor Jones with the street dedication at the corner of Mack & Van Dyke which is now Dr. S.L. Jones. Council President Brenda Jones, City Council Member, Rev. Andre Spivey, Benny Napoleon and Mr. O'Neil D. Swanson were a part of this great celebration.
"There is no man that is more deserving of this honor. The eastside of Detroit needed a leader like Pastor Jones", says Councilman Andre Spivey. "He could've moved Mt. Zion anywhere in the suburbs of Detroit, but he choose to stay here in our city as we grateful for him and his leadership."

Pastor Jones, longtime friend and brother, O'Neil D. Swanson, stated that "Pastor Jones was a man of integrity, great character, he loved people and was committed to the call of pastorship on his life and to Mt. Zion Baptist Church. The thing that stood out to me most about my friend is that he was the real deal, no counterfeit, he was a true believer, I believe that he was a true child of God, he knew the Lord, he did everything he could to magnify Jesus Christ. Pastor Jones was a doer, he helped and blessed the people in the community. He not only talked the ministry, but he lived the ministry on a daily basis."
On this journey called life, where often we are tossed to and fro, Pastor Jones was a perfect example that with God on your side all things are possible to them that believe. We thank God for his courage and tenacity in running with his God given purpose and vision. From traveling across this country preaching the unadulterated word of God, to making great strides in the community by building a legacy for young and upcoming pastors and preachers to glean from, to building a place of refuge and safety, where one could run to and find the true a risen savior, I want to say Job Well Done Pastor Jones.
We will continue to keep his MEMORY alive in our hearts, the great MAN that you were will never be forgotten because your life always be apart of ours and your MINISTRY and legacy will continue to live on.
Rest well my friend, Detroit loves you!