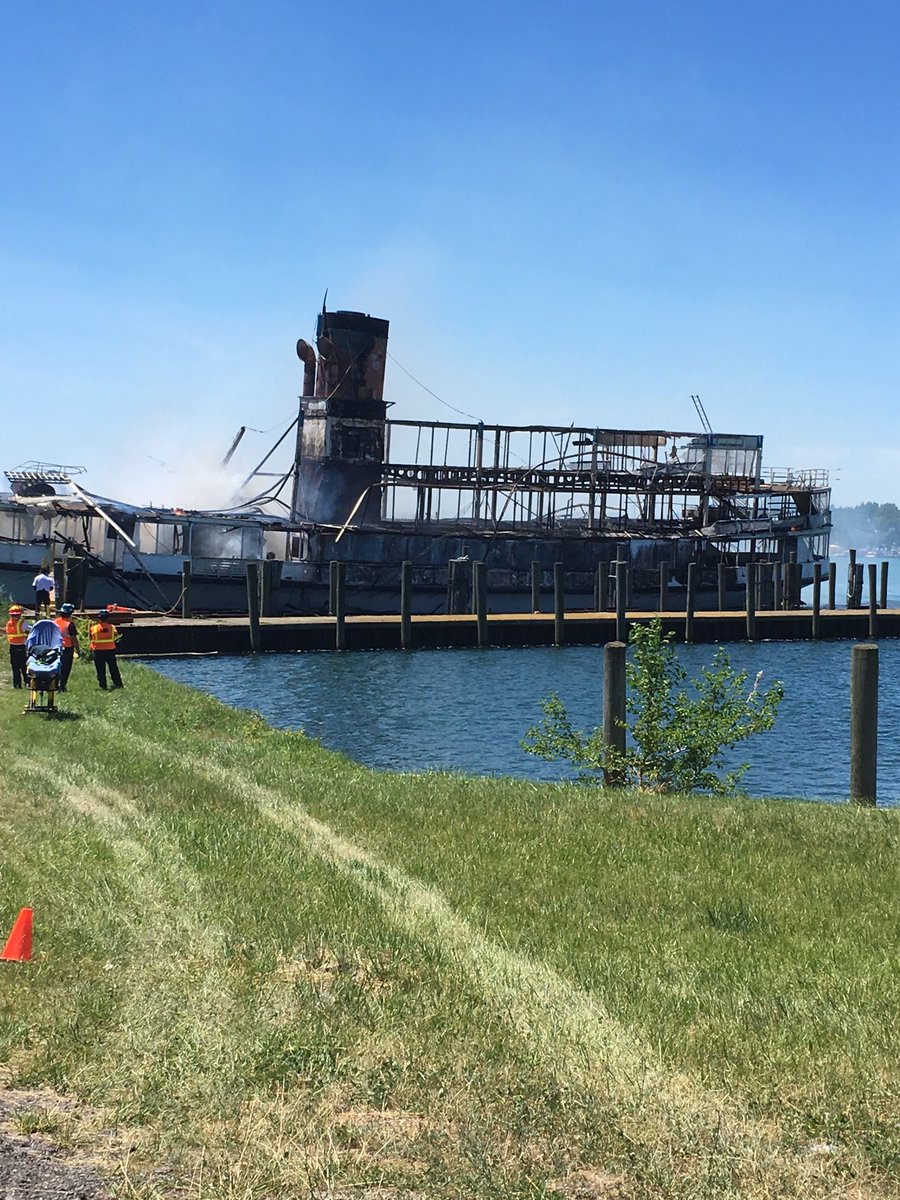 The Boblo Boat ceased operations 27 years ago and one of the last remaining memories of it burned down Friday morning at the Riverside Marina along the Detroit River. The cause of the fire is not currently known. Detroit Police Chief James Craig and Detroit Fire Commissioner Eric Jones were both doubtful that the boat could be salvaged.
The boat that caught fire was the S.S. Ste. Claire, which was moved to Riverside Marina last year. In 2016, three collectors, Kevin Mayer, Ron Kattoo and Saqib Nakadar, bought the old ship with plans to restore it. They had plans on turning the ship into a dockside attraction for public tours as well as a Halloween Haunted House.
The SS Ste. Claire was one of the oldest steamships in the country, along with the Columbia, which had been towed to Buffalo, New York, for repairs nearly three years ago and is still sitting there. The ships ferried people to the Boblo Island amusement park on the Detroit River. The Columbia since 1902 and the Ste. Clare since 1910.
In 1898, the Detroit, Windsor, and Belle Isle Ferry Company opened up a recreation park on the Detroit River, about 18 miles southwest of Windsor on Bois Blanc Island. Since the name was French and locals had a hard time pronouncing it, they called it Boblo Island, which stuck and was officially adopted in 1949.
The company was busy during the week, transporting people and goods up and down the river. So, they created a destination to keep themselves busy on the weekend. For generations, Boblo Island was the place for metro Detroiters to have fun and relax. Since 1910, Detroiters and people all over the area enjoyed the amusement park rides and picnic areas the island offered, which included a carousel, a Ferris Wheel, roller coasters, pony rides, dancing, and much more.
In 1903, iconic Detroiters Henry Ford and Albert Kahn built a dance hall on Boblo Island. It was said to be the second largest in the world. In 1949, the island was threatened by bankruptcy. Windsor Mayor Arthur John Reaume wanted the island to be designated a National Park. Instead, the island and steamships were purchased by the Browning family, who transformed the island into an amusement park. They sold the island in 1979.
Since then, Boblo Island had several owners. They began selling the rides and other attractions in the early 90s and the park officially closed in 1993. It is now a private residential community.
No one was injured in the boat fire and the cause is still under investigation.