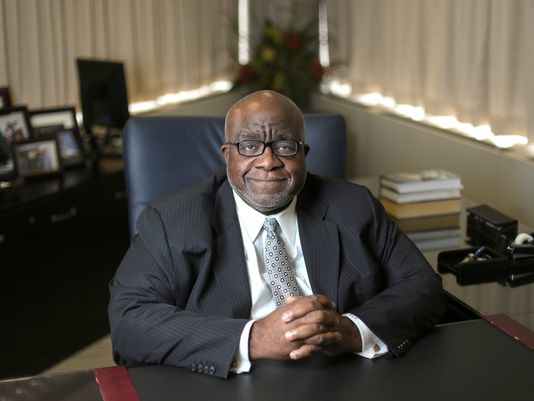 Over 20 nationally renowned scholars, authors, journalists, educators, and policymakers will participate in the Detroit Urban Summit presented by Wayne County Community College District (WCCCD) and WCCCD's Institute for Social Progress, which will focus on integration, educational equity, and related issues that disproportionately affect urban educational institutions. The conference will take place at the MGM Grand Detroit Hotel Friday June 29, 2018 from 8-5:30 p.m.
This is the third major conference presented by WCCCD Chancellor Dr. Curtis L. Ivery and WCCCD's Institute for Social Progress focusing on key issues of urban America and U.S. politics and education. Past conferences brought together a diverse array of nationally prominent leaders such as the former diplomat Richard Holbrooke, scholars such as Manning Marable, Houston Baker, Nell Painter, and journalists such as Maria Hinojosa to address major areas of economic inequality, mass incarceration, illiteracy, and significant related issues, with the intention of establishing real-world programs that could create better student outcomes.
"Our mission at Wayne County Community College District has always been to help people get on a pathway to a better life through higher education. That mission inspires everything that we do," said Ivery. "Following these past efforts that addressed areas of economic inequality, mass incarceration, illiteracy, and significant related issues, this summit extends the scope of that work to consider critical areas of integration, civic engagement, and educational equity in advancing the project of American Democracy."
"These issues are affecting communities here at home, as well as across the nation. Past summits have sought to take academic research and data from the nation's leading experts and then find a way to create on-the-ground programs that help students dream bigger and achieve more. We hope to achieve the same with this summit."
The Detroit Urban Summit III will include key note discussion and panels including prominent civil rights attorney, professor, and former legal counsel to New York Mayor Bill de Blasio, Maya Wiley; Princeton scholar Eddie Glaude, Jr.; nationally syndicated columnist Leonard Pitts, as well as leading scholars, educators, policymakers, and more. WCCCD is the largest urban community college in Michigan and is a multi-campus district, with six campus locations.
"This summit and its predecessors, are one aspect of our broader mission to help all of our 70,000 students across Wayne County achieve better lives," said Ivery. "We know that educational institutions in large urban centers and the students that attend them, are often disproportionately affected by the issues we're examining here. We are a world class educational institution that is grounded in the realities of urban life. There is no question that these issues are complex, but if we are to meet our students where we find them and help them write the next chapter of their careers and lives, we have to grapple with everything that can impact their success and find real-world solutions for them to grow into their fullest potential. Their ability to live their best lives depend on it; and so do the lives of their families and of our communities."
Registration for the one-day summit is available at DetroitUrbanSummit.org or by calling 313-496-2510. Registration is $150 per person. The event will be live streamed at DetroitUrbanSummit.org  on June 2.