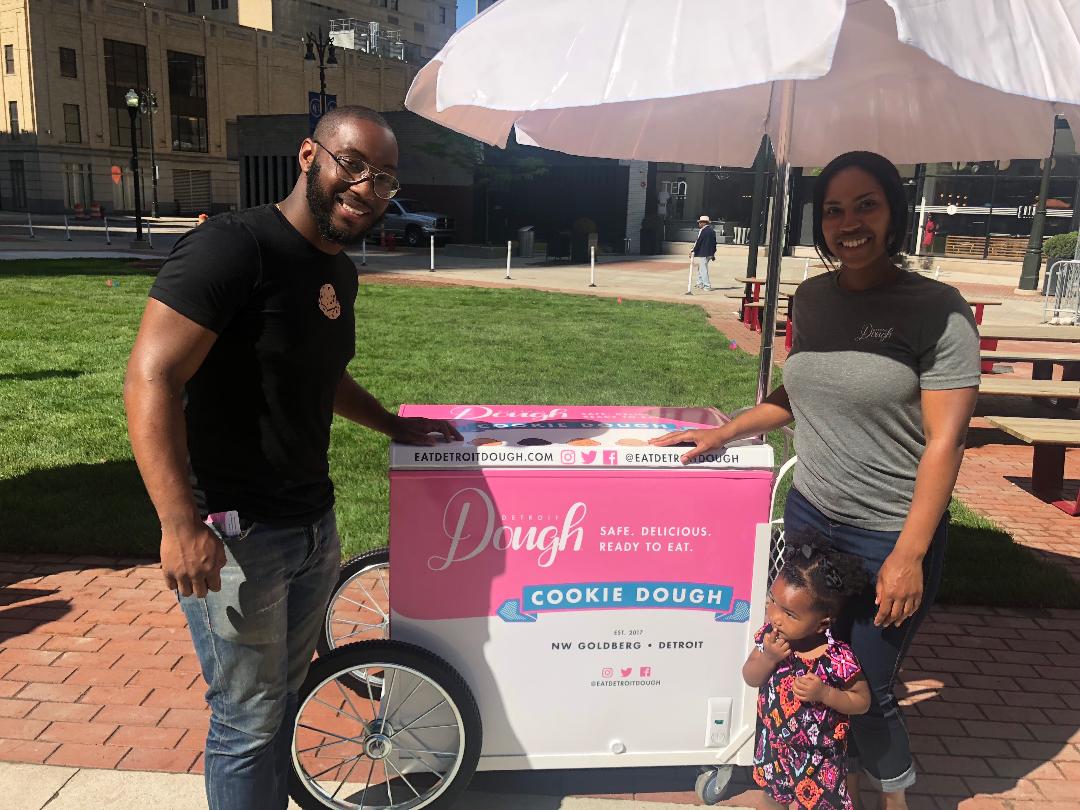 More than 50 percent of the more than 30 vendors at the Downtown Detroit Markets are minority-owned; many who are African-American. Some feel African-American entrepreneurs and business owners in the city have been excluded from the downtown area and the markets give them an opportunity to expose their brands to a multitude of shoppers in a dynamic retail environment.
The markets were created by Bedrock and the Quicken Loans Family of Companies to celebrate and drive local entrepreneurship and diverse retail offerings within the city. Phase one of the Downtown Detroit Markets officially open to the public May 24 and will run through mid-July. All of the vendors are Metro-Detroit based and will be spread throughout downtown in three locations: 1441 Woodward Collective, Capitol Park, and Cadillac Square.
"Being a part of this will definitely help my business," said Andrea Williams, owner of Paper Paisley Company. "Instead of being online and at craft fairs, I have a stationery place that people can come to throughout the week and shop. So, it's going to help a lot as far as visibility."
Paisley Paper Co. specializes in cards and paper goods and will be at Capitol Park until July 15. Other black-owned or operated vendors at Capitol Park include Touch natural skincare and haircare products, Merit clothing and accessories, which helps fund college scholarships for youth in need, and Detroit Dough.
Capitol Park will also feature a food incubator and a Farmer's Market every Tuesday afternoon starting in mid-June. The market at Capitol Park will be open Sunday-Saturday from 11-7 p.m.


Just walking distance from Capitol Park is 1441 Woodward Collective, an indoor retail incubator between Grand River and Clifford. The vendors there will have an emphasis on boutique and home goods and majority of them are owned by African-Americans.
Over a dozen vendors will setup shop at 1441 Woodward, including 12thand Viv handmade candles, creams, scrubs, and more, Fly Behavior stylist-curated collection, David Vintage streetwear, MATURE men's collection, Mira Estell handbags and accessories, Purpose Planner, Front and Scenter handmade fragrances, and Beau Dillon bow ties.
The shops at 1441 Woodward will be open Monday-Friday from 12-7 p.m., Saturday from 11-8 p.m., and Sunday from 12-6 p.m.
"I'm extremely excited," said 12thand Viv owner Darian Cook. "I've been given opportunities for people from all over to experience my products first hand and I'm receiving positive reviews. This opportunity is amazing."
The Cadillac Square Marketplace is the epicenter of the Downtown Detroit Markets, located directly across the street from Campus Martius, which will feature a seasonal Bar Garden, Central Kitchen and Bar, and a number of food and drink options. The Quicken Loans Sports Zone also makes its return, featuring four basketball courts, a kid's basketball net and lawn games for the family. The markets at Cadillac Square will be open Sunday-Saturday from 11-7 p.m.
Seven vendors will line Cadillac Square, including Motor City Popcorn, which has a variety of fun and delicious flavors. Owner Ronier Golightly applied to be a part of the winter markets in November and was not selected. But he was invited to a part of the summer edition, to showcase his Detroit-themed popcorn through July 1.
"One of the things I have been working on is marketing," Golightly said. "Right now, our products are pretty much wholesale and I don't have a retail outlet for myself. So, this is an opportunity to sell myself and my product to the public, increasing the brand."
For more info on the Downtown Detroit Markets and all things Detroit, visit xodetroit.com.
About Post Author