Luxury Garage Sale, a Chicago-based upscale consignment brand specializing in luxury designer clothing, handbags, shoes, and accessories, is opening up a pop-up shop at 361 East Maple Rd. in Birmingham from May 1 to May 30.
Known for attracting coveted couture items from fashion houses such as Chanel, Gucci, Fendi, Hermès and Louis Vuitton, Luxury Garage Sale curates the best selection of high-end designer consignment in-store and online with boutique overstock at up to 90 percent off retail. The brand has generated a reputation for white-glove service that not only provides shoppers with a specialty shopping experience but also offers consignors a trusted avenue for reselling their goods at fair market price.
"We were so impressed by the exciting retail and fashion enthusiasts in Birmingham that we knew this was the place to bring our next luxury pop-up," said Brielle Buchberg, co-founder of Luxury Garage Sale. "Our shoppers will have the ability to browse through a curated collection of authentic designer products through the duration of the pop-up, as well as bring in their gently used luxury items for consignment, or schedule a one-on-one consignment appointment with one of our highly attentive style consultants in the comfort of their own home."
Founded by childhood friends Brielle Buchberg and Lindsay Segal, Luxury Garage Sale is the extraordinary result of both partner's extensive experience in fashion, retail, marketing, and styling. With store-front locations in Chicago, Dallas, Minneapolis, and Seattle—as well as a strong e-commerce platform—Luxury Garage Sale was named one of Lucky's favorite boutiques in the country. The brand has also been featured in notable media such as Refinery29, Marie Claire, and Elle.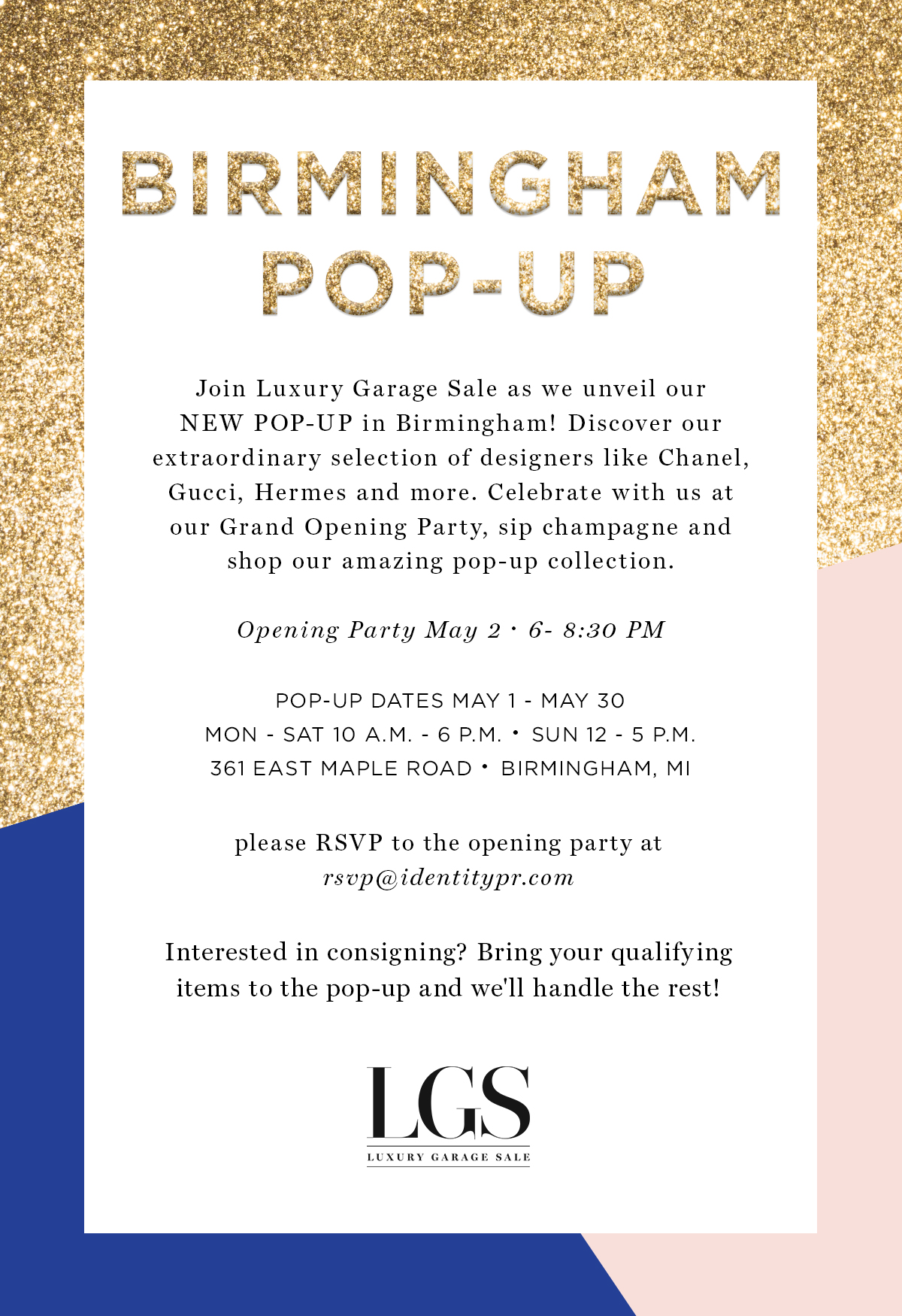 "Our consignment process is super intuitive and hassle-free because we know when it comes to coveted designer products, our clients rely on us for the best-reselling experience and return on investment," said Segal. "Our in-house Market Experts authenticate, market, photograph, and price every item they consign, going the extra mile to satisfy our client's needs."
The Birmingham pop-up will feature an exceptional assortment of fully authenticated, hand-selected items, including clothing, handbags, shoes, jewelry, and accessories at varying price points.
The store will be open Monday through Saturday from 10 a.m. to 6 p.m. and on Sundays from noon to 5 p.m. and offers a range of items at varying price points. For more information, visit www.luxurygaragesale.com.