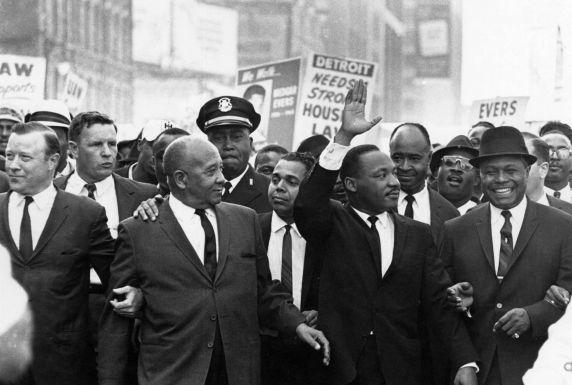 The city of Detroit has always had racial issues in its DNA. From the Blackburn Affair in 1833, which led to the city's first race riot, to the Detroit Race Riot of 1943 on Belle Isle. The 1960s were the height of the Civil Rights Movement and Detroit played a vital role.
Detroit was dealing with discrimination with education, housing, and jobs, as well as racial segregation in 1963. Partnered with blacks protesting in Birmingham, Alabama, Rev. Dr. Martin Luther King and activism leaders in Detroit needed an event to bring awareness to these issues.
Rev. Clarence LaVaughn Franklin was the chairman of the Detroit Council on Human Rights, pastor of New Bethel Baptist on Linwood in Detroit, and had a young daughter named Aretha who could sing to the heavens. Known for his nice suits, slick hair, and big Cadillacs, he helped organize a march. Another key organizer was Rev. Albert Cleage. He would go on to found the Shrine of the Black Madonna Church on Linwood in Detroit. He was known to be more of a radical and outspoken. He didn't want any white dignitaries to be a part of the march, which some did not agree with.
Despite disagreements with key figures and key organizations such as the Detroit chapter of the NAACP and the Detroit Urban League, the Detroit March to Freedom went on as planned June 23, 1963. It was set 20 years to the date of the 1943 race riots in Detroit that killed 34 people.
Led by Dr. King, C.L. Franklin, Detroit Mayor Jerome Cavanaugh, and UAW president Walter Reuther, 125,000 people marched down Woodward Avenue on a hot summer day to Cobo Arena. Dr. King called it, "the largest and greatest demonstration for freedom ever held in the United States."
Dr. King's speech in Detroit in 1963 became the precursor to the March on Washington months later, where he delivered his famous "I Have A Dream Speech." But he first said it in Detroit in front of 20,000 at Cobo, capturing the hearts of all those who fought for a better future. In his speech, Dr. King spoke to black Detroiters and the issues they dealt with on a daily:
"I have a dream this afternoon that one day right here in Detroit, negroes will be able to buy a house or rent a house anywhere that their money will carry them and they will be able to get a job."
Motown Records founder Berry Gordy even got in on the action. He recorded Dr. King's speech in Detroit that day, as well as some others, and sold it as a LP. He released it on his Gordy record label. Proceeds for the speech went to the Southern Christian Leadership Conference.
The Detroit March to Freedom was a joyous day for Detroiters & supporters around the nation. But the problems persisted. Franklin & Cleage continued to bump heads, Malcolm X called the march a "circus", and Detroit's racial issues, especially with the police, never progressed.
Rev. Clarence LaVaughn Franklin was shot twice at his home in Detroit on LaSalle Boulevard on the city's North End In 1979. It was an attempted robbery. He would never recover and was in a coma until his death July 27, 1984. A section of Linwood Avenue is named in his honor.
MLK had risen to national prominence by 1968 but flying high brings turbulence. Death threats were now common in his life. And on April 4,1968, while staying at the Lorraine Hotel in Memphis, the 39-year-old was assassinated, a single gunshot to his jaw, severing his spine. They may have killed the revolutionary but they did not kill the revolution that Dr. King helped lead.