Grand Circus, a technology training institute headquartered in downtown Detroit, has educated and graduated 1,000 students from its coding program.
Since opening in 2013, Grand Circus has been influential in Detroit's tech revitalization by preparing 1,000 students to enter Michigan businesses.
"Our journey has been exhilarating, exhausting, and through it all, filled with learning moments. Best of all, we're making an impact in the lives of Michigan residents and businesses, and on the talent pool in the region," said Damien Rocchi, Grand Circus CEO and co-founder.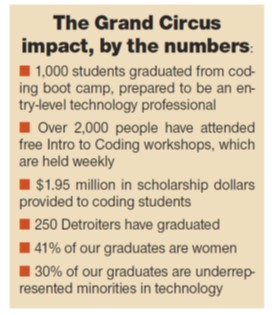 Over the past five years, Grand Circus has been vital in providing a platform for Michiganders looking to start a career in the computer technology field," said Teresa Wynn, Senior Vice President of Technology at Quicken Loans. "The success of the training center continues to prove that anyone looking to secure their spot in Detroit's tech revitalization can, and we are proud to have Grand Circus graduates as some of our best and brightest minds on the Quicken Loans Technology team."
Most of the graduates have some college education when they begin, but not all. Most are looking for a career with greater upward mobility and increased pay. The technology field offers these opportunities, with 1 million job openings for computer programmers expected by 2020, according to the U.S. Bureau of Labor Statistics.
Beyond the excellent technical training, Grand Circus was a bridge between my skills and employers looking to hire. I was introduced and able to network with dozens of employers who I otherwise would have never met," said Landall Proctor, 2015 alumni. "Instead of being a person begging for an interview, Grand Circus allowed me to be a candidate they wanted to interview." Proctor is a Detroit Labs software developer and was previously a college career advisor.
Coding bootcamps are 10-weeks long, full-time, with an additional 2-weeks of pre-work. Candidates are interviewed before being admitted to the program. Classes happen quarterly and are taught by instructors who are skilled programmers – including two who are former students.
One of those students-turned-instructors, Antonella Solomon, found her way to Grand Circus for a Java bootcamp in 2015 when she was in her 30s. "I can relate to many of our students, who come to us with little to no background in coding. By the time bootcamp is through, they are capable and prepared to be valuable employees, just like I was." Solomon was a software developer before becoming a full-time instructor at Grand Circus.
Alexis Marien graduated in 2016. The millennial and former truck driver is now a web developer at GE and credits Grand Circus with being the catalyst to totally change her life.
"These stories of growth fuel us to continue. We're constantly asking for feedback and retooling our offerings to be as relevant, inclusive, and valuable as possible," said Rocchi. "Students end up being champions for one another, and sometimes coworkers after they leave the program. We are immensely grateful to be a part of their journeys," said Rocchi.