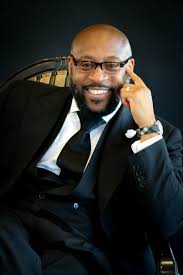 Pastor Tolan J. Morgan Sr., who once served as senior pastor of New St. Paul Missionary Baptist Church in Detroit for 14 years, returns to the Motor City to lead and preach at the much anticipated "Move of God Winter Revival Worship."  The revival is this Tuesday, Wednesday and Thursday night, Feb. 27, 28 and March 1 at Third New Hope Baptist Church, 12850 Plymouth Rd. (corner of Steel) in Detroit.  Revival services begin each night at 7:00 p.m.
Morgan is currently senior pastor of Fellowship Bible Baptist Church in Warner Robins, Georgia.  He is a "much-sought-after" pastor, who preaches the gospel of Jesus Christ at national and international churches, conventions, conferences and revivals.  A gifted musician and composer, Tolan has appeared on numerous albums of gospel artists.
"It's going to be a powerful move of God on all three nights," said Dr. E.L. Branch, senior pastor of Third New Hope.  "If you're praying for a move of God, or you know someone who needs a move of God in their situation, you need to be there, and bring those in need with you.  You just don't want to miss the anointed preaching of Detroit's own Pastor Tolan J. Morgan, as he brings the word of God's movement in our lives for times like these."
"It will indeed be three powerful nights of preaching in the midst of a move of God," echoes Tolan.  "In these perilous times we live in, we need to witness a mighty move of God.  It's always my mission to carry the gospel of Jesus Christ with power, anointing, revelation and edification.  It is my desire that the life of Christ be manifested in my mortal being, "For greater is He that is in me, than he that is in the world."
For more information and or directions to Third New Hope Baptist Church, call 313.491.7890, or log on the church's website at www.thirdnewhope.com, and join the conversation! #MoveOfGod.