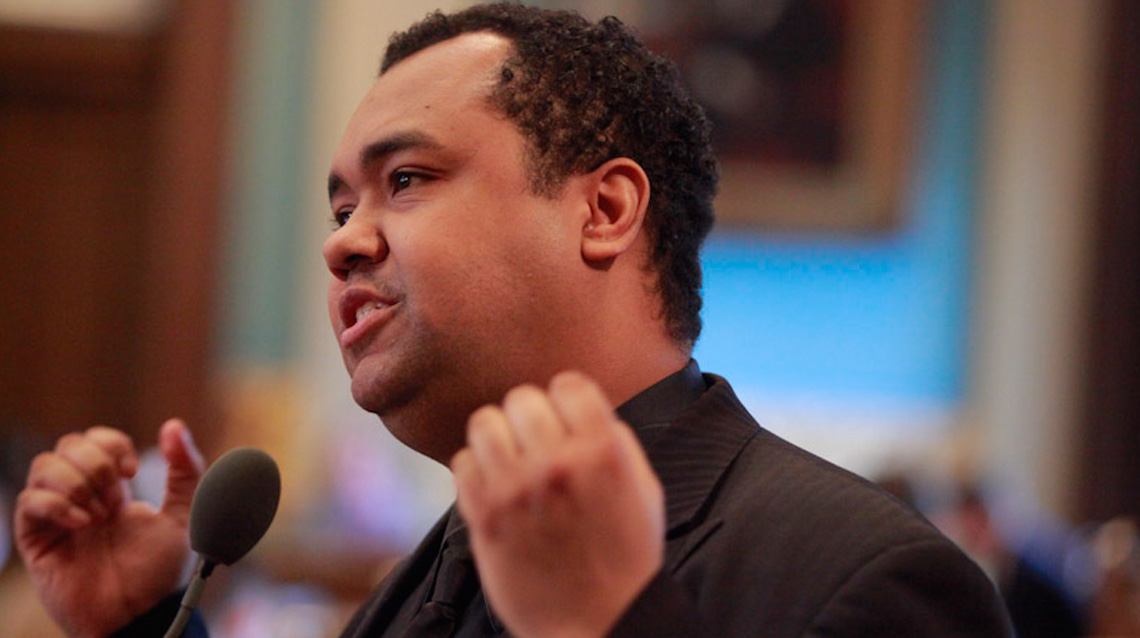 Wednesday's mayoral debate between Sen. Coleman Young II and Mayor Mike Duggan offered Young his best chance yet to significantly expand his current (small) base of supporters by demonstrating why he should be taken more seriously as a candidate by a lot more voters. But as it  stands post debate, Young has yet to gain the sort of traction that shows his message is resonating.
Sure, it's true that endorsements don't always tell the whole story, nor do the amount of campaign funds raised. And Duggan has snatched up just about every available endorsement, including from the Black Slate and many prominent former staff members of Young's father, the late Mayor Coleman A. Young. And Duggan has raised so much more money than his opponent that it almost seems cruel to reprint the glaring disparity.
Still, sometimes a candidate comes along who can muster enough of a ground game that he/she can shock even the political pundits, pollsters, and experts. For example, once upon a time, when Kwame Kilpatrick fended off challenger Freman Hendrix on his way to a second term in the mayor's office, most polls showed that Hendrix pretty much had it in the bag. I still recall a pre-Election Day interview of Hendrix I did together with several other Chronicle staff, including the late Sam Logan, the Chronicle's publisher at the time. It was obvious by his demeanor that Hendrix just knew this was a done deal, and that his next stop was the Manoogian Mansion.
Except that it wasn't. Because while Hendrix was preparing himself for the Big Stage, Kwame was working the streets like a fiend. I'm pretty sure I read somewhere that at one point during the homestretch he was up practically three days straight hitting every neighborhood club and bar he could reach. Kilpatrick had created a movement that hardly anybody in the media saw coming until after the polls had closed and the movement had moved on down the tracks.  To the Manoogian.
Unfortunately, Kilpatrick has since proved to be a major embarrassment to this city, and to himself. But in his heyday, the man had a charisma and magnetism that could closely rival a Jesse Jackson. Kilpatrick was one of those rare individuals who you could sense had just entered a crowded room even if you were facing the other way and no one had called out his name. He had that kind of presence.
Mayor Coleman A. Young had that kind of appeal at his height as well. It was the kind of appeal that drew folks out to vote – and to knock on doors, lick envelopes, make calls, and anything else – who normally didn't want to be bothered with politics. It was the kind of appeal that made supporters feel like they were a part of something special, something bigger than themselves, something that would change their lives for the better.
I would argue that the biggest reason behind this appeal was that supporters felt like they were voting for something and someone, not just against. Although I will go to my grave believing the presidential election was stolen from Hillary Clinton (just as it was from Al Gore), and there is more than enough evidence to bear that out, I also believe that another reason Hillary Clinton lost is that she needed many more people to be voting for her, and not just against  Donald Trump.
Coleman Young II simply does not have the appeal of his famous father, nor of Kwame Kilpatrick. I don't see any evidence of a rumbling underground movement mobilizing the troops in his favor, and despite all the endorsements and cash that Duggan has received, based on any number of random conversations I have had and have heard about, there are more than enough struggling Detroiters out there who, if motivated enough, could be sparked to at least make this a closer race than it will prove to be. Not close enough to change the almost inevitable outcome, but enough to make a broader audience of voters take another look and maybe get off the couch.
But to overcome the daunting odds that Young is currently facing, to become that underdog superhero capable of leaping tall odds at a single bound, he needs that undefinable something. And at last night's debate, he had one final chance to show voters that he's more than just Coleman A. Young's son, but a potent force in his own right with the ability to rally the untallied masses and defy the odds.
It didn't happen. So in the aftermath Young suggested that he wanted more than one debate … but there are no do-overs at this point in the race.
As for Duggan, he really didn't need this debate at all and, it could be argued, he merely agreed to the event as a courtesy. Because by practically any measure – yes, even with the admittedly large negatives such as the feds investigating the process of how housing demolition contracts were awarded – Duggan is on a roll right now. You might not like the direction of the roll, or you may be cheering it on, but you can't watch the news without yet another announcement about yet another neighborhood improvement/development rollout or something.  Pretty much every exposed flank that Young was planning to strike, Duggan has been padding and polishing.
The persistence of poverty was probably Young's best angle of attack. Because although Duggan can hardly be expected to have solved Detroit poverty in one term when none of his predecessors managed to make much of a dent in the past two decades or more, it is still a very visible problem that screams for solutions. And despite his insistence after his primary victory that the Two Detroits narrative is a media-created fiction, the truth is simply too glaringly apparent to ignore.
Duggan will still almost certainly win in November. Not because he is the perfect candidate, but because this current matchup is hardly a fair fight.