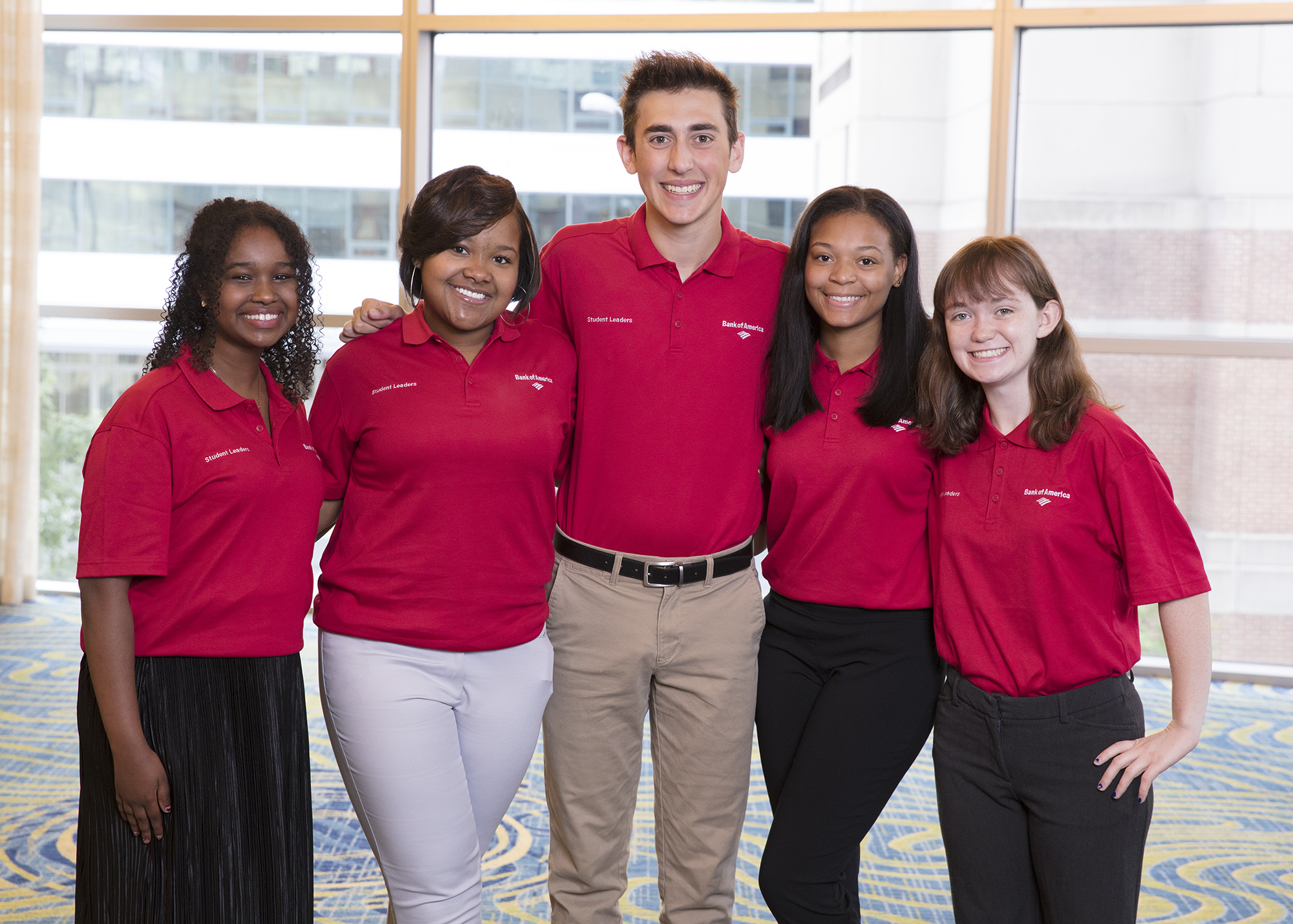 The summer months can be a critical time for teenagers to build skills that will prepare them for a lifetime of success. For five outstanding teens in Metro Detroit, it is their time to do just this while demonstrating leadership skills and giving back to the community.
Student Leaders® is a national Bank of America's program and part of the company's $40 million commitment to connect youth and young adults to skills, training and jobs and engage them as community citizens. In Metro Detroit, five high school junior and senior students were selected based on their proven leadership skills to participate in a highly competitive paid summer internship at Focus: HOPE. The eight-week, paid internship exposes these young adults to the organization's work broadly and gives them on the job training in the early child education center and community building programs.
"For the past 10 years, Focus: HOPE has been the host site for Bank of America's signature internship program," said Jason D. Lee, CEO, Focus: HOPE. "We are honored to host the leaders of tomorrow on our campus and teach them the ins and outs of non-profit management, leadership skills and civic engagement."
Amyre Brandom, an Oak Park resident and graduate of Cass Technical High School in Detroit, was one of the Student Leaders selected this year. Brandom, who will attend Xavier University in the fall, says that the program has given her confidence to start her own nonprofit in the future.
"The Bank of America experience has prepared me to embark on the journey that will be the next exciting chapter in my life," says Brandom. "This program has made me ready to serve, inspire and change the world. But first I will aim toward achieving this in my community."
Brandom, Hana Barre, Quinn Favret, Rachel Stieber, and Mecca Vance are the local students who now join a network of 2400 Student Leaders alumni from the Detroit area and across the country. One of those alums is Sharde Fleming of Detroit, who participated in the program the summer of 2010, and now works with Wayne Metro Community Action Agency. Fleming says she was initially hesitant to apply for the program. "I am not sure what I expected…I assumed it would be boring and I would sit in a corporate office all day which could not have been further from the truth."
Fleming said she thrived with the hands on opportunities at Focus: HOPE both in and out of the community and enjoyed working with students from varying backgrounds. "All of the student leaders were different in so many ways yet we shared the same experience for a whole summer," says Fleming. "It showed me that people from different walks of life and backgrounds have more in common than you may think."
Mecca Vance is a graduate of Cass Technical High School. She says it took her a little while to find her footing in a program that proved both refreshing and difficult. "Surrounded by such intelligent individuals who are so savvy regarding social issues, I felt lost in a sense," said Vance, who lives two blocks from Focus: HOPE, but adds that she had an "epiphany" early on in the program. She realized as the sole Detroit resident in the program this year that her experience was invaluable. "I had to learn to defend my platform and stand for my beliefs by bringing my experience to the table," said Vance, who will attend Howard University in the fall. "I'm directly affected by the work and service Focus: HOPE offers to the community and being part of a 'family' that is so focused has been exhilarating."
Bank of America's investment in youth employment in metro Detroit is part of its broader work this summer across the country, investing more than $3 million to connect nearly 2,000 young people, including at-risk teens, to summer jobs through partnerships with mayors across the country and its Student Leaders® program.
"Through Student Leaders®, we are building youth pathways to success and giving voice to the next generation, who will help develop a more diverse and inclusive society," said Matt Elliott, Michigan Market President, Bank of America. "By engaging young people in meaningful and relevant experiences such as building a resume and managing a paycheck, we're advancing economic mobility in metro Detroit as we work to create a thriving community."
In July, the metro Detroit Student Leaders® joined more than 230 other Student Leaders® nationwide in Washington D. C. for Bank of America's Student Leadership Summit. As part of the weeklong convening, students built advocacy and inclusive leadership skills, met with members of Congress, and participated in in a service learning project.
Student Leaders® is just one way Bank of America is supporting summer employment opportunities for Detroit youth. The bank is a founding funder and partner for Grow Detroit's Young Talent which connects employers, providers, youth and work experiences for paid summer internships to more than 8,000 teens in Metro Detroit.
Bank of America also partners with Khan Academy to provide free, on line and accessible financial education tools to those just starting out in the workforce or those who just need some fine tuning to get the information and know how to advance their personal finance skills through the web site, Better Money Habits.