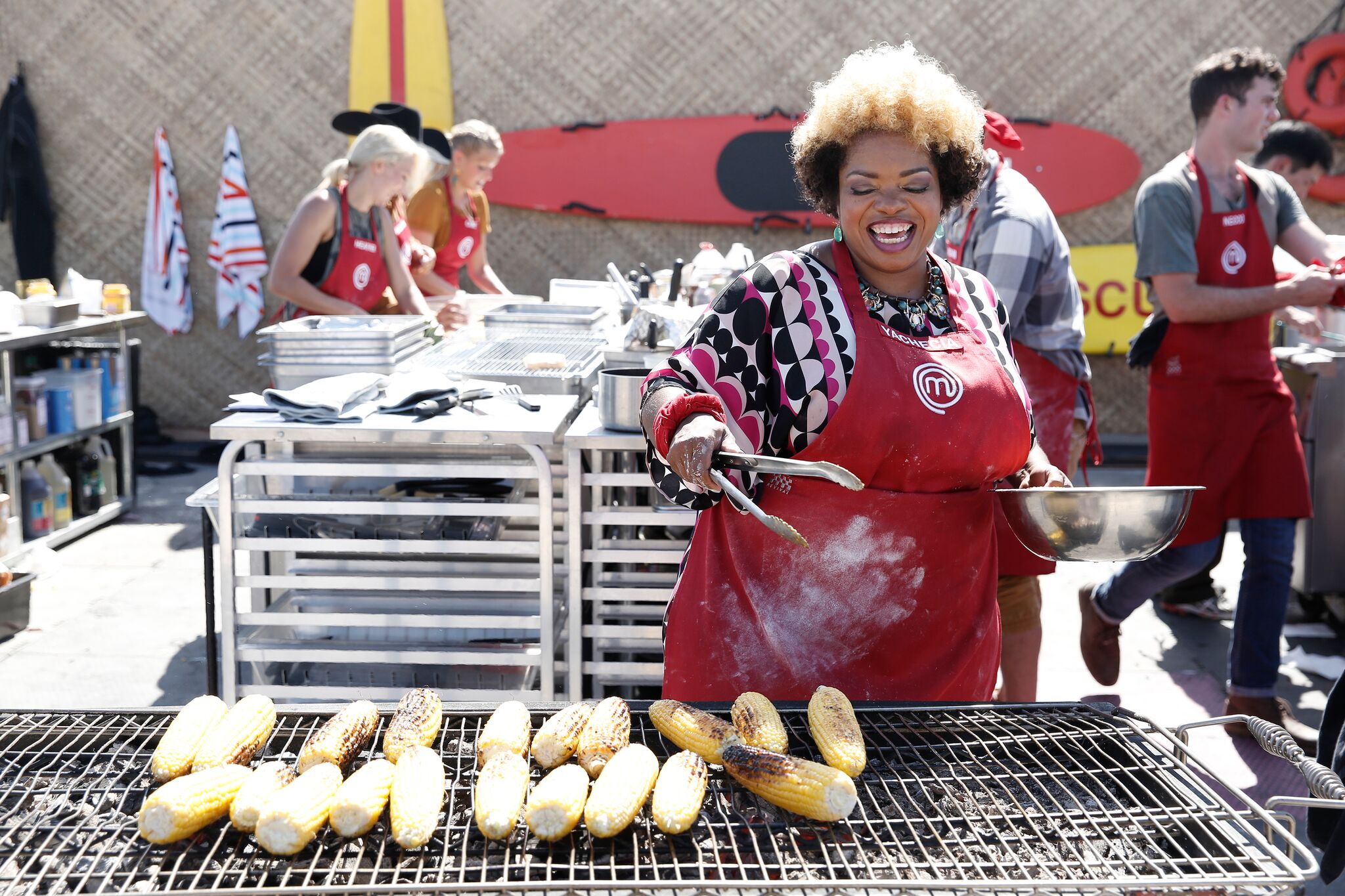 As it is with most things Detroit, music, fashion cars and food, the Motor City is recognized the world over for the unique flare and flavor that makes all home-based products our own. And so it is with the ever expanding list of top-shelf restaurants and world class cooks, which are getting much deserved attention via uber-popular reality shows like "Master Chef" with hot-tempered Gordon Ramsay (famous for dropping the f-bomb), and bringing even the most resilient cooks and chefs to tears. But Yachecia Holston, a die-hard Detroiter from the city's North End and an ordained minister, proved she can take the heat in Chef Ramsay's kitchen. The cordial cook made it through a hotly contested cooking challenge to join 15 finalists competing for the title of Master Chef.
Holston, who admits she didn't make the cut as a Master Chef contestant when she initially auditioned, but after doing some reflecting, she elected to put her irons back in the fire and go for it. "I originally tried out for the show in 2011 and didn't make it and so I actually kinda gave up on it, but I remained a constant and consummate fan," she recalled. But after some prompting from a friend, Holston had a change of heart.
"Last year, a friend of mine called me, and I was living in Orlando at the time and they were open casting and I wasn't going to go. It was actually the day of my son's prom. so I wasn't going to go to the audition. But this friend friend of mine insisted, saying 'This your time, this is your season, so you need to be there, you need to go and prepare your dish and get into 'Master Chef' tomorrow and so I did." Holston's winning audition dish of apple cider chicken, quinoa pilaf, cucumber and carrot slaw wowed the judges and sealed her spot in the limelight.
During a July 19 watch party in Detroit, friends and families gorged on down-home delights and gourmet cuisine while watching the latest "Master Chef" episode with bated breath to see the the hometown girl deliver the goods. In this bitter sweet episode, the courageous cook battled it out in a particularly intense food service during the Team Challenge at the famed Belvedere Hotel in Beverly Hills. The 16 cooks were split into two teams with Holston helming one team, an advantage she earned for preparing the best dish in an elimination test. The winning team advances, while the losing team will participate in the pressure test upon returning to the "Master Chef" kitchen.
While Holston's team lost the battle, the seasoned cook and competitor won the proverbial war. And when this compassionate contestant had to choose between saving herself and subjecting the other six members of her team to a grueling cook-off, she took the high road. Holston sent five of her remaining team members through to safety from elimination while she battled it out with Louisiana cook Jennifer Williams to prepare fish and chips, a Chef Ramsay signature dish.
"There's only one way to make a dish on this show, and that's the Gordon Ramsay way. If it's not the Gordon Ramsay way, it's the wrong way," quipped Holston with a healthy dash of humility.
"It's extremely intimidating and you have to first realize there is a hierarchy," explained Holston. "As a fan of Gordon Ramsay, it is honestly almost unreal to be in his presence. The first time I walked in the 'Master Chef' kitchen, seeing Chef Ramsay, Chef Sánchez and Chef Christina standing there they almost looked like holograms."
The opportunity to cook with these iconic chefs and learn from the esteemed masters has been the highlight of Holston's culinary career, who began cooking as a child. She credits her elders as key influencers in developing her love of good food and her passion for cooking.
"I spent summer's in Nashville with my great-grandmother's sister and being in the kitchen with her always inspired me," beamed Holston. "Her brother had a farm and we would get everything fresh, corn, greens and beans, we did it all. My dad's mother made biscuits from scratch every morning and on Sunday we had the full meal, biscuits and smothered chicken, bacon, eggs and sausage. But it was a miracle because she was at church with us, but when we got home there would be this full bounty on the table."
Holston's down-home charm and easygoing manner are not to be confused with naiveté. She is a fierce competitor, and one who is prepared to pull out all of the stops to win the title of Master Chef with her made-in- Detroit approach to giving the public the best she has to offer.
Bon appétit!
Watch "Master Chef" and support Holston on the FOX network at 8/7c.