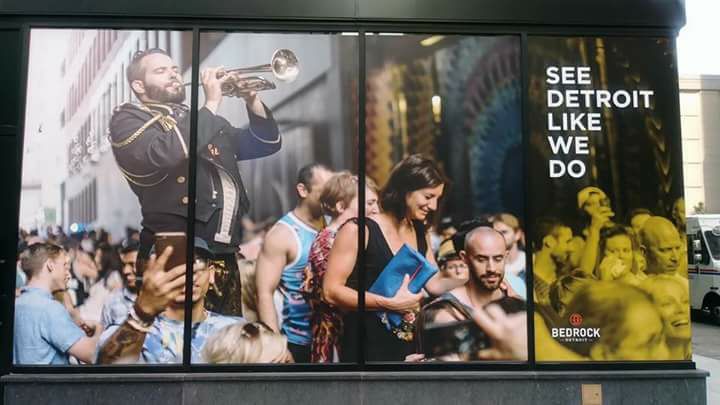 Dan Gilbert apology for Bedrock whitewash of Detroit still doesn't adequately explain how it happened
It's fine that Bedrock founder Dan Gilbert issued his apology so soon after the mural debacle that was burning up social media all weekend, but the one thing his apology did not do was answer the simple question; how the hell did this happen in the first place?
If we traced back the steps in the decision-making process that led to the eventual creation and then display of that remarkably tone-deaf piece of art on the side of his building (until it got yanked), how did such an idea keep getting the enthusiastic stamp of approval all the way up the chain? And who conceived of it in the first place? Who in their right mind could look out over an 87 percent black city and see it as predominantly white and young?
And yes, I did see Gilbert's posting of all the panels that would have completed the full image and had the supposed desired effect, but even the full image bore no resemblance to the Detroit I have lived in since 1993. Maybe that's because I have never lived downtown. Because from what I could see, every single panel reflected Detroit life in downtown Detroit. There wasn't one single image of a neighborhood, a park, a building, a statue, or a resident outside of that precious 7.2 square miles. For that matter, I didn't see any old people, nor did I see any children. I didn't see anyone that even remotely looked like they may have been working class, even though Detroit is renowned for elevating the status of the working class like no other city in history.
Those people are still here.
OK, but, "See Detroit like we do," is what Bedrock wants us to do.
Let's just say we see how you see Detroit. And no apology will erase that.
So on the 50th anniversary of the 1967 Detroit Rebellion, we discover that 50 years later perhaps isn't really 50 years later after all. Recall that in 1968, one year after the rebellion, the Kerner Commission released their seminal report on the reasons behind the explosive event. The most quoted line from that report says that "Our nation is moving toward two societies, one black, one white – separate and unequal."
That separation of the races wasn't simply a physical separation, although Detroit was – and is – one of the most racially segregated cities in the country. The most firmly entrenched racial divide was the yawning gap in racial attitudes, perceptions, and experiences of reality that existed between whites and blacks. Both races lived in the same America, and yet they didn't.
Today, all these decades later, should be a cause for celebration. This should be the time when we can all collectively look back and breathe a sigh of relief that we have come so far. But instead, all we seem to get is one reminder after another that the issue of race, and our inability to deal with it effectively, remains one of the most defining characteristics of this nation.
Which brings me to the Facebook responses to Gilbert's apology (also posted on Bedrock's Facebook page), which were in many ways far more revealing  than the apology itself. White folks couldn't seem to understand what the problem was, some going so far as to suggest there wasn't enough gratitude for all Gilbert is doing for the city. Black folks, for the most part, were basically fed up. All over again.
First of all, here is a portion of the apology. The apology in full can be viewed on the Bedrock Facebook page, complete with tons of responses.
"We screwed up badly the graphic package that was partially installed on the retail windows of the first floor of the Vinton Building, in downtown Detroit, a structure we have been rebuilding for over two years and is nearing completion.
"We messed up in two major ways:

Although not intended to create the kind of feelings it did, the slogan/statement we used on these graphics was tone deaf, in poor taste and does not reflect a single value or philosophy that we stand for at Bedrock Development or in our entire Family of companies. We have killed the "See Detroit As We Do" campaign.

"Who cares how "we see Detroit"?!
"What is important is that Detroit comes together as a city that is open, diverse, inclusive and is being redeveloped in a way that offers opportunities for all of its people and the expected numerous new residents that will flock to our energized, growing, job-producing town where grit, hard-work and brains meld together to raise the standard of living of all of its people.
"We immediately killed this dumb campaign slogan as soon as it was communicated more widely in our company. You won't be seeing that tagline anywhere again.
"2. The full graphic package that was slated to be installed across all of the retail windows on the Vinton Building was a very inclusive and diverse set of images that reflects the population of the city that we do business in and also reflects the diversity among our own
workforce in Detroit.
"We became the City's largest employer of Detroiters because diversity and inclusion are core fundamental values to our entire mission of helping to grow Detroit's population, driving job growth, and increasing economic opportunity for all.
"We'll be better at this next time."
Dan Gilbert
Chairman
Bedrock
Rock Ventures

One black female reader of Gilbert's apology stated the following:
"Mr. Dan Gilbert, we've met and although your appology sounds genuine, however, if this ad was an isolated insodent your explanation would be accecptable The simple fact is there is a quality problem on every level of this issue. The only way every level of your ad approval process from Jim to the printer excluded 85% of an entire city is because that is the corporate culture they see. In the Black community there is a saying that goes like this, Excuses are tools of incompetence that amount to absolutely nothing ".
"Until your workforce reflects the true Detroit demographics your excuses are tools that amount to absolutely nothing.
"The fact is the content was never 85% Black and that's the whole truth. The full set shows a Black waiter and sir that reflects the existing cast system of the working poor Detroiters forced into low wage jobs."
A white male responds later that: "The only racism in this whole ordeal is the anti-white racism…."
A white female agreed, saying, "In my opinion, this is a perfect example of the quote "your perception of me is a reflection of you". For someone to take this campaign and see the words "See Detroit as we do" and turn it into a race issue instead of something along the lines of: a company that invests billions of dollars every year in this city, employs people that live in this city, pays taxes to support this city, restores buildings to preserve the rich history here, etc – then its you that's the problem. It's you that's keeping racism alive. Everything can be turned different ways and misconstrued. I'm personally sad to see this campaign go because I do see the city the way they see it – and know that the banner had nothing to do with racism. #riseabove #coexist"
To which a black female reader responded:
"You have to love all the white people in the comments section, who don't even live in Detroit or just moved here last year, attempting to police and negate Black feelings, thoughts, and emotions. Clearly this "apology" isn't directed towards you, because it doesn't offend you, you're represented, and you always are. But let a movie like Black Panther come out with no white stars, and you get to feel for two seconds what lack of representation feels like, which we feel our whole lives. This ad was done in poor taste, this apology was fake and horrible, and we know that we're wanted to make money for you, but the "New Detroit" you're creating is not for us."
And on and on and on it goes…