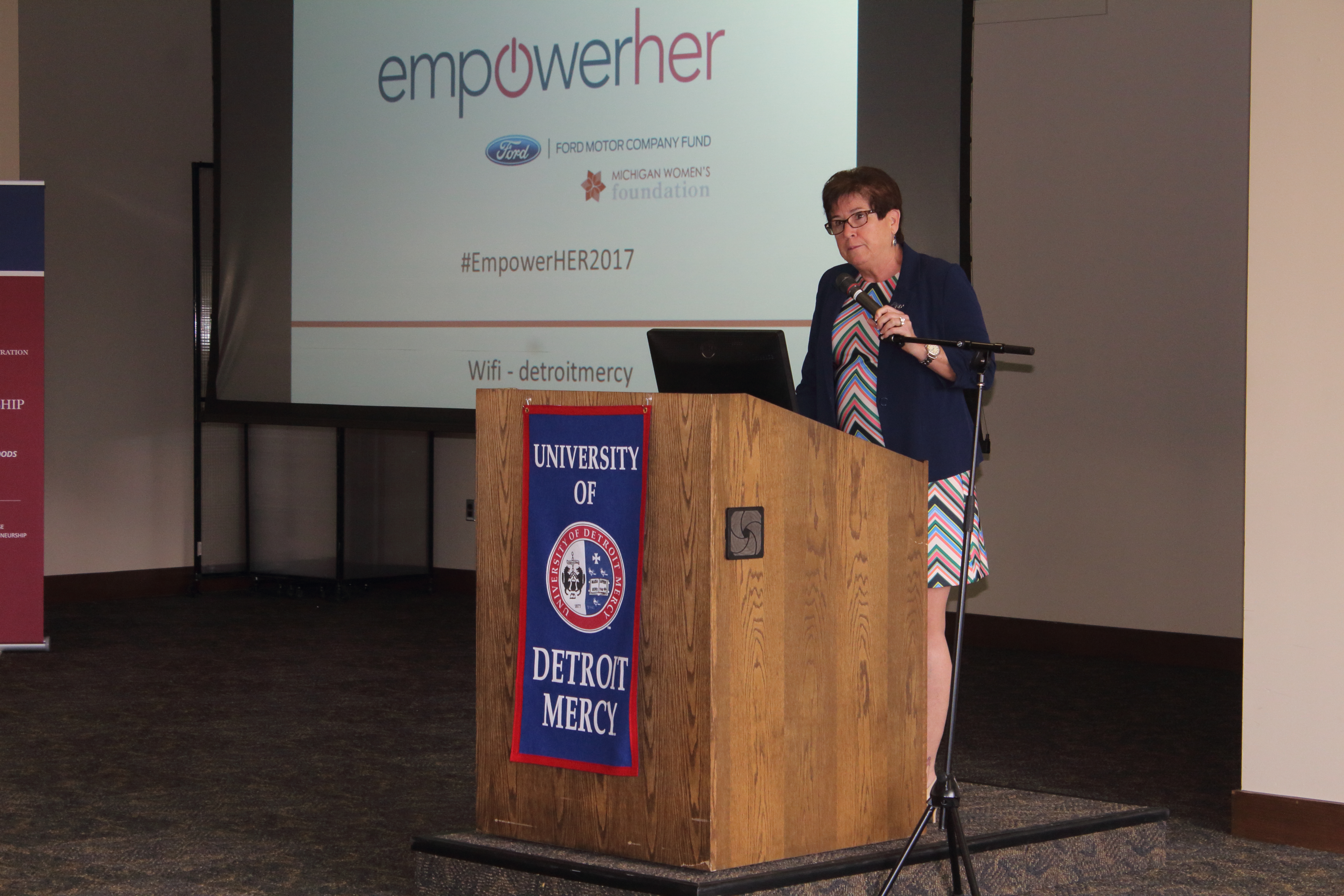 Michigan First Lady Sue Snyder
By Alisha Dixon

The Ford Motor Company Fund and Michigan Women's Foundation partnered to launch the EmpowerHER Summit on Tuesday to support women (and a few good men) who want to start or grow their own social venture startups that will ultimately help to address and solve issues that exist in the community.
"Ford has invested in our community for over a century and when you think about it, 30% of small business owners are women. So, the impact of women just from a business perspective on our economy and on our country is huge. We want to harness all of that amazing insight and business savvy and all of the creativity that women possess and to put it into a social entrepreneurship program so that in addition to creating sustainable businesses, the women will be empowered to create businesses that will also help our community," said Pamela Alexander, director of Community Development, Ford Motor Company Fund.
For over 30 years, the Michigan Women's Foundation has been an important resource for local women entrepreneurs by helping to eradicate social equality and economic barriers that many women face through various programs and the microloan fund, the largest in Michigan. Carolyn Cassin, CEO of Michigan Women's Foundation believes MWF's partnership with the Ford Motor Company Funds for the EmpowerHER Summit and competition is another way for the organization to fulfill this mission.
"I'm thrilled that Ford decided to partner with us because this is really the first of its kind where the Ford Motor Company Fund is investing in this, I believe, very innovative business competition. They believe that women and people of color are really the key to helping solve some of the social problems that exist in this world," said Cassin about the partnership.
At the summit, TED Talk-like presentations and keynote addresses from successful social entrepreneurs, including Michigan First Lady Sue Snyder, gave attendees an inside look at what it takes to create social change while making a profit.
"Women are transforming the world we live in and are a force for economic change. Women are certainly doing their part in taking advantage of Michigan's growing economy. Currently, there are more than 33,000 establishments run by women in Michigan that employ over 230,000 people in our state. This may seem like a lot, but this only accounts for 7% of businesses in Michigan. Ladies, we can do better! I believe women can and should be at the forefront of creating an even better businesses environment here in Michigan. We have the ideas, the passion and the drive to make it happen and thanks to programs like EmpowerHER, these dreams are becoming a reality. Each person in this room has a unique and innovative idea that is valuable to the economic diversity and strength of our state," said Snyder.
The summit kicked off the yearlong EmpowerHER competition that will provide participants with technical assistance, educational opportunities, financial resources and networking to support the cultivation of local social venture enterprises that serve the community.
To enter the competition, a two-page concept paper and financial overview must be submitted by September 30 for review by a panel of accomplished professionals and successful entrepreneurs.
Successful submissions will have the following criteria:
Fundamentally exists to solve a real community problem.
Requires a business model that will ultimately allow the business to be sustainable.
Must focus on a product or service people will pay for.
Must follow the "No Margin, No Mission," that is, while some profits may be sacrificed to serve the mission, the business must ultimately be sustainable.
Up to ten finalists will be chosen and each will be paired with a coach and mentor, who will assist in developing a business plan and a pitch to compete for a pool of $50,000 to support their social enterprise.
For more information about the EmpowerHER program, go to www.miwf.org.