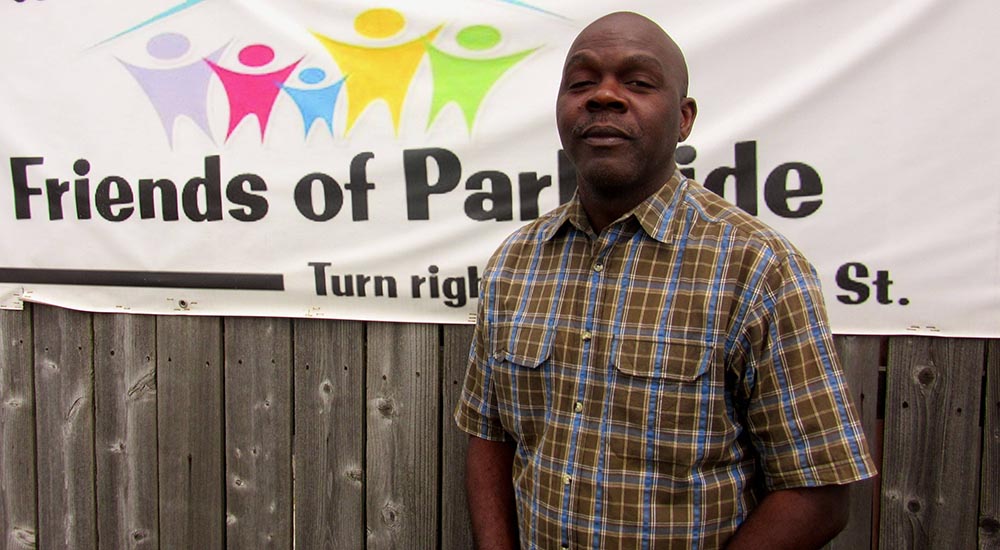 Politicians and media reports indicate Detroit is in the middle of an economic resurgence. That's true for the central business districts. That's not the case for many residents in the poorest neighborhoods.
"Some people just don't have the hope. And, especially living in an environment like this, it's kind of hard. It's kind of hard. It's very stressful," said Alita Burton.
Many residents are trapped in poverty because they cannot get past obstacles such as getting the training they need and the transportation to jobs.
A government survey recently showed 57 percent of Detroit children live in poverty. 39 percent of all households are impoverished. But some neighborhoods are worse than others.
The most impoverished census tract in the city is in the Chandler Park area on the city's east side. While Detroit's downtown has been booming, this section of town has seen increased poverty. Recent dataposted by Detroitography show since 2000 the area has seen one of the largest increases in racially concentrated poverty. Loveland Technology data show of the 292 homes and lots, only 23 are privately owned. The rest are held by the city, the county, the land bank, or the federal government.
Alita Burton lives in a federally subsidized housing project there called Parkside. She says getting a job in Detroit is difficult.
"Because a majority of all the jobs are taken by individuals that stay in different cities which knocks you out of the competition," Burton explained.
She's got a part-time job. It's the best she's been able to find as of yet to support her and her nine-year-old son.
Transportation an obstacle to getting a job
She's among the more fortunate in her neighborhood. Twenty-six percent of Detroit households do not own a car. Burton does.
"Barely. The car is raggedy. I just be praying to keep it rolling, keep it going," she said.
But, even with a car, auto insurance is a big obstacle.
"For no-fault, I had paid $500 for no-fault for only seven days coverage. That's just for seven days."
The cost for Detroit residents is somewhere between two thousand and five thousand dollars a year. That's about double of the surrounding suburbs.
It's a major problem for a lot of people living in Detroit.
At a Chandler Park Neighbors and Partners Association meeting, Walter Brown said one of his adult daughters is living with him. He explained she'd been in and out of jobs because of the cost of owning a car.
"She can't afford the insurance. And, I think that's what comes down on a lot of young people with being able to find a job if they don't have the transportation method to get there."
And Detroit Department of Transportation buses are often not a solution. Even with improvements in the bus service, many employers won't hire people who depend on public transportation because they don't consider it to be reliable.
That means for many people options for work are limited to nearby retail stores. Brown says that's not enough.
"I mean, these little jobs at the restaurants and little party stores, (for) a single mom it's very difficult for her to make a living off of that and raise the kids."
People who live in public housing projects face bias
For people who live in Parkside public housing there's another obstacle.
Zachary Rowe heads up Friends of Parkside. He says even though there's a strip mall right across the street, the residents have a difficult time getting a job in any of the stores.
"One has to do with sort of the stigma or the perception of people that live in Parkside as local business view them. You would think it would be an advantage or a benefit to say you live in Parkside because you don't have those transportation issues. But in some cases it's actually a negative just because of how the residents are perceived."
Rowe says his group looked at the economic impact of the spending power of the residents. While many shopped at nearby stores and restaurants, very few were able to get a job at the establishments.
A boycott was considered at one time, but shopping elsewhere was more than an inconvenience for many of the residents. Because of transportation issues, it was nearly impossible. There wasn't enough support to make a boycott successful.
Jobs downtown
Since downtown is booming, you might think these residents would be headed there for work. Keven Boyle is an author and history professor at Northwestern University. He grew up on the east side of Detroit. He says there are few opportunities for Detroit residents in downtown.
"Because what the downtown is doing is it's creating jobs that poor people aren't going to get. It's creating high tech jobs in a city in –at least by one estimate that I've seen say- 47 percent of the adults in the city of Detroit are functionally illiterate. Now, that's not going to translate into high tech jobs downtown," he explained.
A construction company owner who lives near Chandler Park says he hires young Detroit workers, but he finds some of them can barely read or solve math problems on the job.
Zachary Rowe with Friends of Parkside says he's sometimes experienced the same problem with kids who went to both Detroit Public Schools and charter schools.
"We have summer youth workers that work with us during the summer and they're between the ages of 14 and 24 and I'm sort of surprised when it comes to some of the students have trouble doing basic math problems," Rowe said.
But one researcher says downtown's recent prosperity could still mean jobs for people who don't have high tech skills.
"As more people work in downtown Detroit, they're going to need a lot of services: lunch time and, you know, there's going to be security services. There is some amount of jobs that don't require and advanced education that will be generated by more employment in Detroit," said Reynolds Farley, a Research Professor Emeritus at the University of Michigan.
For people who live in the Chandler Park area, downtown is more than seven miles away. That means transportation is again a problem.
Until institutional barriers are solved, little hope
Kevin Boyle at Northwestern says it's good that Detroit's downtown areas are doing better, but until all of Detroit can share in the newfound prosperity, too many are being left behind.
"And, that's what you're seeing inside the city of Detroit today. You're seeing, to a really dramatic extent, an economic revival in the city of the Detroit that is not completely white, but is white dominated and a dramatic level of poverty and inequality for large numbers of African-Americans who live in the city."
Boyle says Detroit must find solutions for transportation, work skills training, and the other obstacles to residents in the neighborhood. Until they're able to get good paying jobs, Boyle says there's very little to celebrate.
Support for the Detroit Journalism Cooperative comes from the John S. and James L. Knight Foundation, Renaissance Journalism's Michigan Reporting Initiative, the Ford Foundation and the Corporation for Public Broadcasting.