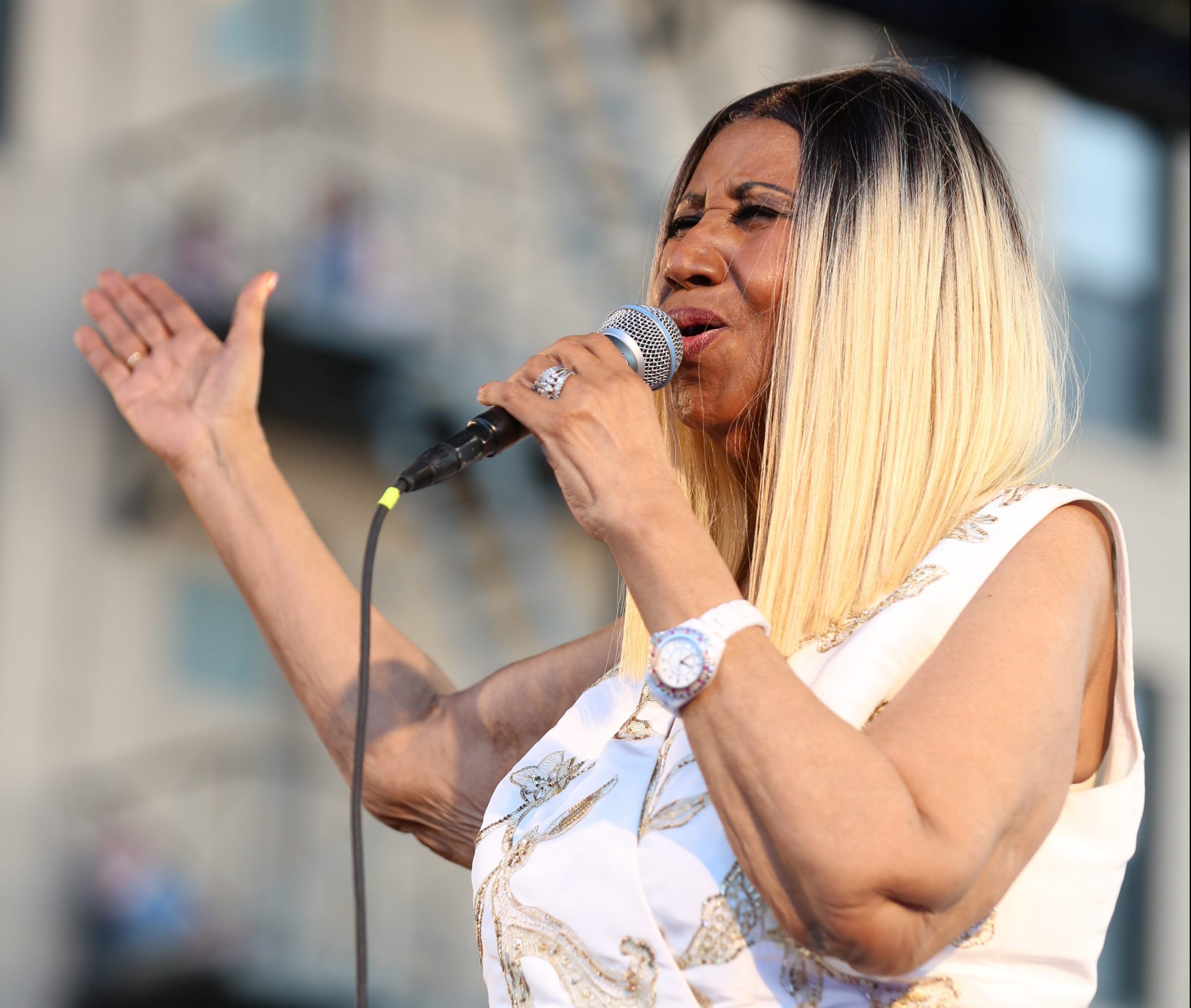 Supposedly, there were quite a few special events happening downtown on Saturday evening, or at least that's what somebody said.
I wouldn't know. I went to see Aretha.
Which means that, truthfully speaking? In Detroit? There was really only one show. Whatever the rest of whatever that was supposedly happening wherever it was supposed to be happening was, I'm sure, just fine. No, really.
But this is Detroit. home of the Queen of Soul. The woman who Rolling Stone magazine proclaimed as the greatest singer of all time in December 2010. The woman who has won 19 Grammys. And on and on and on and…
"You know a force from heaven. You know something that God made. And Aretha is a gift from God. When it comes to expressing yourself through song, there is no one who can touch her. She is the reason why women want to sing," said the accompanying article.
Exactly. And she's ours.
So when the announcement came out that Saturday night was going to be Aretha's last show, and that it was going to be free? I remember somebody asking me how crowded I thought it might get.
"It's Aretha's final show. On a Saturday night. Outside. At the Detroit Music Hall. For free. You figure it out."
But I also heard the chatter that maybe this would be her last show… and then again maybe not. Because, after all, how many times have we heard some artist do the farewell thing to all their adoring fans, and then 10 years later they're still saying goodbye, right? So then maybe…
But here's the thing; Aretha's been at this for a long, long time. And all good things must, sooner or later, actually come to an end. I mean, it's not like it's hard to believe that maybe, just maybe, the Queen is starting to get a bit tired of being on the road.
But even if this was just one big psyche! Who cares? Did I really want to be the one sitting at home gambling that "Oh, she'll be back. Yeah. She…yeah. I know she will. She'll be…"
No.
And just as I suspected, the crowd outside the Music Hall was beyond packed. There were so many people that I actually felt sorry for anyone who may have needed to use the facilities because 'round about 5:30 pm (show time was advertised as 6 pm), there was barely enough room to change your mind, let alone make the pilgrimage to the Port-a-Potty.
Plus it was hot. Man was it hot. The woman sitting next to me, wiping her forehead, said, "Somebody need to tell Aretha we out here gettin' heat stroke."
But I noticed that same woman never left her chair.
Because, as Aretha said, once she eased out onto the stage sometime around 6:45 (which was about 10-15 minutes after the first stem-winding psyche! introduction that produced neither hide nor hair of Aretha), "It's about to get hotter."
And that it did. Even though it was clear from the start that the Queen wasn't feeling her best, which she admitted to later in the show. I had heard she wasn't doing well, and even though I wasn't right up close to the stage (I didn't arrive anywhere near early enough for that) I was close enough to see that she appeared a bit frail, and was walking noticeably slow and careful. She also had to perform sitting down several times during the show.
But once the Queen began to sing, even though not always at the peak of performance that frequent listeners have probably witnessed at other shows (her house-burning recent performance at the Kennedy Center Honors in front of President Barack Obama added yet another exclamation point behind her revered status), it was clear that Aretha not singing at her peak is still the next horizon beyond whoever's in second place on his/her best day. When she stepped into gospel mode with two of her guest performers, the Williams brothers, it was perhaps the strongest part of the show and a welcome reminder to everyone where the Queen got her start in the House of the Lord, which also happened to be the church home of her father on Planet Earth, the Rev. C.L. Franklin. Some may remember that Rev. Franklin, pastor of New Bethel Baptist Church and a prominent civil rights activist, was also known as "the man with the million dollar voice."
She also sang expected crowd favorites such as "Freeway of Love," "Chain of Fools" and "Ain't No Way," among others. Noticeably absent was "Respect," but hey, you can't have everything. Predictably, since it was her last show, Mayor Mike Duggan made an appearance, and got a good laugh from the crowd when he said he didn't think he'd ever be sharing the mic with Aretha. Duggan presented the Queen with the Key to the City, as well as giving the crowd a brief history lesson on the true meaning of that award which stretches back centuries. Aretha also gave shout outs to her friends in the audience such as Mary Wilson of the Supremes, Freda Payne (another of Detroit's own) and Detroit boxing legend Tommy Hearns, among others.
Toward the end of the show, the Rev. Jesse Jackson showed up to escort Aretha off the stage (he also escorted her up the steps at the beginning of the performance). But before she left, Aretha surveyed the crowd for what felt like a bit of an extended emotional moment. The last song had been sung, the last note fading into the warm evening air. Maybe it suddenly dawned on her the true meaning of it all.
"Pray for me," she said.
Always. And thank you. For everything.