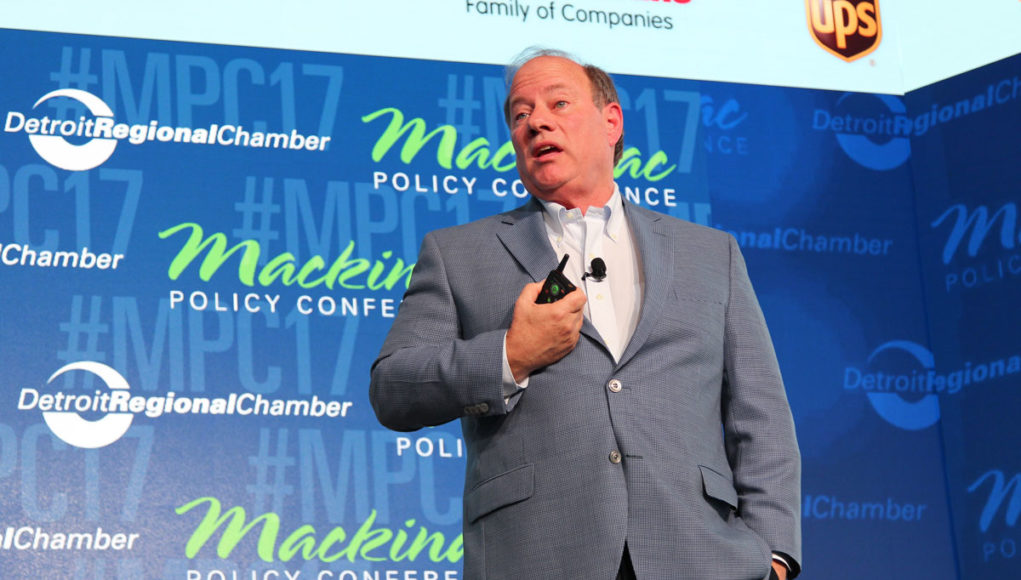 On Wednesday, Mayor Mike Duggan gave a speech at the 2017 Mackinac Policy Conference that was praised by many as  the urban version of the Sermon on the Mount. But not everyone was bowing down.
In a strictly-the-facts presentation, Duggan educated the (still) overwhelmingly white Mackinac business crowd about the root causes of Detroit's historic and devastating woes, letting them know in no uncertain terms that Detroit, contrary to what many of them may have believed prior to his address, is not responsible for all of the ills that have beset us in the past half century. We did not put the noose around our own neck and then jump. Detroit has been strategically ostracized, victimized and cannibalized. And then blamed, as if this is the fate we would have chosen for ourselves.
In informal conversations with a number of conference attendees after the speech, most of whom were upbeat about its content, the main thing that stood out to them was that it seemed to be the first time any of them had ever heard a mayor – let alone a white mayor – speak so bluntly about weaponized racism and how much it is directly responsible for the destruction of a city. These days most choose to avoid any conversation about race at all costs, but Duggan jumped in with both feet. The fact that he chose to do this in front of the Mackinac crowd made it that much more awe-inspiring.
But not to all. By now the twitter attack launched by Motor City Muckraker's Steve Neavling listing all the reasons why he believed Duggan's speech was fraudulent has been gaining some attention and making the rounds, especially among the Don't Trust Duggan crowd. Although some of the charges leveled by Muckraker were questionable, or at least not readily verifiable outside of his own reporting or quite fair, it would be wrong to say he was totally off-base with all his charges, as the Metro Times took the time to point out.
And it wasn't just Muckraker who wasn't willing to completely jump on the All Hail Duggan bandwagon. Detroit Free Press columnist Stephen Henderson also weighed in with the observation that part of the reason Duggan isn't being pushed harder on his vulnerabilities is because there isn't a challenger in the mayoral race who currently has the juice to make the mayor sweat. In other words, it's not that Duggan is the Super Mayor that some are saying he is, it's just that he is in the fortunate position of not having to worry about a serious challenger who could seriously exploit the weaknesses of his exposed flank(s).
As for me? I thought the speech was strong, but I didn't expect much less. Especially after the speech Duggan gave at last year's Mackinac conference. The mayor is a formidable politician who does his homework, who knows his crowd, and at his best can deliver a stirring populist address with the best of them. To get a blindingly white and wealthy heavily Republican and conservative crowd like Mackinac to jump up and down in applause about the dangers of white racism is quite a feat..
And Duggan has a right to brag about many of his accomplishments. The Detroit News recently published the story that Detroit now has a $63 million surplus and has been debt-free for two years in a row. And I have said before that Duggan's recent highlighted focus on the plans for Detroit's neighborhoods is great, and it's unfair to say that those plans are only to booster his re-election campaign because the neighborhood revitalization program spearheaded by Planning and Development Director Maurice Cox did not just begin this year. Those plans have been in the works for quite some time now. Getting the street lights back on is a big deal. Period.
And yes, I was very pleased – and surprised – with how Duggan framed Detroit's problems in the context of white racism. Very pleased.
But my primary criticism of the mayor's cheerleading – understanding that he is a politician and that's what politicians do – is that he continues to give relatively short shrift to the actual magnitude of the remaining challenges ahead such as the crippled public schools and the multiple related effects of crippling poverty and joblessness. His list of programs are fine (Motor City Match, Grow Detroit's Young Talent, etc.), but they are far from enough to deal with a city where nearly 40% of the populace struggles beneath the poverty line, where far too many young black men have criminal records barring them from effective employment, where nearly half the population is functionally illiterate, etc., etc., etc….
While Duggan's before and after slideshows highlighting the admirable repeated transformation of broken down homes to House Beautifuls rarely fails to impress crowds with appreciate 'ooohs' and 'ahhhs', I have yet to see a slideshow revealing a before and after city street or neighborhood. Granted, maybe that's too much to ask, but I think Detroiters now need to see transformed neighborhoods not just pre-selected individual homes. And that transformation needs to happen quick, like how District Detroit and Little Caesars Arena is happening quick.
The other complaint I heard whispered is that black developers have been effectively shut out of downtown and Midtown, and that's a lot of money and opportunity to be shut out of. I have not had the chance yet to do a deep dive on this yet, but judging by the folks who are telling me this I don't think it's just smoke, otherwise I wouldn't print it. Sure, there's still the rest of the city for black developers to work with, but in a city that is about 87% black, how crazy is it that black developers are shut out of ANYWHERE? How crazy is it that in a city still struggling with crime city-wide, the Kingdom of Downtown Detroit now has its own private police force courtesy of Dan Gilbert? Protecting who from who?
And now that Michigan's influential white conservative power elite have been sufficiently educated about the evils of white racism and its effects on not so influential black and poor Detroit, what are they going to do about it between now and Mackinac Policy Conference 2018? What difference will it make?
I'm just asking.