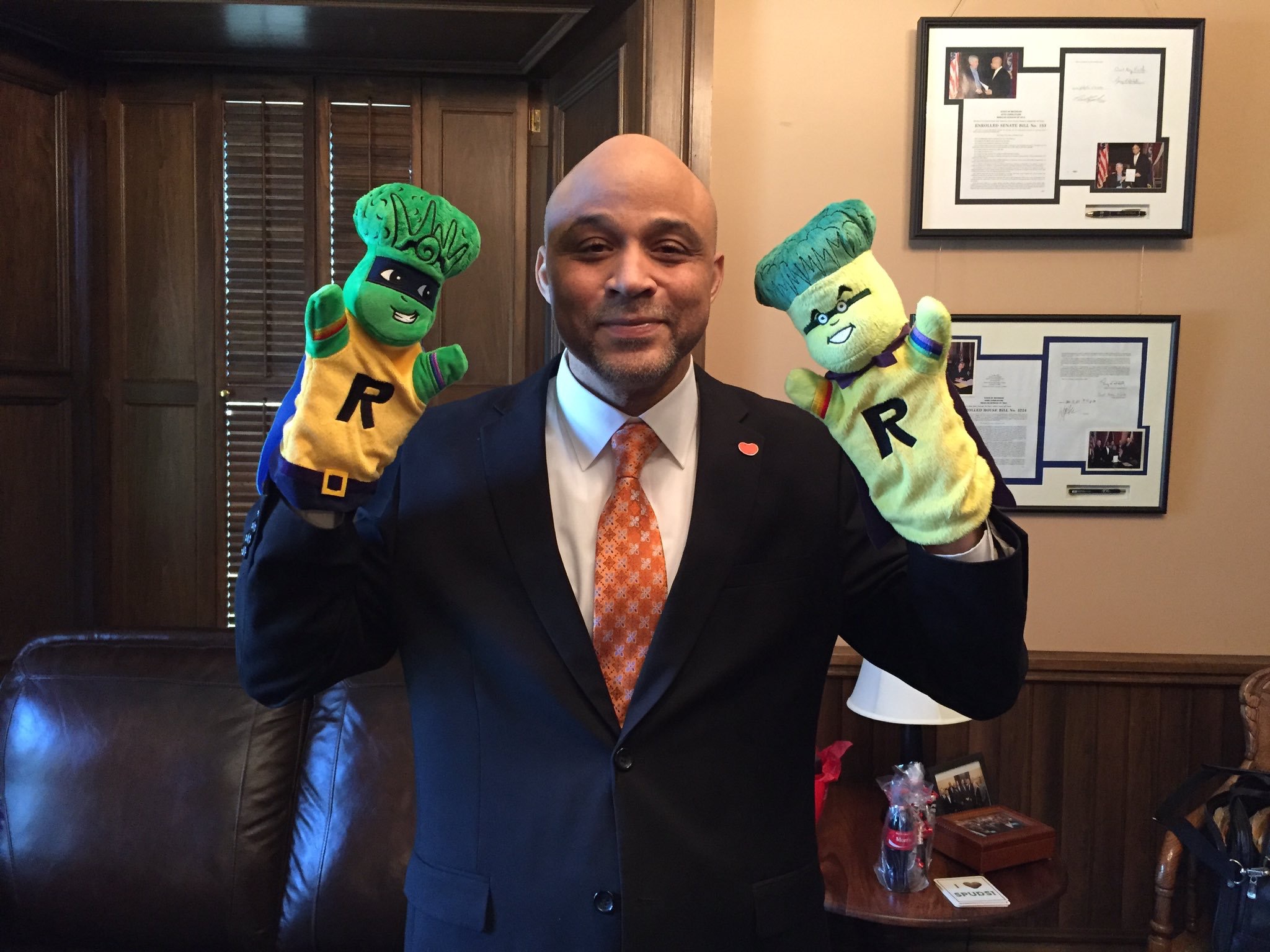 Senator Morris Hood posing with Regie puppets from Regie's Rainbow Adventure®, an educational tool created by the National Kidney Foundation of Michigan.

Senator Morris W. Hood III will join 7,000 walkers at the 2017 Kidney Walk on May 21 to raise awareness of the importance of healthy living and early detection as a way to promote kidney disease prevention. Hood's participation in the walk comes just six months after receiving a kidney transplant.
"November 30 of 2016, I received a kidney transplant after having kidney disease for several years. Finally getting the transplant really drives home the fact that a lot of people out there are in dire need of kidney transplants and for people to be aware that there are a lot of people walking around today that don't even know that they have kidney disease," Senator Hood said about the importance of raising awareness of the complications of kidney disease.
"This is an effort to end that because 2,800 people just in the state of Michigan are looking for kidney transplants."
After being diagnosed with diabetes as a child and ultimately developing kidney disease, a common complication of diabetes, Senator Hood became passionate about healthy eating and exercise. This, he said, led him to become involved with the National Kidney Foundation of Michigan because of the foundations various programs that promote healthy living.
"The Kidney Foundation looks at ways to decrease this number. They are pushing prevention with healthy eating, healthy diets, making sure you go to the doctor and this is what they are pushing for through the efforts of the walk. Raising funds to be able to help people with kidney disease," the Senator said.
The possible repeal of the Affordable Care Act has many worried about the potential high cost of healthcare coverage for people with pre-existing conditions, like kidney disease. While the vote is still up in the air, as it has to pass in the Senate, Senator Hood said he hopes lawmakers really consider how repealing the ACA will affect the American people.
"We are encouraged an hopeful that our legislators in Washington will ensure that they keep some protections in place for those that have illnesses and chronic diseases, like kidney disease and kidney transplants. We're just hoping that they will see that and address it and make sure these people don't get left out in the cold."
The Kidney Walk, held at the Detroit Zoo, is the National Kidney Foundation of Michigan's largest fundraising effort with 90 cents of every dollar going to services and programs to raise money and bring awareness to the growing number of people diagnosed with kidney disease and to improve the quality of life for the over 900,000 Michigan residents living with the disease.
"The community's role in the Kidney Walk is an essential part of our ability to provide programs and services to the one in nine Michigan residents who suffer from chronic kidney disease, as well as to help prevent or delay the disease," said National Kidney Foundation of Michigan President and CEO, Dan Carney. "The financial contributions from our walkers, supporters and sponsors are vital to continuing our programs like Kidney Camp for kids, Regie's Rainbow Adventure®, Diabetes Prevention Program, Healthy Kids and Kidneys, any many more."
At this year's Kidney Walk, food, games, prizes, music, a kidney Champion's Tent, massages, haircuts and much more will be available for walkers.
Registration is $25 per person (over the age of 12) and $10 for children 3-12. Kids under 2 are free. The cost of registration includes parking, zoo admission and activities. Additional fundraising beyond the registration fee is encouraged. Participants who raise $100 or more receive a Kidney Walk t-shirt.
To register in advance, visit www.nkfm.org/walks or call Lisa Schutz Jelic at the National Kidney Foundation of Michigan at (800) 482-1455 ext. 210. Registration can also be done on the day of the walk at the Detroit Zoo. Registration begins at 7:30 a.m. and the Walk kicks off at 8:45 a.m. The Detroit Zoo is located at 8450 West 10 Mile Road in Royal Oak.