Detroit has long been known as a gospel music Mecca, having produced some of the biggest national names in the industry, as well as some of the most well-respected gospel choirs. Considering that Detroit truly is the music capitol of the world (not one city in the world can rival Detroit when it comes to musical depth and diversity of both genre and sheer talent) it really shouldn't come as much of a surprise that we're leading the pack when it comes to gospel as well.
Last week, the Ellen Kayrod Gallery, located at 4750 Woodward Avenue, opened a wonderful photo exhibit entitled Detroit Giants of Gospel Music, offering dramatic Sunday Morning Church pictures of local gospel artists that should ring familiar to anyone who has ever been to a black church, and that will likely open the eyes of anyone who has not.
According to a press release, "The Ellen Kayrod Gallery was established in 1994 as a venue to exhibit the work of older adult artists (60 and older) studying in Hannan educational programs. Named to honor Ellen Kayrod, former executive director of the Foundation, the Gallery is committed to fostering an understanding of the vital relationship between creative expression and quality of life and continues to highlight the work of older, accomplished artists."
Photographed by David Clements, Giants is a relatively small exhibit, but that's what makes the experience so intimate. Very much like church on a Sunday morning. Clements is a longtime producer and director of television productions. He is the author of Talking Shops: Detroit Commercial Folk Art, and was selected as photographer of Art in Detroit Public Places, both publications of Wayne State University Press.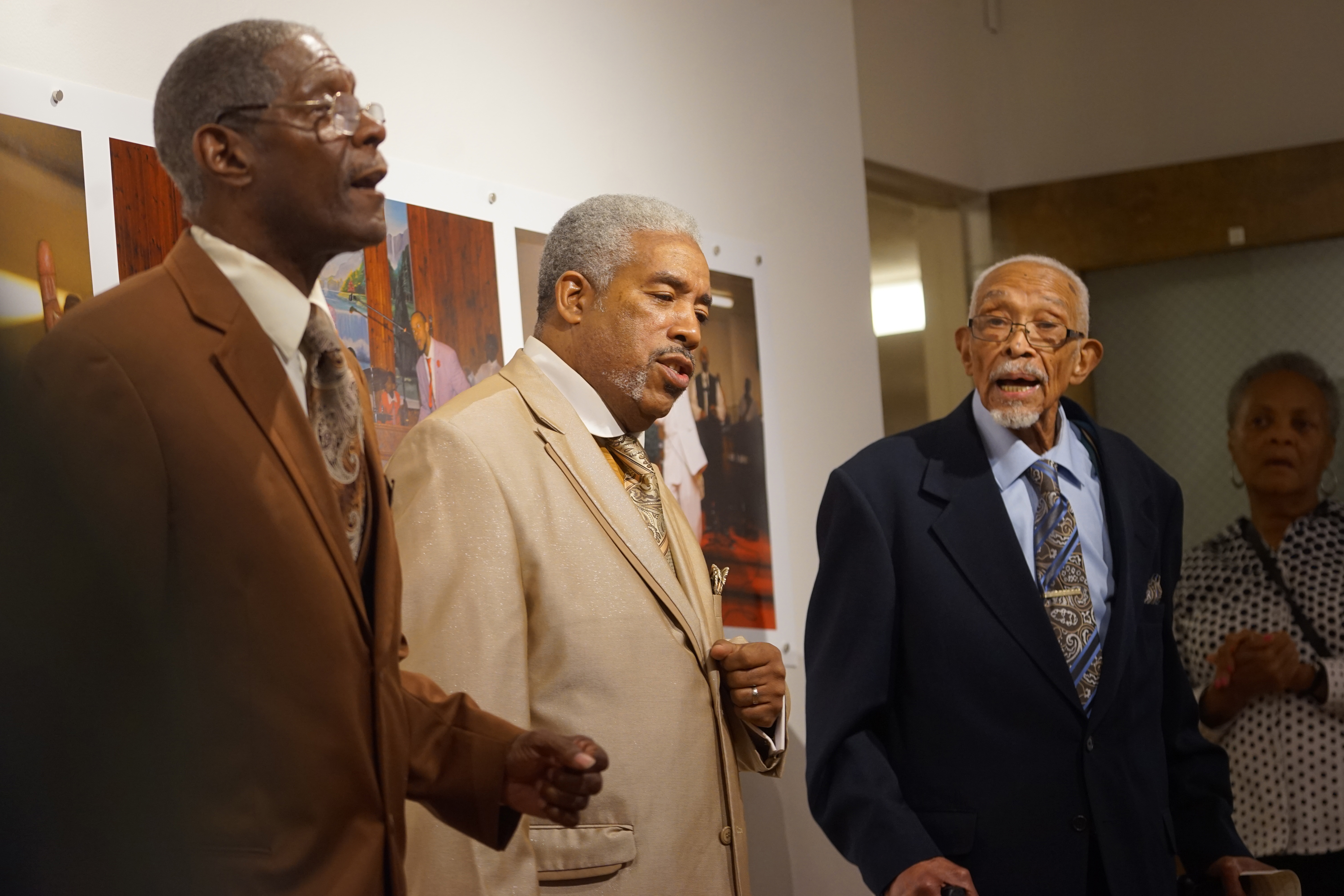 And speaking of intimate, the star attraction of the exhibit's opening night last Friday was a performance by The Masters of Harmony, featuring the vocals of 103-year-old lead singer Thomas Kelly, who appeared to be as spry and witty as someone at least several decades younger. Kelly, Detroit's oldest performing musician, has been performing in gospel quartets since 1926, which would explain one of his many humorous comments when he instructed the audience that he could tell anyone in the packed room what it felt like to be their age, but no one in that room could even begin to describe what it is like to have been on this Earth for 103 years. Kelly moved to Detroit in 1922 for employment, like so many other African Americans around that time who were exiting the South. He has led a cappella groups since 1926, and he organized the Masters of Harmony in 1953.
Kelly is probably the best example anyone will ever see of the saying, 'practice makes perfect'. Because as someone who has been on stage for more than 80 years, witnessing his comfort with an audience was as much fun as listening to the performance. Kelly told several jokes, each of which was a hit with the crowd. Perhaps the funniest was the one he told about the young man who wanted his father to buy him a car. His father told him that if he performed several tasks and cut his hair, then he would buy his son the car. His son performed the tasks, but declined to cut his hair because, as he said, both Jesus and Sampson had long hair.
"Yes they did," his father replied. "And they walked everywhere they went."
Accompanied by two other vocalists from his group, who carried the alto and bass harmonies, the Masters delivered a smooth and polished performance that definitely lived up to their name. Because it's not every day you get to see someone perform who has had 80 plus years of experience.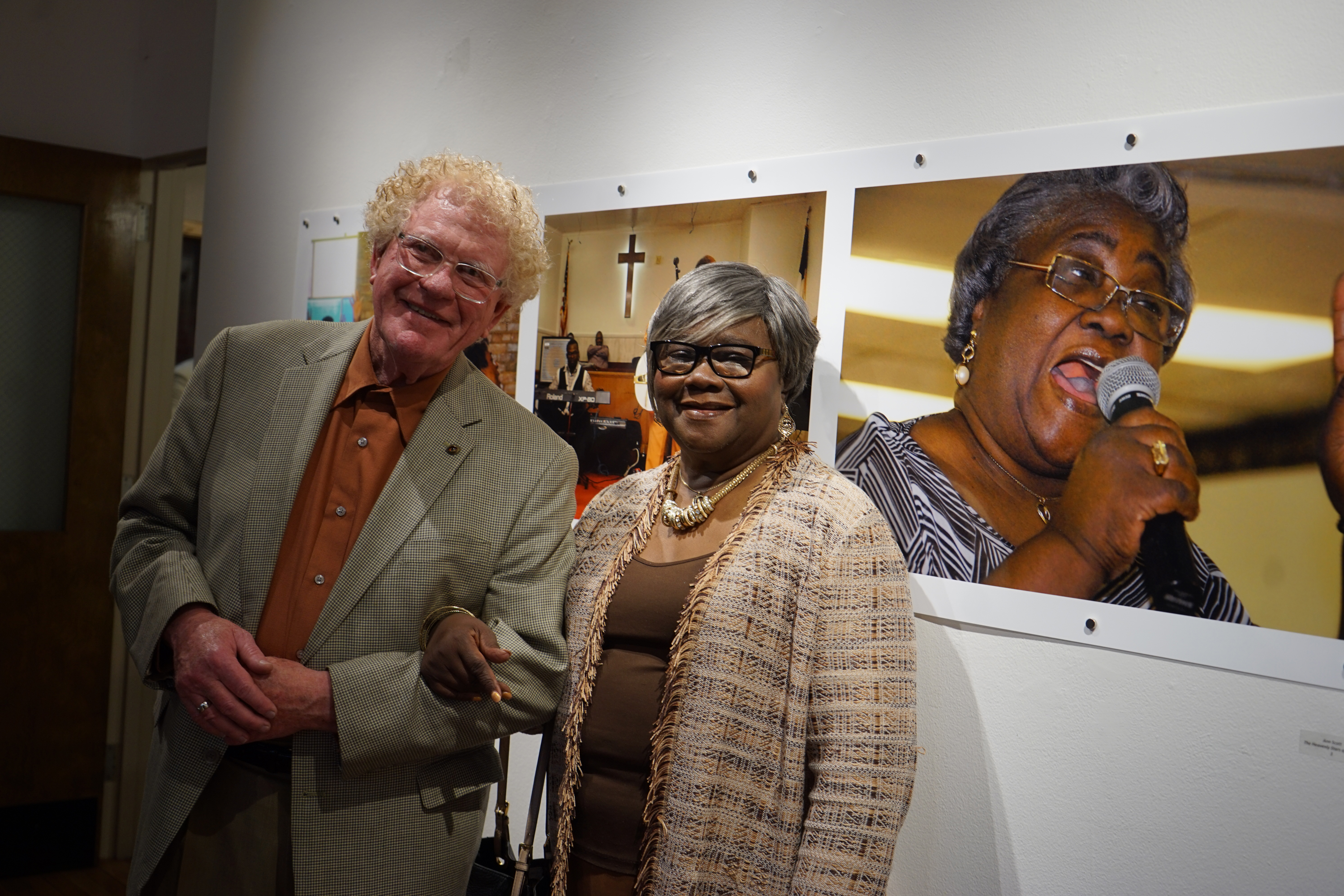 The exhibit itself, which will be on display through June 16, is fascinating just for the way Clements manages to literally capture the spirit of gospel performance in such a truthful, respectful and elemental way. Anyone who has ever been to any one of the churches pictured, or any church like it anywhere in the country, can appreciate the expressions of sheer joy and passion exhibited by the performers.
But what is also worth noting is that Clements chose not to photograph those gospel giants with whom everyone is so familiar, like the Winans family and so many others, but rather the somewhat lesser known giants who are not national stars but rather local sensations who have been amplifying the gospel through song here at home in Detroit for decades. For example, in addition to the Masters, there are photos of the Heavenly Stars, who celebrated their 45th anniversary on Sunday, April 23 of this year; and Sunny Mason and the Morning Echoes, who have been performing together for 60 years.
Those who love gospel will be sure to enjoy this exhibit, but this exhibit is also for those who may not even be particularly religious but who appreciate the important history of Detroit's musical heritage, and how gospel is such a key part of that heritage. Detroit is the center of gravity when it comes to great American music, and gospel is a big reason for that.
Don't miss this show.