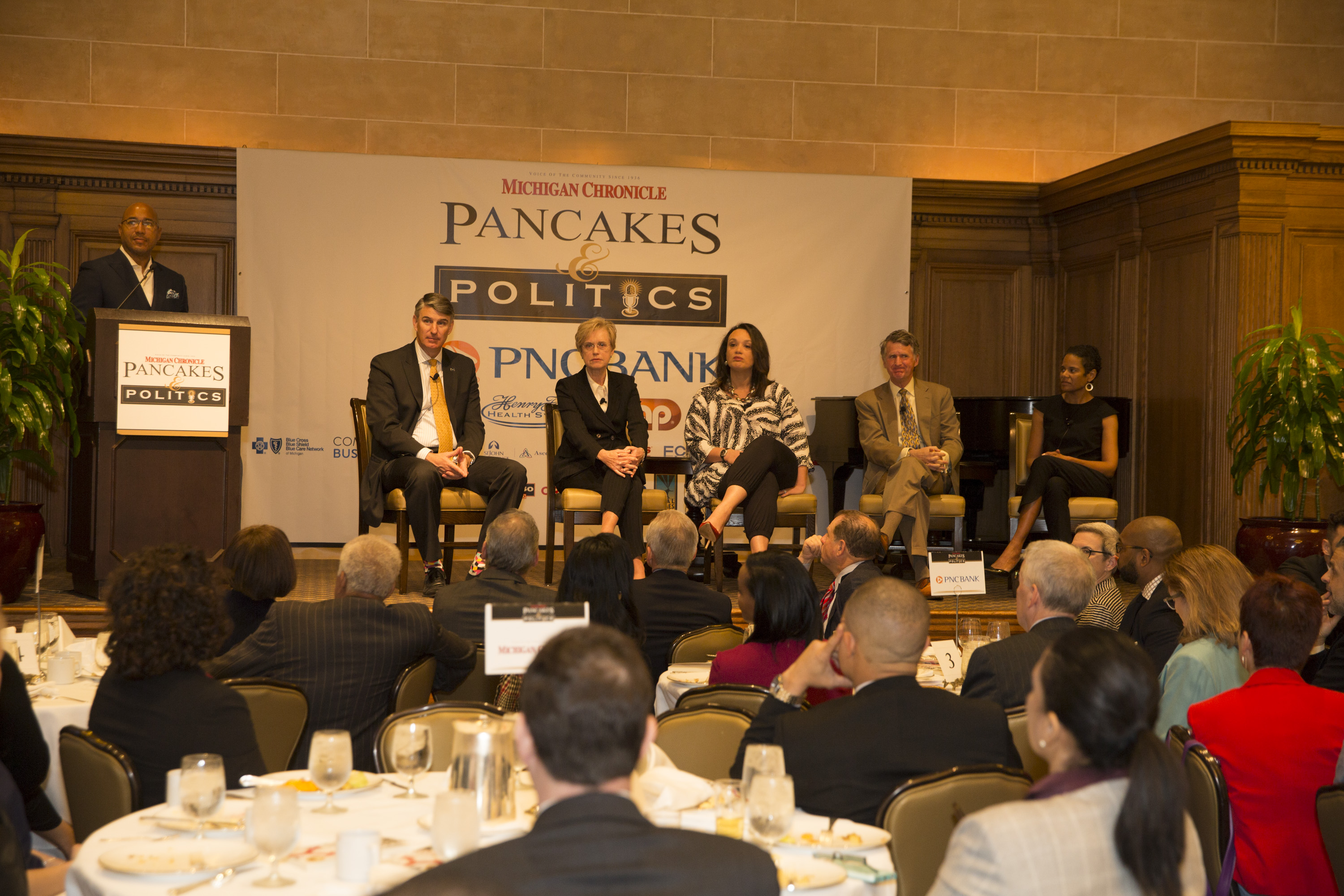 The topic for the day on Thursday morning was "The Road to Rebuilding Detroit," but pretty much everyone in Detroit who knows anything about what's going on here knows that there is no road to rebuilding Detroit that doesn't pass through the calamity of Detroit's public – and charter – schools.
So it was in that spirit that Detroit Free Press columnist Rochelle Riley apparently decided not to waste much time cutting to the chase at Thursday morning's second Pancakes & Politics forum of 2017 when she asked a certain question to the assembled panelists, each of whom represented a major philanthropic foundation that collectively has contributed literally billions of dollars toward Detroit and its revitalization. Describing the panel as the "brain trust of the philanthropic community," Riley said "I have to ask; with that amount of money and that amount of (inaudible) acumen, how in the world are the city's schools so bad?"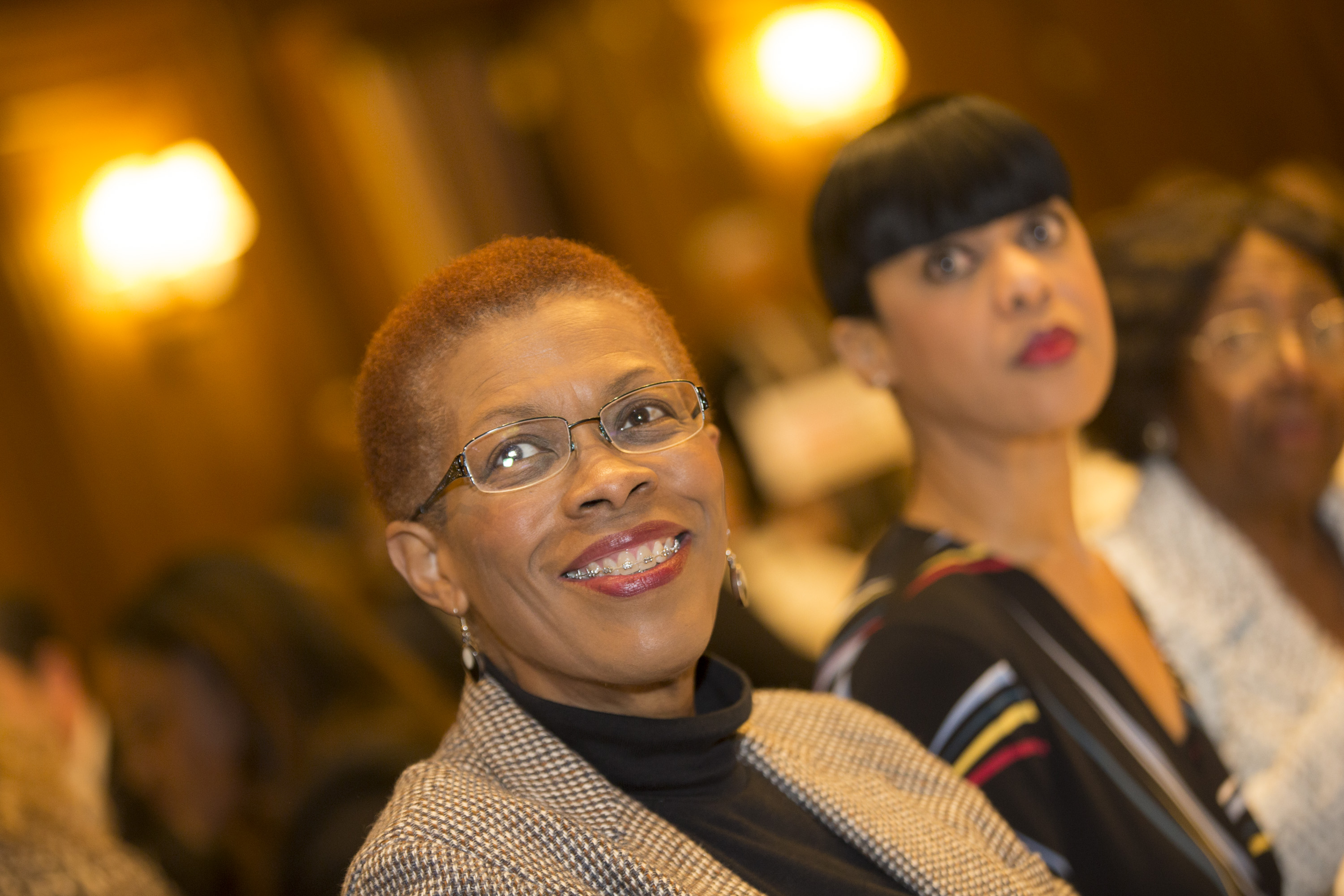 For the record, those participating in Thursday morning's panel discussion were: David Egner, President and CEO, Ralph C. Wilson Foundation; Mariam Noland, President, Community Foundation for Southeast Michigan; Tonya Allen, President and CEO, The Skillman Foundation; Rip Rapson, President and CEO, The Kresge Foundation; and Melanca Clark, President and CEO, Hudson Webber Foundation.
Riley suggested that one possible solution might be for the foundations to pool their substantial resources and "drop the mother of all philanthropic bombs on the city's schools."
So, OK. Maybe the image of dropping any sort of bomb on Detroit schools wasn't the best visual, especially considering who currently occupies the White House. Still, the question was valid. The Kresge Foundation's Rip Rapson had an answer:
"At the risk of not saying what you'd like me to say, I think if we knew that money was the solution, we would have done exactly that. When I look at every major city in America, based on these same issues that they struggle with, they're spending enormous amounts of money in other places, and they just haven't cracked the code. It's not to say that you don't have to lean in with all the resources you can possibly muster [but] I think we have to figure out as a community what it is we want to do. And then we can assemble the resources. But I think just throwing the resources at it, I'm not sure that's what we want. I don't think any of us on this podium would blink if we knew exactly how we could apply those resources in the most effective ways to move the outcomes for young people. I don't think you lead with the money, I think you lead with the ideas."
The Skillman Foundation's Tonya Allen suggested that Detroit needs to fully recognize and acknowledge the true, full scope of the problem we're facing when it comes to Detroit schools and Detroit children – and then we need to fix it. Period.
"We think that if we just work with young kids that those young kids in 18 years are gonna change the city. Except they have parents that we forgot about. They have older brothers and sisters that we forgot about. And I think it's time for us to make a generational declaration that we are no longer as a community going to say that this is too hard for us. I think one of the most powerful things that we've experienced in this city in the past two years is that …we have a muscle memory that says we can do really hard shit."
And yes, that is exactly what Allen said. No apologies, no retraction, no whoopsie I meant to say this or that. The use of the phrase – and the word – was obviously purposeful to drive home the point Detroit-style that Detroiters are no strangers to hard times and how to take them down, and this is no time to change that narrative. I can even see the T-shirt now; "Detroit. We do the hard shit."
Allen also suggested that it might be time to re-examine the meaning on this New Detroit we keep hearing so much about, because "When I ask young people 'What do you think about the New Detroit? They have no idea what you're talking about," but they have no problem expressing concerns about not feeling welcome downtown and feeling as if they have no access to the most visibly revitalized section of their own city.
"The second thing that they would say is 'we ARE the New Detroit."
Yes. They are.
About Post Author