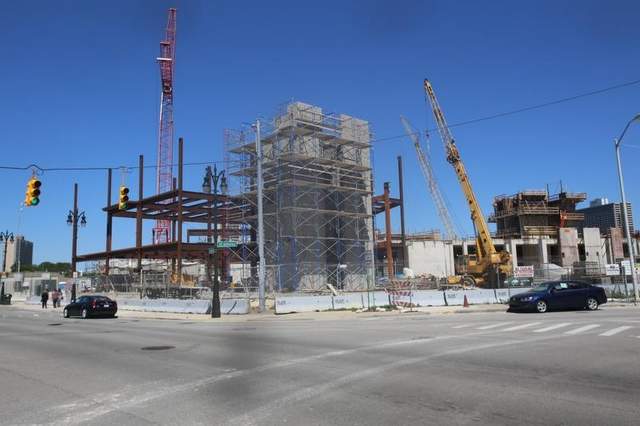 If the proponents of the proposed Major League Soccer stadium want the "Fail Jail" site in downtown Detroit for their project, that should be all they get from the people of Wayne County. In return for the jail site, we suggest County Executive Warren Evans and the Wayne County Commission require that the project be built entirely with private money, and not with any form of tax incentives or other public funding.
Moving the Wayne County Jail annex — and potentially the surrounding courts as well — to another site in Detroit will mean disruption for the people who are served by the county's justice system as well as for those who work there. Depending on the new location, many county residents may add travel time or transportation costs to access the jail and courts. Many local law firms and attorneys, as well as bail bondsmen and others, have offices within walking distance of the existing complex. Moving everything miles away will force them either to uproot or suffer the inconvenience of extra travel. Nobody affected by the move should have to subsidize a development that will already be forcing them to incur additional costs.
We were pleased with Executive Evans' requirement that the county not incur any additional financial costs over and above what it already will be paying to finish the jail. That's one of the few good pieces of news to come out of the jail saga, which has been an embarrassment to the county for years. But while we applaud Evans' defense of his constituents' interests, the nature of this deal means he and the Wayne County Commission should go further.
They should prohibit any and all subsidies, incentives, tax breaks or other public funding for the proposed stadium project as a condition of making the deal. Public subsidies of professional sports stadiums don't benefit local residents, and this plan already calls for enough additional sacrifice by the people of Wayne County. Its residents and businesses should not have to pay for a privately owned, billion-dollar project.
Admittedly, our organization has voiced opposition to public funding for every professional sports stadium built in Michigan since we opened our doors in the late 1980s. We believe research shows that they are not good investments for governments as they don't create real economic benefits. We think wealthy team owners can and should build their own places of business, as the late Bill Davidson did with The Palace of Auburn Hills.
When it comes to soccer stadiums, we've even got an example right here in Wayne County of a locally owned soccer team — Detroit City FC — raising $741,000 from local investors to renovate Hamtramck's Keyworth Stadium as their new home. If a minor league team with amateur players can raise three quarters of a million dollars to renovate a stadium, an MLS team, backed by a partnership of immensely successful business owners, shouldn't have any issues accessing private financing for its own field.
When it comes to our skepticism on the economic benefits of sports stadiums, we're backed by years of research from independent academics. Economist after economist at major universities continue to find that stadiums do not create jobs, they do not create new businesses nearby and they do not return the value of the original investment to taxpayers. While a stadium can appear to have an impact when a new bar or restaurant opens nearby or a local resident gets a job as an usher or security guard, researchers have found the reality is that those businesses and jobs are, at best, simply replacing other economic activity that would have happened anyway. In other words, a hot dog or beer purchased in a stadium isn't new economic impact — it's just a hot dog or beer that is now not being purchased somewhere else.
That waste of tax dollars to move jobs around the region is why Wayne County's elected officials should stand firm, requiring project developers to forgo any form of public subsidy from the usual suspects: the Michigan Economic Development Corporation, the Michigan Strategic Fund, the Detroit Economic Growth Corporation, the Detroit Downtown Development Authority or Wayne County's own Economic Development Department.
We welcome the stadium and its surrounding development to Detroit, and we hope the project is profitable for its investors. But those investors shouldn't be the people of Wayne County who'll already have sacrificed enough to make it possible.
John Mozena is the vice president for marketing and communications and Michael LaFaive is the director of the Morey Fiscal Policy Initiative at the Mackinac Center for Public Policy.