The Black History Month tribute, "Journey to Paradise" four-part series celebrates the restoration of the Paradise Valley Cultural and Entertainment District and the Michigan Chronicle's move to that historical neighborhood. It highlights known and unknown stories of historical moments, figures and events during the Paradise Valley Black Bottom era historic significance in the Black community. This is the first article in the series, "Black Bottom and Paradise Valley: Center of Black Life in Detroit" by Ken Coleman.
Beginning in the 1920s, lively blues and jazz clubs, delectable greasy-spoon restaurants, and spirited backdoor speakeasies metering out whiskey in coffee cups like John R. "Buffalo" James' Frogs Club on East Adams Street began popping up like a piston on a Ford Motor Company Model A engine.
The area was known as Paradise Valley. It was located north of Gratiot Avenue and along Brush, Beaubien, St. Antoine and Hastings streets, approximately where Comerica Park and Ford Field sit today.
By the 1930s, the great economic and social era called Prohibition had ended and the federal government was no longer outlawing the sale of alcohol. About two dozen businesses lined the upside-down letter T-shaped area, most of them owned by blacks. They included Walter Norwood's Club Plantation in the basement of the Norwood Hotel, located at 550 East Adams at St. Antoine. The 606 Horseshoe Bar was a stone's throw down the narrow street. Andrew "Jap" Sneed's all-the-rage 666 Club (or Three Sixes), located at 666 East Adams was there, too.
Horace Ferguson's St. Louis restaurant was located at 1723 St. Antoine. The B&C Club, owned by Roy H. Lightfoot, was next door where Beacon Street intersected. Beginning in 1936, the Michigan Chronicle was located at 1727 St. Antoine. Up the street was the 22-guest room Biltmore Hotel, located at 1926 St. Antoine. The Detroit Tribune, another black weekly, was located at 2146 St. Antoine and Columbia Street.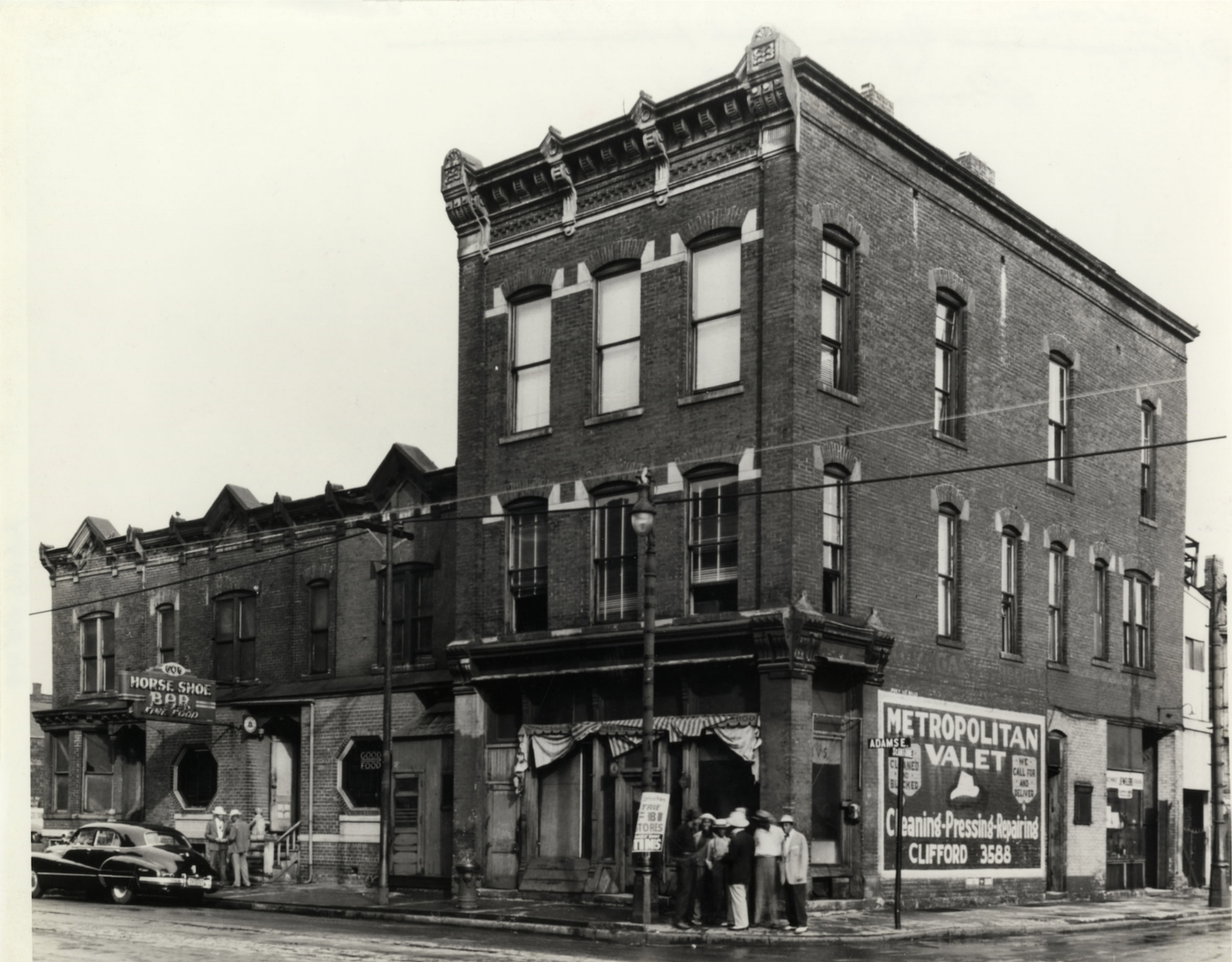 The Paradise Valley community elected its own mayor who served as a ceremonial leader in the community and helped to secure resources from City Hall and provide civic leadership and pride. Mayors included Sunnie Wilson, owner of the Forest Club, a popular bar that also included a bowling alley and rolling skating rink, Roy H. Lightfoot, and Chester Rentie, a talent booking agent who once managed jazz vocalist Betty Carter.
Black Bottom, located south of Gratiot Avenue, was more of a residential community that included houses of worship and social institutions like the Detroit Urban League.  It did, however, have businesses, too, such as those of morticians James H. Cole and Charles C. Diggs, Sr.
In 1942, the Detroit Urban League reported that within Black Bottom and Paradise Valley were:
151 physicians;
140 social workers;
85 lawyers;
71 beauty shops;
57 restaurants;
36 dentists;
30 drug stores;
25 barber shops;
25 dress makers and shops;
20 hotels;
15 fish and poultry markets;
10 hospitals;
10 electricians;
9 insurance companies;
7 building contractors;
5 flowers shops;
2 bondsmen;
2 dairy distributors
"Negroes had it made in Detroit until World War II," said Sidney Barthwell, who owned several drugstores throughout the Black Bottom and Paradise Valley area as well as on the North End. "We had about everything we needed in the black business community. Discrimination gave us tremendous (economic) power because we had been compacted in a small area."
            Ken Coleman writes frequently about black life in Detroit. He can be reached at historylivesDetroit.com.