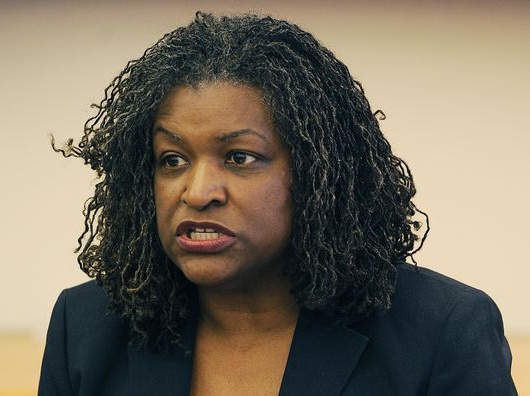 Ivy Bailey was recently elected to a full term as Detroit Federation of Teachers president. She is also a vice president of AFT Michigan. Bailey earned a bachelor of science degree in special education from Calvin College and a master's degree in special education from the University of Maryland College Park. She spoke with the Chronicle on January 19.
Q. Why shouldn't Betsy DeVos become U.S. Education secretary?
After that debacle the other day when they were interviewing Betsy she could not answer questions that any secretary of education should know. She did not know what IDEA (Individuals with Disabilities Education Act) was. How do you not know any information about the special education law? One of the most important laws—and you want to be secretary of education? Betsy DeVos to me isn't well rounded enough. She's lived a privileged life and that's not necessarily here or there but it is because she doesn't understand what kids in public schools go through. She didn't attend public schools. Her kids did not attend public schools. She does not have the experience of knowing what the average, normal child goes through. She can't even speak to it as a parent having a child who goes to a public school. More than that, she could not answer the questions that where asked. She does not have the experience.  What she has is money and privilege.
Q. The new school board was sworn in earlier this month. Are you looking forward to working with them?
I am definitively looking forward to working with the new school board. For the most part—the majority of the meeting—I was impressed. I was impressed that they were keeping order. They asked questions about a contract that the administration put out. They were given enough information to make an informed decision and they weren't just going to be the 'yes' board and vote on something without the proper information. I really respect them for that. I was a little upset with them wanting to contract out with a company to do a teacher search. We don't need a company to do a teacher search. We know what the issues are and I felt that on that one they should have gotten more information. They could have called the union. They need to pay people. It's not that Detroit has a bad reputation and teachers don't want to come here. People are trying to come here every day. The problem is pay.
Q. Have you personally or has the union taken a position as to whether Alycia Meriweather should be the permanent superintendent?
We have not taken a position yet. I want to reach back out to the teachers.  Alycia Meriweather is a teacher's teacher. A majority of us—and when I say us I mean teachers—respect her.  She came through the ranks. She ended up being in charge of the science department. When I say that she brought that science department back up to Number One status she has written grants. She goes out of her way to do what needs to be done. She's very passionate. She's passionate about school children. She's passionate about bringing our school district back to splendor that it once was. That's the thing that I totally appreciate about her. We have that in common. We both grew up in Detroit.  We know what it was. We know what it can be for our students. Given the opportunity and the resources our students can soar. There's no reason our students can't succeed in something. I personally support her 100 percent.  I want to reach out to the members. I believe that the majority of them support her.
Q. Do you have any goals that you want to achieve during your tenure as Detroit Federation of Teachers president?
It's a new day. You can demand whatever you want to demand. These people don't care. You can walk out the building. The people in Lansing don't care. I want to change the culture and the climate of the district. I don't want it to be a divisive system where it is us against them—the teachers against the administrators in the building, the district against the teachers. That has to stop. We have to come together and show some unity. We want the community to have confidence in what we are trying to accomplish to move the school district in another direction. They have to see that we can get along and that we are working together to do want is best for children. I work for the membership but I can't take away the fact that I'm a parent and a teacher.  We have to put children first. Any decision that I make with the membership, I'm still thinking children because that's the bottom line of who we are affecting. I want to have the membership on board with that. Why are we teaching if we aren't putting the children first? I want to see a three-year contract with competitive compensation and making the community more knowledgeable about what happens in education. More knowledgeable about the legislation that affects teachers and children.  We want to have forums where parents can come to get information about what's happening with the school system.